Tokyo Cooking Class
Traditional Sushi at home
★★★★★
14
Cooking Class Menu
・NIGIRI (Hand formed sushi )
Tuna, Salmon, Sea bream and more

・GUNKAN (Boat-shape sushi)
Flying fish roe, Vegetables and more

・MAKI (Rolled sushi)
Cucumber, Tuna and more

• Miso soup

• Small desert

w/ Japanese Beer / Sake / Green tea

*The ingredients will vary depending on the seasons.

◆ Cook & eat the authentic sushi
◆ Hands-on experiences
◆ Great for single, couple, friends, family

In this class, you actually make sushi vinegar from scratch and try making three most popular types of sushi.
This class takes place in my kitchen and dining room so you can relax and enjoy cooking with homelike atmosphere.
Get a lot of tips so that you can recreate after getting back home. Enjoy the most delicious sushi ever!
---
About Host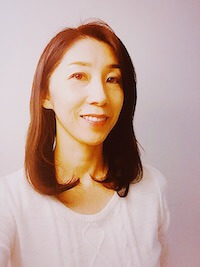 Mikako
★★★★★
(14)
Hello, I'm Mikako. I live in Tokyo with my husband and two teenage daughters.
My place is located in the center of Tokyo. Easy access by subway from the sightseeing spots.
11 minutes from Tokyo station
5 minutes from Ikebukuro station
13 minutes from Ginza station
16 minutes from Akihabara station
18 minutes from Shinjuku station
25 minutes from Shibuya station
All my classes are held at the kitchen in my private home. You can relax and enjoy the experience of Japanese local house in the center of Tokyo.
I like cooking and eating. I believe food brings us all together. I feel the most joy when I am talking with tourists from all around the world while eating together.
I am looking forward to seeing you !
---
How It Works
Step1 Cook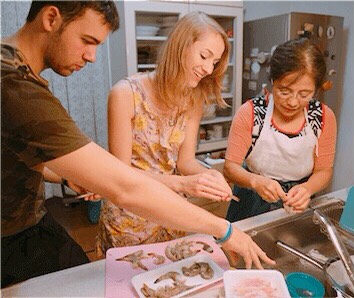 Visit a Japanese local's home and learn to cook their specialty.
Step2 Enjoy your meal!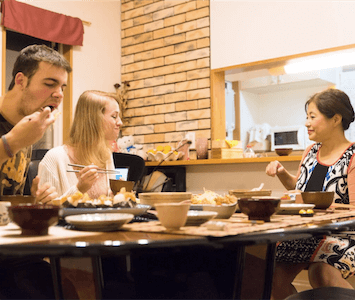 Eat the authentic homemade Japanese meal with your Japanese host. Take the opportunity to have a genuine conversation with a local Japanese Person.
---
Area
The closest station
Myogadani Station ( Marunouchi Line )
How to get to the station?
From Tokyo Station: 10mins
Free pick up service
This host can pick up you for free from the closest station!
Exact location provided after booking.
---
Reviews of Cooking Class
patrice, United States of America
★★★★★
Mikako is the best! Very thorough, very informative. She went above and beyond. Made us feel very welcomed. I recommend trying any of her classes when in Tokyo.
Aug 2019
---
David, United States of America
★★★★★
Learning how to prepare sushi with Mikako was great - she is a great host; visiting her beautiful home in Tokyo was an unforgettable experience!
May 2019
---
David, United States of America
★★★★★
Thank you for a wonderful lunchtime sushi lesson; we are going to try to make sushi like you taught us back home in Prague; our kids are already excited about that too!
May 2019
---
Yungnan Liu, United States of America
★★★★★
My cooking experience with Mikako was fun and marvelous. She is very friendly and warm. The handout was helpful and she explain all steps and tricks in detail. I'm confident that I can make these Sushi when I get back to US. I hope Mikako can offer other Japanese cooking class soon.
Nov 2018
---
Bizhan, United Kingdom
★★★★★
Mikako's sushi class was fantastic. Personal, enjoyable and tasty! She was a good teacher, and her husband Rio was with us to. They both spoke great English so I was able to talk to them about all sorts of things, and learned lots about Japan. The sushi was delicious, highly recommend.
Sep 2018
---
Gabriella Pasztor, Australia
★★★★★
Mikako was a great host. She gave us a printed copy of the recipes so we could take them home. Mikakos home was clean and welcoming, it was nice to be there. The food was absolutely amazing, so delicious! Highly recommend cooking with Mikako.
Oct 2018
---
Laine & Erwann, America
★★★★★
We had an amazing time making sushi!! It was a very cool experience for us. Mikako's class is perfect for beginners. Her kitchen was immaculately clean, her class was very well organized, and she was a delightful teacher. We really enjoyed learning something new, and having a meal with Mikako. It is a great memory from our honeymoon :) We were so glad she had the instructions printed out to take with us, because when we got home to the US we made some more sushi using her recipe! We highly recommend her class!
Aug 2018
---
Arie , Israel
★★★★★
Thank you so much for a great and traditional hospitality. Great suchi class. I learbec a lot
Sep 2018
---
Michelle & Christian, Netherlands
★★★★★
The sushi-class was really, really great and delicious! It was one of the best experience we have had in Japan. Mikako is a very sweet and good host. Her house was nice, clean and quiet. Well done Mikako, we had so much fun!
August 2018
---
Thinh Le, Swissland
★★★★★
Dear Mikako, It was friendly, attentive, comfortable and very useful your lessons of sushi making in July. I learned much what I expected. Thanks a lot. Sincerely yours Thinh
July 2018
---
Mathieu, Belgium
★★★★★
We had a great time! It was very cosy in your beautifull home and you had a very calm and good way of explaining how to make sushi properly! You also helped us with all of our questions. Thank you very much for this pleasant lunchtime and good luck!
July 2018
---
Adam, America
★★★★★
Wonderful host and a very nice presentation! Had a lot of fun with this class!
June 2018
---
Anne, America
★★★★★
Hi Mikako! We had such a wonderful time in your sushi class. Thank you for making it special. We are excited to try making some sushi ourselves. Thanks again!
June 2018
---
Leili, Germany
★★★★★
Ms. Mikako is a great sushi instructor and a wonderful host! I really enjoyed the time I spent with her. She didn't only teach how to make sushi, but also showed me the neighborhood she lives in and specially the public library because she already knew I'm librarian. She gave me some presents and many tips about Tokyo, where I should visit and buy souvenirs. It was the best experience I've had in Tokyo and I'm looking forward to seeing her again!

I told about your website to everyone I met in Tokyo and also the Hotel staff. I hope more people use your wonderful service. Thank you so much for your great initiative, easy course booking and your best instructors!
May 2018
---