Kyoto Cooking Class
Adorable! Flower Patterned sushi roll
★★★★★
1
Cooking Class Menu
・Kazarimaki sushi (decorative sushi rolls) 1kind
・Japanese tea
・Our original recipe booklet
・Certification from SAKURA

Options
・lot of kinds of sake, beer, and wine which made in Kyoto.
・Soft drinks
・Offered in bottles or cans,and you can choose antique sake cup to drink


Cooking Class Information
Kazarimaki sushi roll (Art Sushi Roll or Decoration sushi roll) has evolved in their own unique way from the technologies of Saikusushi for which the topping items of Edomae-nigiri-sushi have been creatively used and Futomaki Sushi (Thick roll of sushi) which is one of the local cuisines of Chiba prefecture.

In the world of sushi industry newly developed samples of Saiku sushi often came to be released in technology contests of sushi from the beginning of Showa period onward. The sushi rolls such as Saiku maki (roll) and Kawari maki (unique roll) were among them. They had designs such as flowers, some patterns and family crests, and Japanese traditionally classical designs.

Those designs were originally of their regular customers' family crests and patterns and were specially popular among craftsmen and workmen in Kyoto. We can see many of them recorded in the magazines or newsletters of the unions of workers of those days.

Kazari Sushi or Art sushi roll refers to various creative types of sushi such as Nigiri Sushi (hand-formed sushi with a topping of seafood, etc), Chirashi Sushi (vinegared-rice with assorted sashimi), sushi roll, and Oshi-zushi (sushi rice and other ingredients pressed in box or mould) and Bo-Sushi (rod-shaped sushi topped with large slice of fish) that are offered in sushi restaurants.

Kazari zushi or Art sushi roll, highlighting the atmosphere in event sites enriching tables at parties as it is so beautiful in appearance and also delicious, is appreciated by customers. When you say "Kazarimaki zushi or Art sushi roll", it means "Futomaki zushi or Thick roll of zushi" among these creatively designed ones.

It has been evolving day by day as the sushi roll that is pleasing to the eye and also delicious to eat, made with various designs such as modern ones of motifs based on nature and ones of animal characters that are popular among children.

---
About Host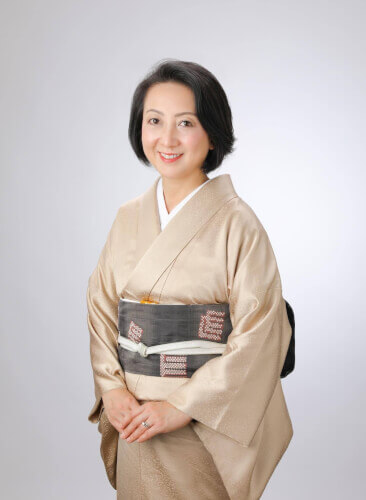 Aya
★★★★★
(1)
Hi,I'm Aya, owner of SAKURA.
I was born in Kyoto 1967,raised in Kobe.
As you know,Kyoto is very famous historical city as world heritage but also the Heart of Japanese culture.
People in Kyoto are carefully protecting the culture of Kyoto.
Many tourists come to Kyoto from all over the world, and it is increasing year by year.
According to that, the number of experience classes which teaching Japanese culture are continues to increasing.
But there are also many shops where amateurs are teach you.
They are doing that only for the money.
Of course,they are not introduce the correct Japanese culture.
My husband and me went to the class about various Japanese culture from when we were children.
Since I was 40 years old I studied business administration at the graduate school and got a master's degree.
at least,now, I can do the work I wanted to do.
My husband is a descendant of [Ihee Ito] who developed a cherry tree "Somei Yoshino".
It is the most famous kind of cherry tree in the world.
He was a rich trader in the Edo period, and worked for Shogun [House Tokugawa] as an advisor of their garden.
Me and my husband are very proud of that.
I would like to let you know the right culture of Japan with having fun time with you!
Please come to our place if you come to Kyoto.
I am looking forward to meeting you.
---
Area
The closest station
Kyoto Shiyakusho-mae Station
How to get to the station?
From Kyoto Statioin: 10mins
Exact location provided after booking.
---
FAQ about Adorable! Flower Patterned sushi roll | Cooking class by Aya
What is the maximum capacity of Aya's cooking class?

Up to 10 people can join Aya's cooking class.

How long is this cooking class by Aya?

Duration of this cooking class is 1 hours.

Is Adorable! Flower Patterned sushi roll available for vegetarians?

Yes, Adorable! Flower Patterned sushi roll has a vegetarian option.

Is Adorable! Flower Patterned sushi roll available for vegans?

Yes, Adorable! Flower Patterned sushi roll has a vegan option.

How much does it cost to join Adorable! Flower Patterned sushi roll ?

It costs 6600 per person.
Additional cooking class information
Confirmation

You will receive the confirmation within 24 hours.

Payment

We accepts these cards on airKitchen.

Cancellation

Cancellations up to 48 hours prior to the class begins will be fully refunded by the airKitchen cancellation policy.