The 5 Best Cooking Classes in Merida in 2020
Merida is the capital of the state of Yucatan, Mexico. It was founded on the remains of the Mayan civilization, so its cuisine exposes splendidly the best of the Mexican-indigenous gastronomic heritage. Full of spicy species as chile or jalapeño and sweet tropical fruits as zapote. Want to take a tasty trip to one of the greener cities in Central America?
Los Dos: Taste of Yucatán
Dedicate a whole day to Yucatan gastronomy with the chef Don Mario. You'll visit the Yucatan central market to choose your ingredients to prepare a plate like a real professional cook and learn everything about Mexican typical food. This course supplies a book with the recipes cooked in class.

Map: https://goo.gl/maps/asDw5u4zZVJfizdn7
Hours:
Morning class: 8:30am-12m
Afternoon Class: 12m-4pm
Closed: Monday, Wednesday, Friday and Sunday.
Website: https://los-dos.com/class/taste-of-yucatan/
Price: $200.00 USD/per person.
Fela Chocolate: Create Traditional Chocolate in Merida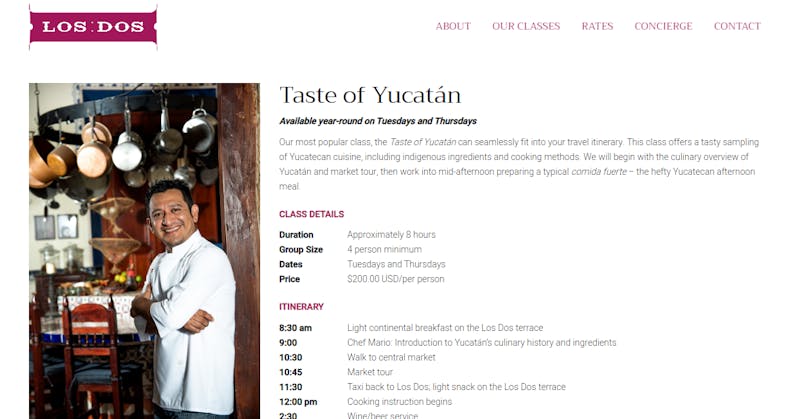 Source: Fela Chocolate: Create Traditional Chocolate in Merida
In this one-day course, you'll taste Mexican cocoa, know its origin, and the Mexican chocolate manufacture. You'll receive an in-depth study on the medicinal, stimulating, and nutritional use of natural chocolate. From the bean to the bar, the roasting and grinding of the cocoa beans, this chocolate experts will guide you to make chocolate handmade!

Map: https://g.page/felachocolate?share
Hours:
Morning class: 9:30am-12m
Afternoon Class: 12m-6pm.
Closed: Sunday.
Website: https://www.bonappetour.com/aaron-aguilar-vazquez/create-traditional-chocolate-in-merida
Price: $25.07 USD/person
Manos en la masa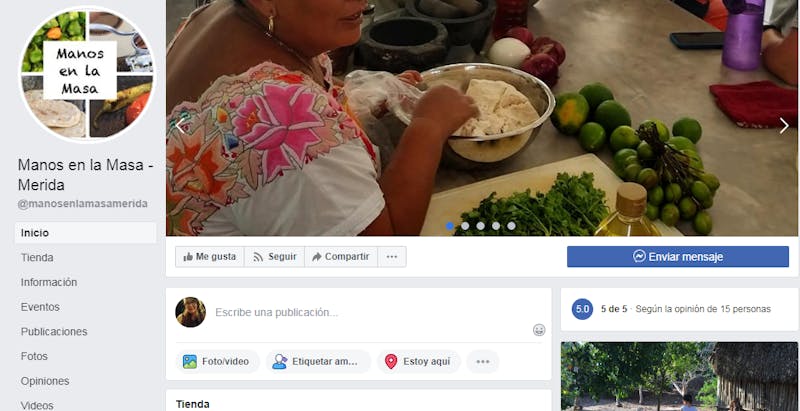 Source: Manos en la masa
This is a small establishment that has gradually gained an outstanding reputation in Merida because of its specialty: corn tortillas! Chef Susy will tell you the secrets of a perfect dough. Every month she and her team offer courses about other traditional Mexican recipes, like asado negro and sopa de lima.

Map: https://goo.gl/maps/asDw5u4zZVJfizdn7
Hours:
Morning class: 9am-12m
Afternoon Class: 12m-4pm
Closed: Monday, Wednesday, Friday, Saturday and Sunday.
Website: https://m.facebook.com/manosenlamasamerida/
Price: -/person
Traditional Yucatecan cuisine in a homey atmosphere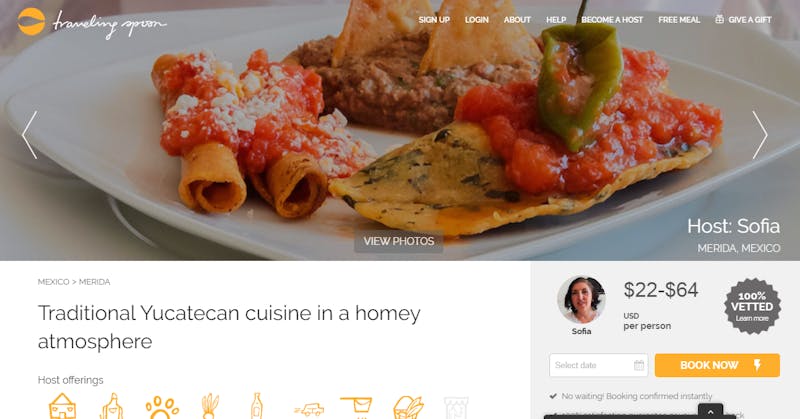 Source: Traditional Yucatecan cuisine in a homey atmosphere
Enjoy a unique moment with your friends and family with Sofia in a tour to worldwide cultures through Yucatan food. She offers several service packages, including a visit to the Churbuná market. In there, you'll learn to cook the most popular plates in Yucatán, such as lime soup, tamañes, and sikil pak with tostadas.

Map: https://goo.gl/maps/qEngEmwVE4f72dhXA
Hours:
Morning class: 9am-12m
Afternoon Class: 12m-6pm
Closed: None.
Website: https://www.travelingspoon.com/hosts/2669-traditional-yucatecan-cuisine-in-a-homey-atmosphere
Price: $22-64/person
Sharing Traditions Yucatecan Cooking Class And Market Tour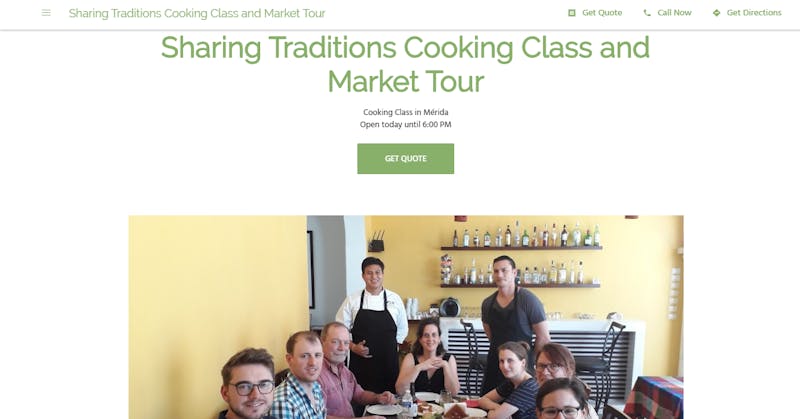 Source: Sharing Traditions Yucatecan Cooking Class And Market Tour
In this guided tour, you'll meet the markets in Yucatan, where you'll learn the history behind the essential ingredients of Mexico's cuisine. Chefs will teach you the secrets of guacamole, the differences between Tequila and Mezcal, and all you need to know to prepare a finger-licking' Mexican lunch! ¡Buen provecho!

Map: https://goo.gl/maps/DLroUEx4oWAKXtgC7
Hours:
Morning class: 8am-12m
Afternoon Class: 1pm-6pm
Closed: None
Website: https://sharing-traditions-yucatecan-cooking-class-and-market-tour.business.site
Price: $42 USD (or the equivalent in Mxn)/person