The 10 Best Cooking Classes in Valencia in 2020
Spanish cuisine tells a tale of its own right on your taste buds - a tale incorporating its rich history and heritage. Cooking classes take their participants on a journey whereby they're equipped with the necessary skill-set to recreate the dish they fell in love with, or the area - all through a few hours in the kitchen. Valencia is known for producing the finest, richest and downright delicious food anywhere in the world. Just because your trip ended, doesn't mean the experience has to too.
My First Paella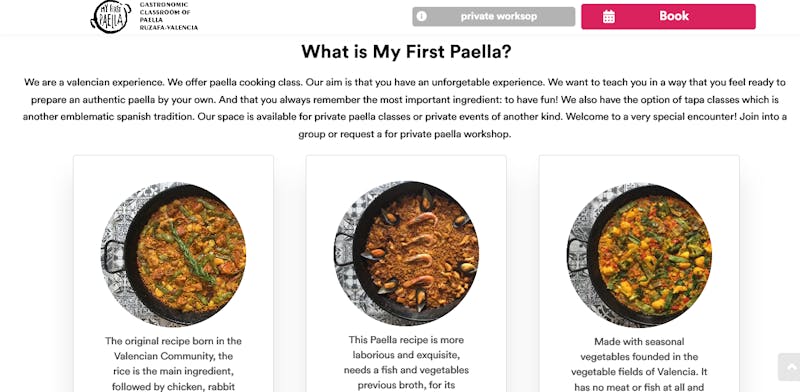 Source: My First Paella
While visiting Valencia, you'll come across various local and fine dining eateries taht will sway you off of your feet. However, for a tourist, the experience matters as much as the memories and what better way to relive all those memories than by learning tips and tricks of the trade by professionals. Cooking classes for sole tourists, groups and intermingling groups with locals are all given in this guide.
Valencia Club Cocina
Club Cocina is your one stop to everything Spain has to offer the culinary world. Cooking classes at the club begin with a visit to the market place to purchase the freshest ingredients. After you get your apron on, there will be nothing stopping you from making that paella, gazpacho or some good old tapas. The club has workshops and fine wine tasting - a treat for everyone!
Map: https://goo.gl/maps/zhYGSaEv1hyFWdkX7
Hours: 10:00 am - 2:00 pm, 5:00 pm - 8:00 pm
Closed: Saturdays and Sundays.
Website: https://www.valenciaclubcocina.com/
Price: 60-100€
Food And Fun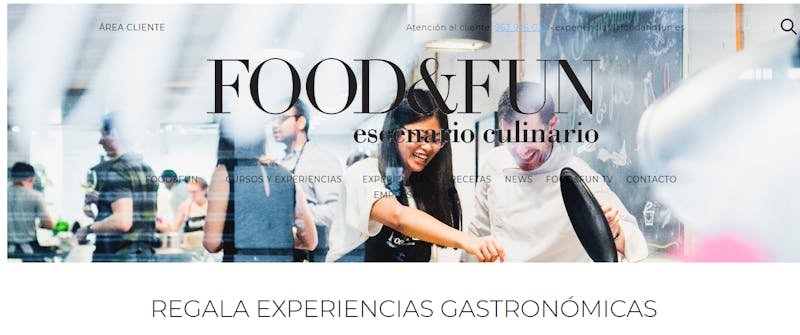 Source: Food And Fun
The name gives it away, for a truly wonderful experience incorporating food and fun visit cooking classes hosted by Food and Fun. Cooking classes range from basics all the way up to fine dining over the course of the session. Participants can learn a variety of tips and tricks from Valencia's finest.
Map: https://goo.gl/maps/8AbXRGNV7t3u44nR9
Hours: Monday - Friday: 10:00 am - 8:00pm; Saturday: 10:00 am - 2:00 pm
Closed: Sunday
Website: https://foodandfun.es/
Price: 70,000 €
Paella School Montero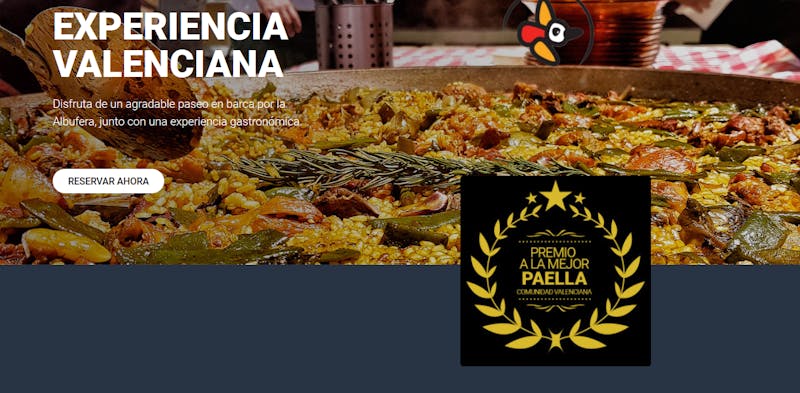 Source: Paella School Montero
The Montero brothers came together to give locals and tourists of Valencia alike an experience unlike any other. Paella School Montero gives it's participants cooking classes throughout its course on a cruise ship. The school is monitored at giving participants cooking classes for everything Spain is famous for.
Map: https://g.page/paella-official-school?share
Hours: 10:00 am - 7:00 pm
Closed: Monday
Website: https://paellaschoolmontero.com/
Price: Adults: 50 € 12 - 17: 25 € Infants: 14 €
Valencia Hoartcaha Workshop and Tasting
Visiting Valencia is not complete without visiting L'Horta Nord of Valencia. Go on a tour to one of the finest areas in Valencias: beautiful farmhouses, lots of little gardens and a fascinating irrigation system. The tour takes participants on a natural, healthy and nutritious journey - making the Horchata. Valencian people stand by it, take your turn at it.
Map: https://goo.gl/maps/HccgQT4NoS6yPnKy7
Hours: Monday - Saturday: 10:30 am - 12:30 pm
Closed: Sunday
Website: https://www.getyourguide.com/valencia-l49/valencia-horchata-workshop-tasting-t65176/
Price: 402€
Paella and Spanish Omellete Cooking Class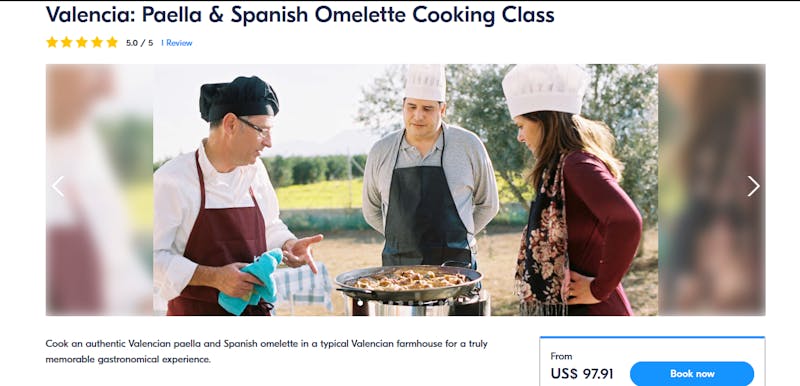 Source: Paella and Spanish Omellete Cooking Class
Enjoy a culinary experience of a lifetime in the outskirts of Valencia. Participants will be guided at every step by experienced teachers who will teach you how to take on the Valencian paella and a Spanish omelette. The guides take it up a notch with informative tours across the area; revealing myths and traditions exclusive to the area.
Map: https://goo.gl/maps/CBhx5yox2YX9fc6p6
Hours: 11:00 am - 4:00 pm
Closed: Sunday
Website: https://www.getyourguide.com/valencia-l49/valencia-paella-spanish-omelette-cooking-class-t211113/
Price: 87.72€
Valencia Paella Afternoon Cooking Class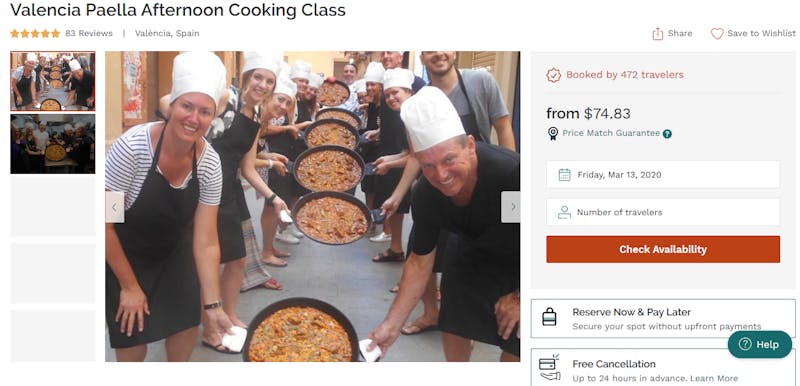 Source: Valencia Paella Afternoon Cooking Class
Ruzafa market takes tourists away from the hustle and bustle of modern-day Valencia to the traditional outskirts for what the city is known for. Enjoy an afternoon class with an expert chef. Traditional recipes and local produce included on this culinary adventure. Enjoy the class with fine wine tastings and complimentary appetizers.
Map: https://g.page/EscuelaPaellas?share
Hours: 6:00 pm - 9:00 pm
Closed: N/A
Website: https://www.viator.com/tours/Valencia/Valencia-Paella-Afternoon-Cooking-Class/d811-47775P2
Price: 66€
Seafood Paella at Rufaza Market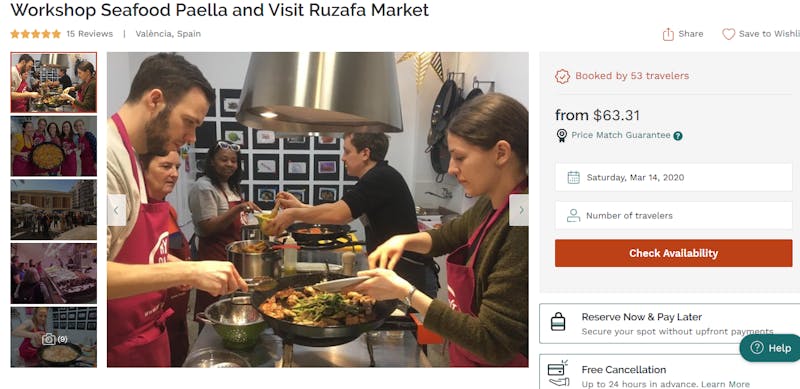 Source: Seafood Paella at Rufaza Market
With equipment and instructions provided: the world is your oyster! Fitting example for a cooking class. Indulge in a Valencian experience with Spain's finest - Paella. A small guided cooking class is befitting for the little introvert within. Sit down with a drink in your hand and a dessert in the other - get cooking!
Map: https://goo.gl/maps/8x1VwFJrbgrGfQ9i9
Hours: 11:00 am - 2:30 pm
Closed: N/A
Website: https://www.viator.com/tours/Valencia/Workshop-Seafood-Paella-and-Visit-Ruzafa-Market/d811-102062P2
Price: 62€
Paella & Jazz In The Cabañal Fishing District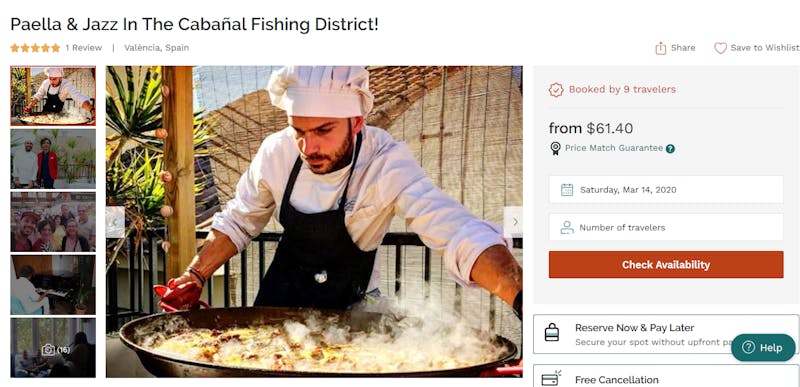 Source: Paella & Jazz In The Cabañal Fishing District
Participants are taken on a lifestyle experience unlike any other - jazz with paella! Tourism isn't complete without immersing in the customs, traditions, cuisine and culture. This trip is equipped with all that, and more. In March, you're taken to a local house in the ehart of Valencia built during the 1900's. Artists are gathered and tourists have an experience of jazz with some of the finest food.
Map: https://goo.gl/maps/Lz5xoV4KZvx6FX9WA
Hours: 10:00 am - 2:00 pm
Closed: N/A
Website: https://www.viator.com/tours/Valencia/PAELLA-and-JAZZ-IN-THE-DISTRICT-OF-PESCADORES-DEL-CABANAL/d811-160855P2
Price: 53€
Vegetarian Paella Cooking Class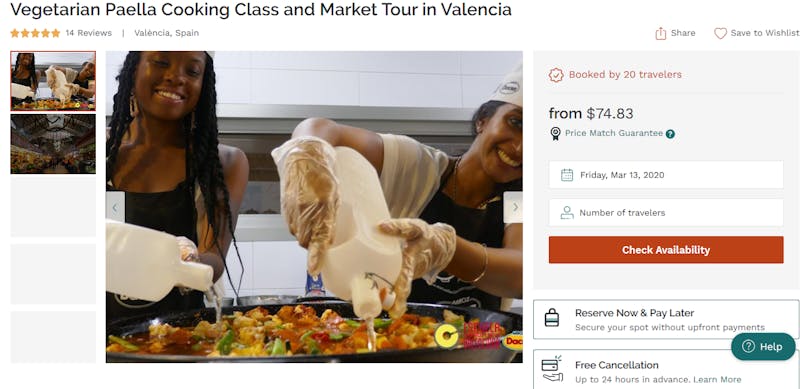 Source: Vegetarian Paella Cooking Class
Being vegetarian isn't a death sentence in a foreign area, especially not in Valencia. Choosing this lifestyle isn't going to take you away from having a Spanish experience like every one else. Learn to cook culinary staples of Valencia in the way that befits your lifestyle. Four and a half hours are all it takes to get you living your best life in a far away place from home.
Map: https://g.page/EscuelaPaellas?share
Hours: 10:00 am - 2:30 pm
Closed: N/A
Website: https://www.viator.com/tours/Valencia/Vegetarian-Paella-Cooking-Class-with-Market-Visit-in-Valencia/d811-47775P5
Price: 66€