Private Cooking Classes with Canela FinaClass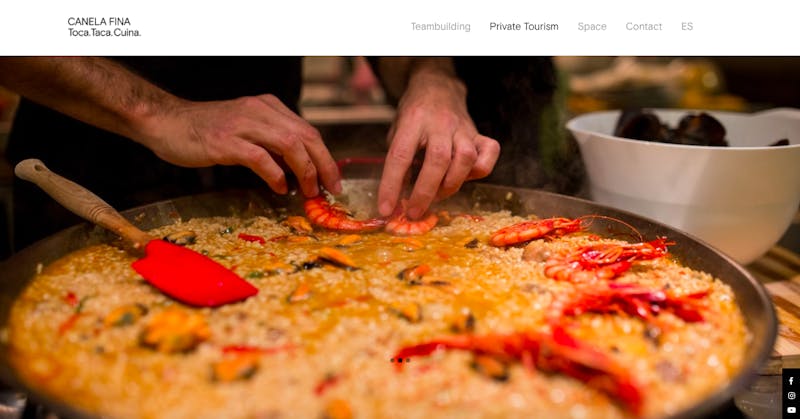 Source: Private Cooking Classes with Canela Fina
For a completely privately developed cooking class go beyond the standard affair. If you are thinking about visiting Barcelona and you believe that gastronomy is essential to understand the culture of a country, you've meet your partner with Canela Fina! They organize unique and personalized activities so you can have a full gastronomic experience. All classes are 100% collaborative cooking workshop for private groups where you will learn the best traditional recipes.

Map: https://goo.gl/maps/4hECUmKzfzMgy4sT6
Hours: As Scheduled Contact For Private Classes
Closed: Closed Off-days Book Early
Website: https://cuinacanelafina.com/en/private-tourism/
Price: As Booked Contant For Info
Foodie Experience BCNClass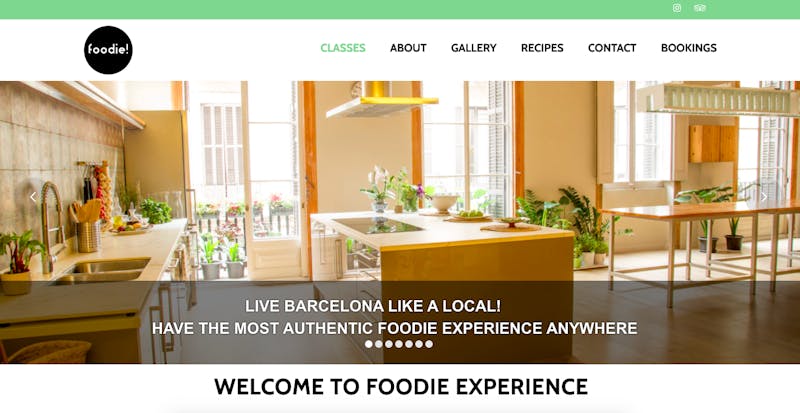 Source: Foodie Experience BCN
At Foodie Experience BCN you will be able to take an intimate spanish cooking class that consists of a 3 hour participative, interactive and fun hands-on Spanish Cooking Class & Boqueria Market Tour. Everyone participates in the elaboration preparation of the recipes. The class includes 4 traditional recipes as well as their very fresh home-made Sangria and mineral water.

Map: https://goo.gl/maps/fZDErVa4SDrB96dQ7
Hours: Monday - Saturday 4pm - 7pm
Closed: Sundays
Website: https://www.foodiexperiencebcn.com/
Price: €36
The Sweet Experience with Essence EspaisucreClass

Source: The Sweet Experience with Essence Espaisucre
Jordi Butrón and Xano Saguer have designed a unique and primal experience. Their vision takes the flavors and creation methods and develops not just a menu but an experience that you get to help create and learn about in an informal and fun setting. You will help create a menu of 3 salty tapas + 5 desserts + 3 sweet tapas and take home an experience and a dessert knowledge of a lifetime.

Map: https://goo.gl/maps/6BnfMgSP958Z2wVz5
Hours: Book for Scheduling Dates
Closed: Closed Off-days Book Early
Website: https://www.essence-espaisucre.com/
Price: €58 - €78
Born To Cook in BarcelonaClass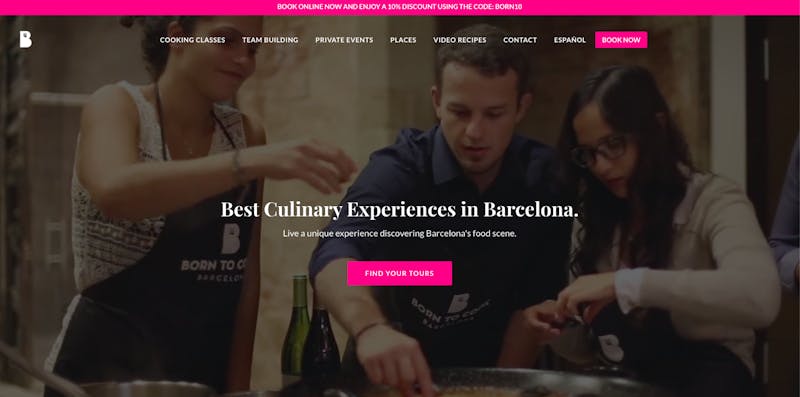 Source: Born To Cook in Barcelona
The Born to cook studio is housed in a building emblematic of the Born neighborhood. The space, which dates back to the 17th century, still has the original structure complete with arches and stone walls. It creates a unique atmosphere ideal for cooking classes. According to historians, the site belonged to Christopher Columbus' family. Learn and have fun with professional chefs who specialize in each type of cuisine from tapas and pasta to sushi and ceviches.

Map: https://goo.gl/maps/9jeV4PPGtnks1Bp17
Hours: Monday-Saturday Open 6pm - 9:30pm
Closed: Sunday Book Early
Website: https://borntocookbarcelona.com/
Price: €36 - €99
Hofmann Culinary and Pastry ArtsClass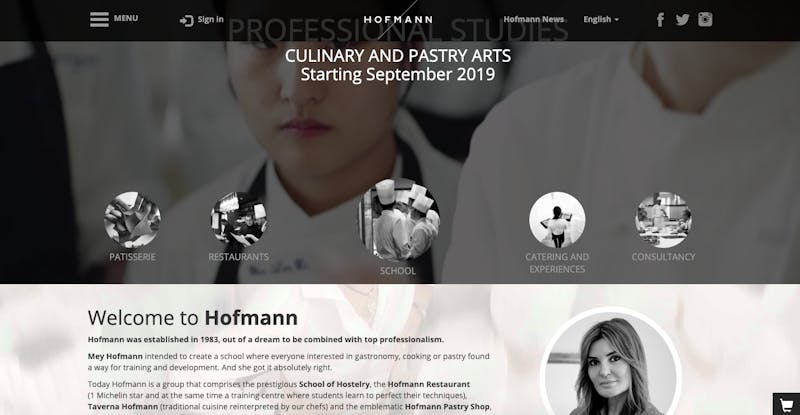 Source: Hofmann Culinary and Pastry Arts
The Hofmann Culinary and Pastry Arts School is a full-service culinary arts school and provides numerous full day intensive classes for beginers up to elite home chefs. All of the classes are cooking courses specially designed to meet the expectations of the most demanding and cosmopolitan customers. A specialist chef from the prestigious Ducasse Education school will show you how to design and cook menu for an international clientele from breakfast to dinner to dessert.

Map: https://goo.gl/maps/CT1MseQDz1rzrQew6
Hours: Most Days Open 9am - 6pm
Closed: Closed Off-days Book Early
Website: https://www.hofmann-bcn.com/en
Price: Starting at €150
Paella with Marta Amb Tu CuinemClass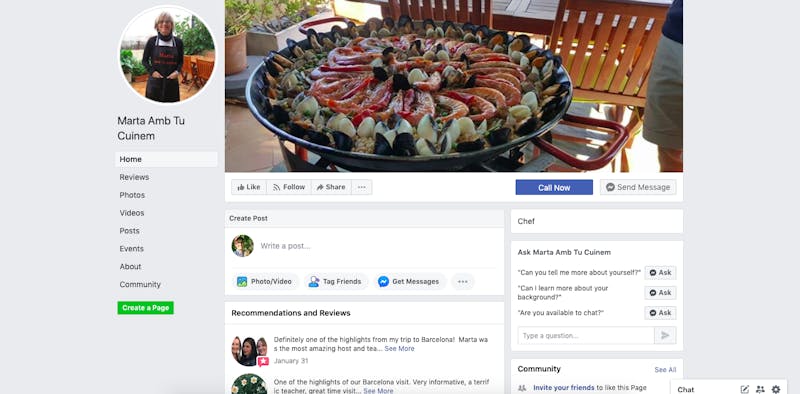 Source: Paella with Marta Amb Tu Cuinem
If you want the most popular home cooked cuisine lesson in all of Spain you will constantly be pointed to Paella with Marta Amb Tu Cuinem. She is small but what she lacks in size she makes up in flavor and expertise in her cuisine and her knowldge of Barcelona. Classes range from vegetarian options to her nationally renown paella. As she is often booked it is advised to get in early and quickly.

Map: https://goo.gl/maps/ediVBTXG54RNrruSA
Hours: Call For Availability
Closed: Closed Off-days Book Early
Website: https://www.facebook.com/Marta-Amb-Tu-Cuinem-332539933534827/
Price: Vaiable, Call or Facebook Message for details
Spanish Cooking Classes from Barcelona CookingClass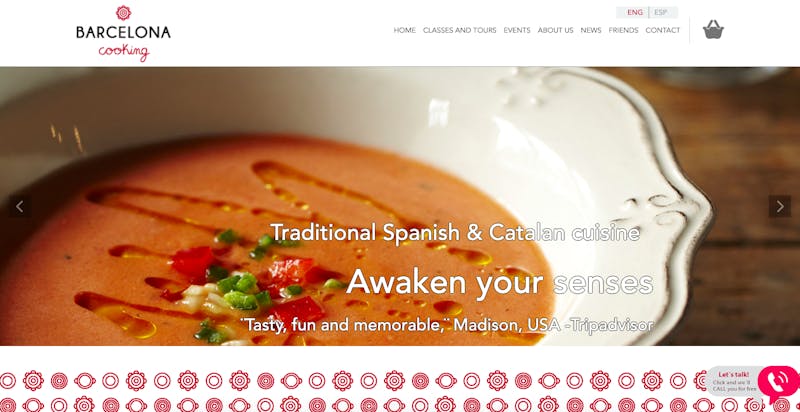 Source: Spanish Cooking Classes from Barcelona Cooking
At Barcelona Cooking the chefs strive to provide the best cultural and gastronomic experience to everyone that participates in the cooking classes, tapas and market tours. In the classes, you will use fresh, seasonal, locally grown ingredients. The team understands sustainable principles, practices, and human impact on the environment. 'Farm to table' is a way of life for the school and the classes and recipes are adjusted to support the efforts to source all the food products locally.

Map: https://goo.gl/maps/FWAV64fY2bMAFFu46
Hours: Monday - Saturday 10am - 2pm
Closed: Sunday
Website: https://www.barcelonacooking.net/en/
Price: Starting at €78
Spanish Cooking With Barcelona Slow TravelClass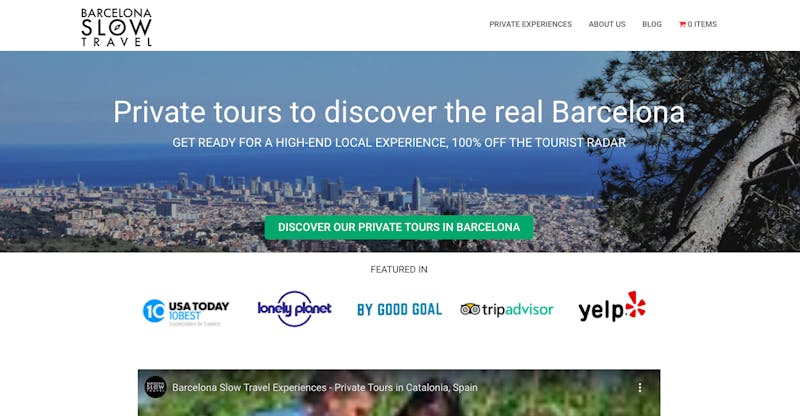 Source: Spanish Cooking With Barcelona Slow Travel
Are you looking for the most authentic food experience in Barcelona? Are you into cooking, and farm to table life? Then you will love the Farm To Table Cooking Experience. Together with Guillermo, the founder of Barcelona Slow Travel, an expert of local producers, slow food, and an accomplished chef, you'll take a unique journey into the Catalan countryside life and learn to cook next to the experts in the industry.

Map: https://goo.gl/maps/ediVBTXG54RNrruSA
Hours: Most Days Open 9am - 5pm
Closed: Closed Off-days Book Early
Website: https://www.barcelonaslowtravel.com/
Price: Starting at €75
Barcelona Cooking Classes with Cook&TasteClass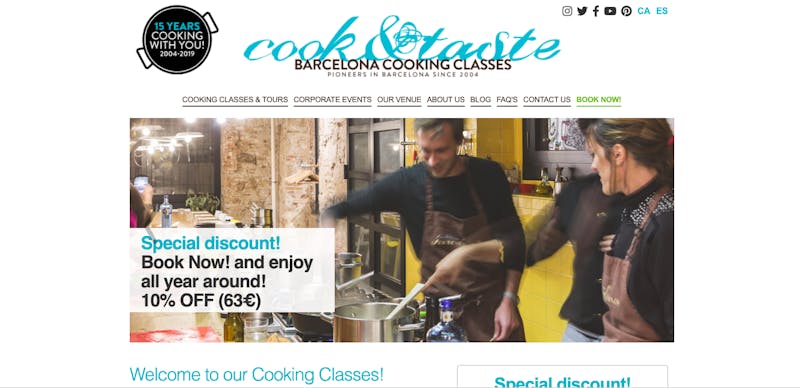 Source: Barcelona Cooking Classes with Cook&Taste
Join Cook&Taste's unique hands-on cooking workshops in Barcelona and discover the secrets of Barcelona's traditional cuisine. You will learn how to cook some of Spain's authentic, typical dishes (paella, gazpacho, tapas,…). You can start with a walking tour around the famous Boqueria market, where the chefs will give you plenty of tips on picking local, seasonal products. Back at the school, you'll continue your cooking experience and you'll end your day adventure enjoying the food you have prepared in a friendly and casual atmosphere.

Map: https://g.page/cookandtaste?share
Hours: Most Days Open 9am - 8pm
Closed: Closed Off-days Book Early
Website: https://cookandtaste.net/
Price: Starting at €63
Paella Cooking Experience with Professional Chef and Bottomless WineClass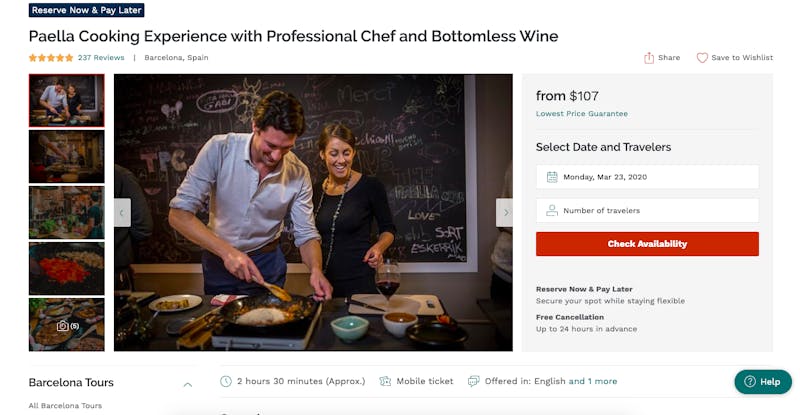 Source: Paella Cooking Experience with Professional Chef and Bottomless Wine
Rather than just eating paella, learn the secrets behind Spain's most famous dish so that you can recreate the recipe at home during a cooking class led by a Michelin-starred chef. The perfect choice for food lovers and first-time visitors, this experience provides an introduction to Barcelona's culinary heritage and culminates with a 5-course meal accompanied by wine and cava.

Map: https://goo.gl/maps/TmCcpKTFsRHChQ1y6
Hours: Most Days Open 12pm - 10pm
Closed: Closed Off-days Book Early
Website: https://www.viator.com/tours/Barcelona/Paella-Cooking-Experience-Full-Menu/d562-88638P2
Price: Starting at $107
Foodie ExperienceClass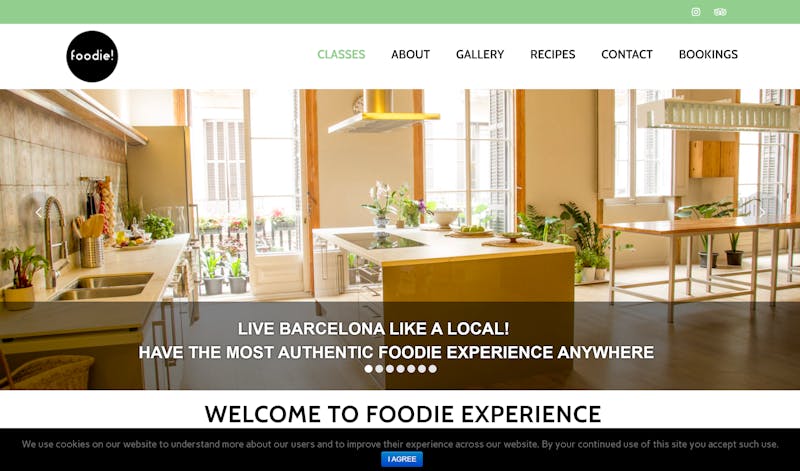 Source: Foodie Experience
With this amazing group of chefs, you will work with your class to make Paella just like a traditional Mexican family. Everyone will come together to make various meal elements, but the Paella is a group effort. You will love the hard work and the payoff!

Map: https://goo.gl/maps/LFJQjMRGhDUAjGrm9
Hours: 4:00-7:00 Daily
Closed: Holidays
Website: https://www.foodiexperiencebcn.com/
Price: 1,200THB/person
Barcelona Cooking Spanish Cooking ClassClass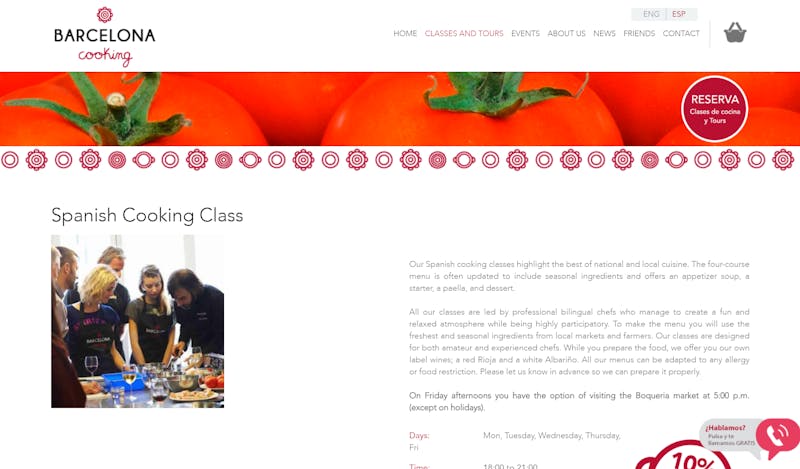 Source: Barcelona Cooking Spanish Cooking Class
Pair with a team of talented Spanish chefs to create a four-course meal that will dazzle your tastebuds. With this class, paella is just one of the delicous things that you will be making. Prepare for something delicious with this group!

Map: https://goo.gl/maps/RkejJQu1gazgW82S9
Hours: 6:00-9:00 Monday-Thursday
Closed: Friday, Saturday, Sunday
Website: https://www.barcelonacooking.net/es/actividades/clase-de-cocina-espanola/
Price: $40+/person
Spanish Cooking Class and La Boqueria MarketClass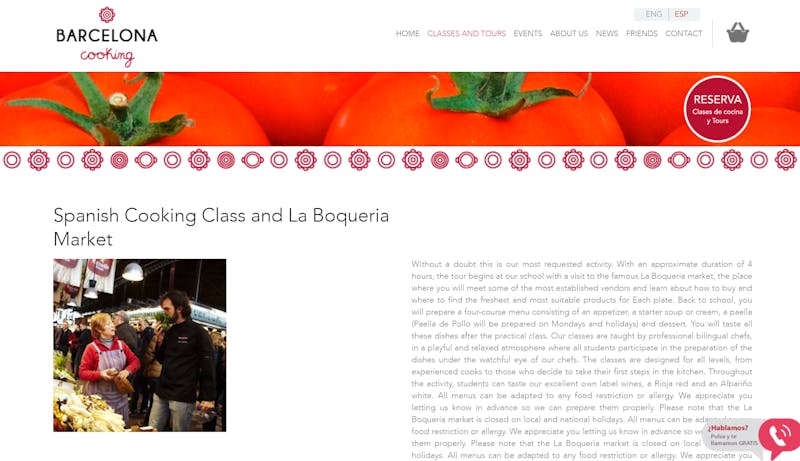 Source: Spanish Cooking Class and La Boqueria Market
In this awesome class you get a complete cooking and shopping experience! Work with this amazing group to visit the local market for ingredient shopping, then pair with them to create delicous paella and more!

Map: https://goo.gl/maps/RkejJQu1gazgW82S9
Hours: 10:00-2:00 PM Monday, Tuesday, Thursday, Friday, Saturday
Closed: Wednesday, Sunday
Website: https://www.barcelonacooking.net/es/actividades/clase-de-cocina-espanola-y-mercado-de-la-boqueria/
Price: $95+/person
Barcelona Life Paella ClassClass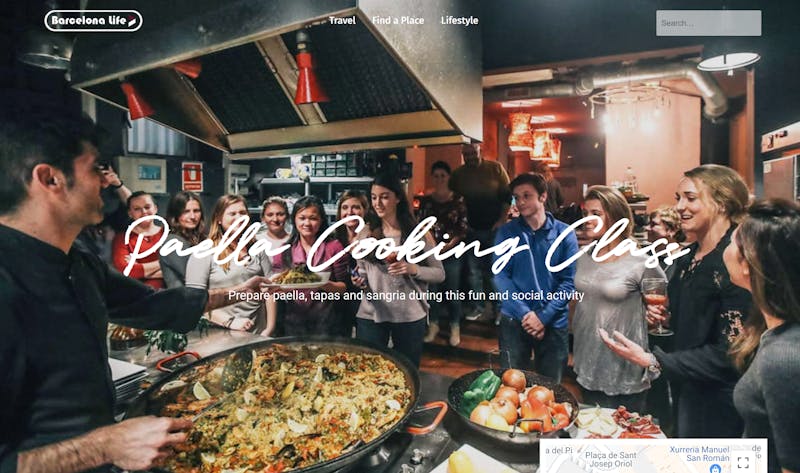 Source: Barcelona Life Paella Class
This class is proud to offer a complete market and cooking experience. Gather ingredients at a famous Spanish market before coming together to make delicious Spanish food. Create wonderful paella from scratch and more!

Map: https://goo.gl/maps/3KRd6tqHJbHyYQPL6
Hours: 1:00-4:00 and 6:00-9:00 Daily
Closed: Holidays
Website: https://www.barcelona-life.com/paella-cooking-class
Price: 1,200THB/person
Spanish Cooking Experience in BarcelonaClass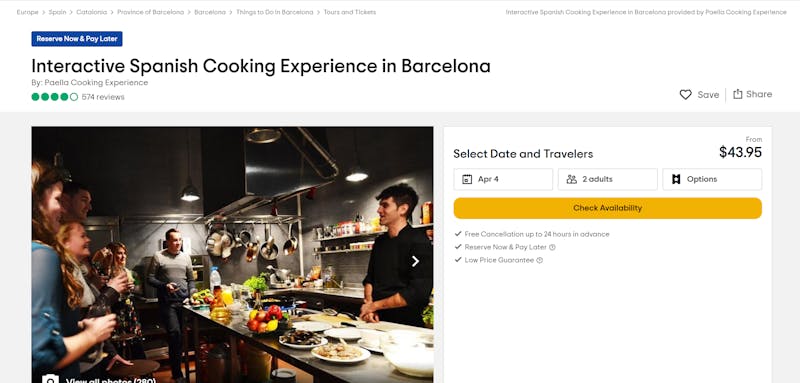 Source: Spanish Cooking Experience in Barcelona
Come together for a complete Spanish cooking experience with this amazing class. Craft paella from scratch and enjoy learning about Spanish culture at the same time. This is a class that will give you valuable skills!

Map: https://goo.gl/maps/AfGNFmV8EjkHqMHu5
Hours: Available by Appointment
Closed: Holidays
Website: https://www.tripadvisor.com/AttractionProductReview-g187497-d11990696-Interactive_Spanish_Cooking_Experience_in_Barcelona-Barcelona_Catalonia.html
Price: $45+/person
Paella Cooking Experience With Bottomless WineClass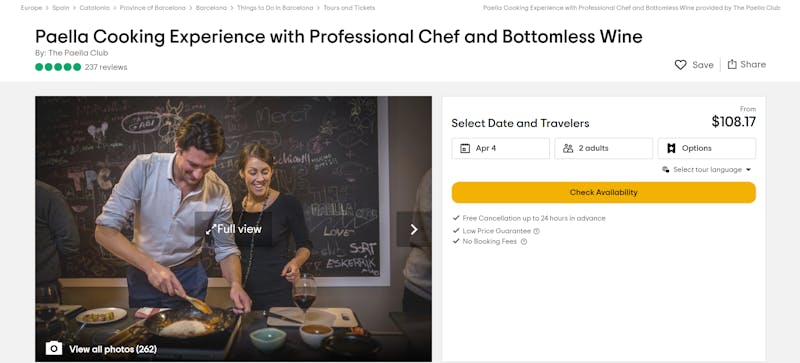 Source: Paella Cooking Experience With Bottomless Wine
If you love wine and delicious food, look no further. This amazing class makes it easy for you to learn all about cooking paella while also enjoying delicious local wines at the same time. With this wonderful food and drink combo, what more could you need?

Map: https://goo.gl/maps/CsJV3VfdEzkBKX3Q6
Hours: Open By Appointment
Closed: Holidays
Website: https://www.tripadvisor.com/AttractionProductReview-g187497-d14986445-Paella_Cooking_Experience_with_Professional_Chef_and_Bottomless_Wine-Barcelona_Cat.html
Price: $108+/person
Paella Cooking Experience Four Course MealClass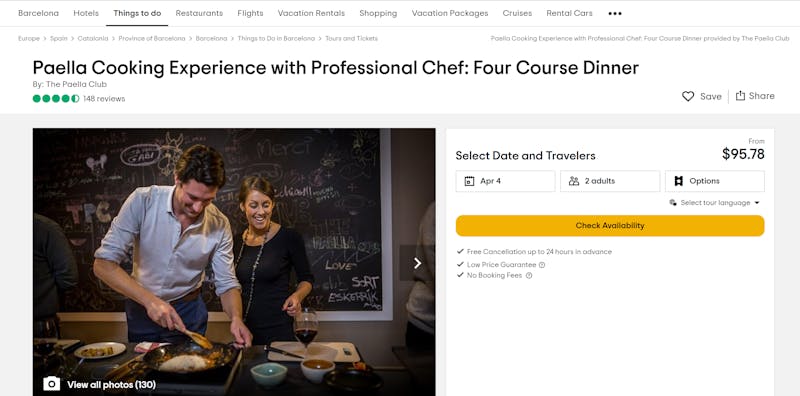 Source: Paella Cooking Experience Four Course Meal
Making paella is a Spanish practice that has been going on for ages and this class brings you so much more. Pair with a professional to make a delicious paella-focused meal with three other amazing courses that will blow your mind. You will love learning how to cook delicious food with seasoned professionals!

Map: https://goo.gl/maps/CsJV3VfdEzkBKX3Q6
Hours: Open By Appointment
Closed: Holidays
Website: https://www.tripadvisor.com/AttractionProductReview-g187497-d14986446-Paella_Cooking_Experience_with_Professional_Chef_Four_Course_Dinner-Barcelona_Cata.html
Price: $95+/person
Paella Cooking Class in a Private GardenClass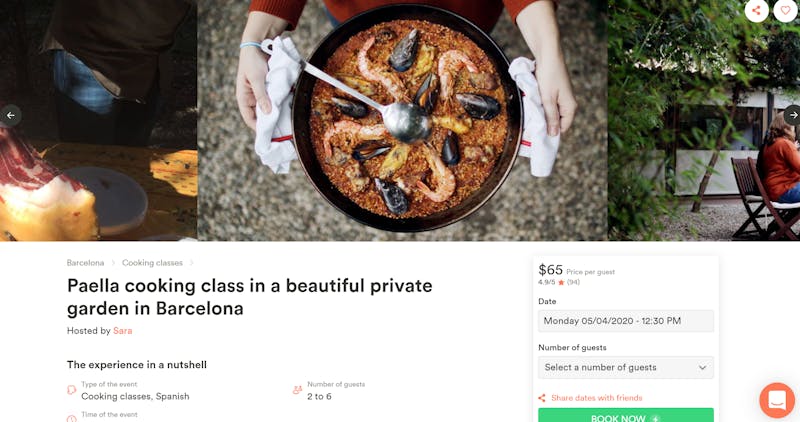 Source: Paella Cooking Class in a Private Garden
In this amazing class you can learn to make various kinds of Spanish foods. This is made to teach you how to make tapas and paella for a complete Spanish meal. Enjoy working with this group to make something great!

Map: Provided by Appointment
Hours: Open By Appointment
Closed: Holidays
Website: https://www.eatwith.com/events/7517?date=2020-05-04
Price: $65+/person
Boqueria Market Tour with Cooking ClassClass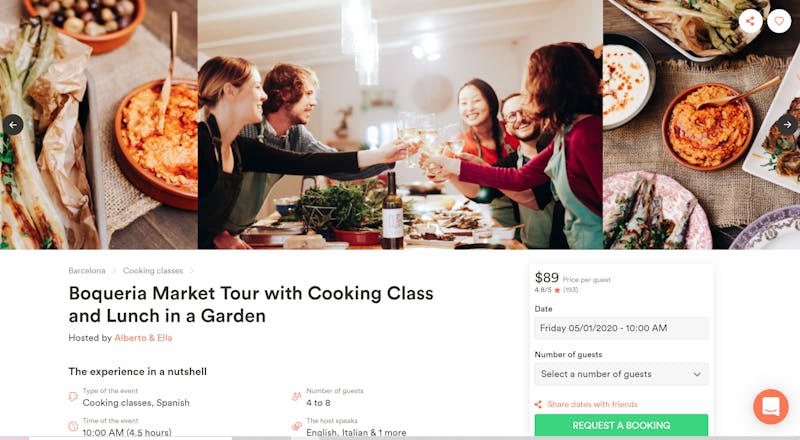 Source: Boqueria Market Tour with Cooking Class
This wonderful class starts with a market tour at a local market and then spread into a complete cooking experience. You will love learning to cook paella and so much more. Enjoy learning all about Spanish cooking from local chefs!

Map: https://goo.gl/maps/aRdtAXwTdR5HtasTA
Hours: 10:00-2:00 Daily
Closed: Holidays
Website: https://www.foodiexperiencebcn.com/
Price: $89+/person
Paella Cooking Class and LunchClass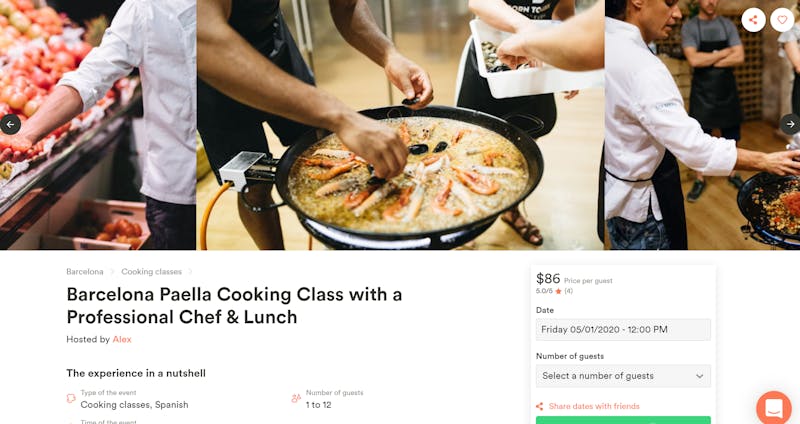 Source: Paella Cooking Class and Lunch
With this group you will make a delicious seafood paella and four other entrancing dishes. They will guide you through creating traditional Spanish meals that you will love to eat!

Map: Open by Appointment
Hours: 12:00-4:00 Daily
Closed: Holidays
Website: https://www.eatwith.com/events/18169?date=2020-05-01
Price: $86+/person
Born to Cook BarcelonaClass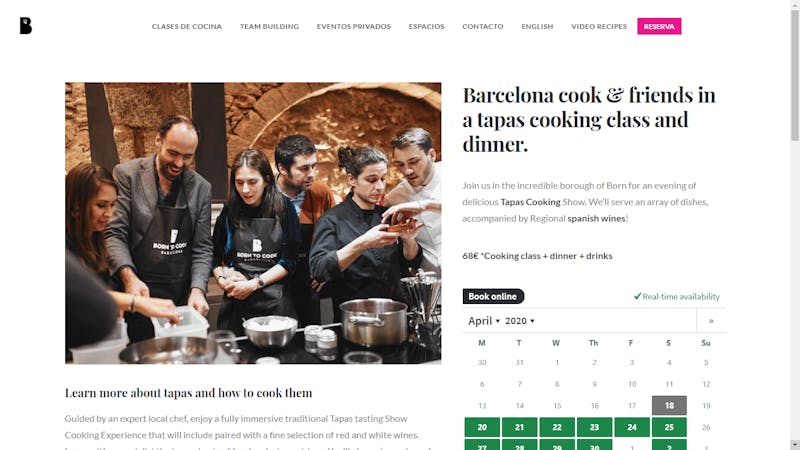 Source: Born to Cook Barcelona
Not only learn how to cook tapas, but learn more about tapas and the history behind it. This cooking course is designed for tourists.

Map: https://g.page/borntocookbarcelona?share
Hours: Monday- Saturday: 10:30am – 7pm
Closed: Sunday
Website: https://borntocookbarcelona.com/
Price: €68 / person
Barcelona Paella ExperienceClass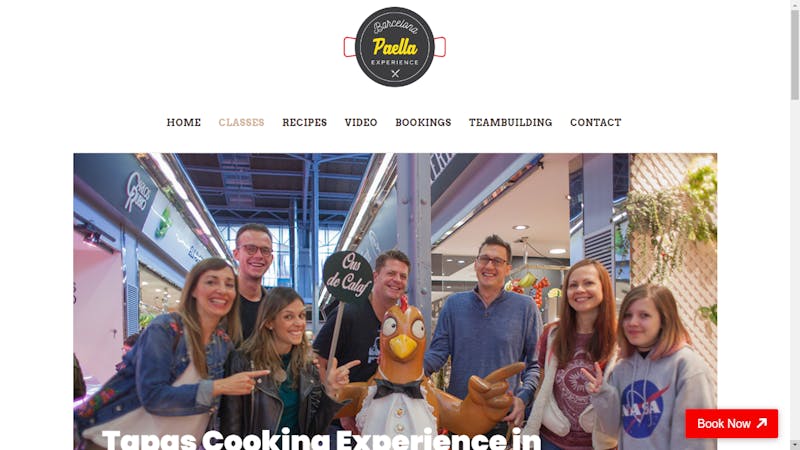 Source: Barcelona Paella Experience
You can make a variety of different types of tapas that you get to take home the recipes for. You can impress your friends and family with your tapas.

Map: https://goo.gl/maps/SkqkzWVVUMBLZTzk8
Hours: Monday – Sunday: By Reservation
Closed: None
Website: https://barcelona-paella.com/tapas-class/
Price: €90-95 for adults, €60-65 for children. Depends on whether market visit included.
Barcelona CookingClass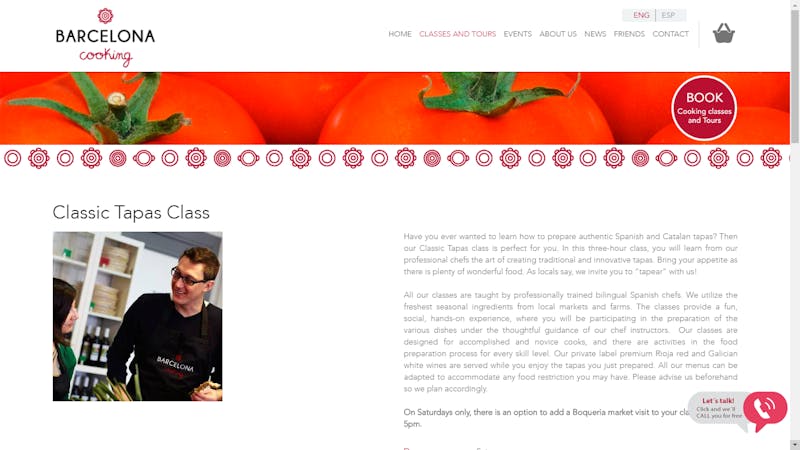 Source: Barcelona Cooking
Prepare authentic Catalan and Spanish tapas. This class is ideal for tourists and only lasts for 3 hours. The teachers are all professional chefs.

Map: https://goo.gl/maps/XRNpnzfh6K7nshyC7
Hours: Monday – Sunday: 9am – 9pm
Closed: None
Website: https://www.barcelonacooking.net/en/classes-and-tours/classic-tapas-class/
Price: €65.00 / person