Porto Cooking Class with Visit to Local Market with Cátia
Source: Porto Cooking Class with Visit to Local Market with Cátia
If you and your partner are meat lovers, this cooking class is ideal for you! Meet your hosts at Mercado do Bolhão for delicious Porto-style sausage plates.

Map: https://goo.gl/maps/JsLa7Qehr3cA89YC6
Hours: 10:00 - 16:00 (Reservation only)
Closed: Sundays
Website: https://www.cdportolocaltours.com/cooking-class-english
Price: €60/adults, €40/kids

Portuguese Cooking Class in Porto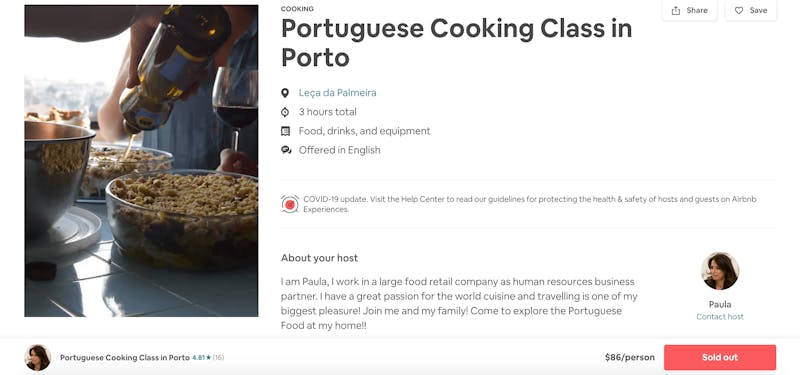 Source: Portuguese Cooking Class in Porto
Feel like one of Paula's family as you cook with them in the warmth of their traditional Portuguese home.

Map: https://goo.gl/maps/jpxGoVa8hRMaXgEh9
Hours: 3 hours
Closed: Reservation only
Website: https://www.airbnb.com/experiences/170365
Price: $86/person

Porto Cooking Class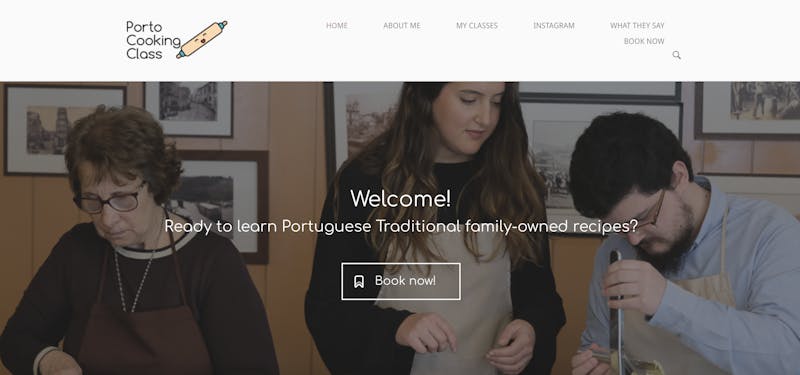 Source: Porto Cooking Class
Joana is passionate about Porto's cuisine who teaches to non-native her own culinary culture. Choose one of her six cooking classes and get ready to become a true "Cozinheiro"!

Map: https://goo.gl/maps/f5UyFkjooGTtGasr8
Hours: 2-2.5 hours
Closed: Reservation only
Website: http://portocookingclass.com/
Price: +$24/Person

Private Porto Cooking Class Experience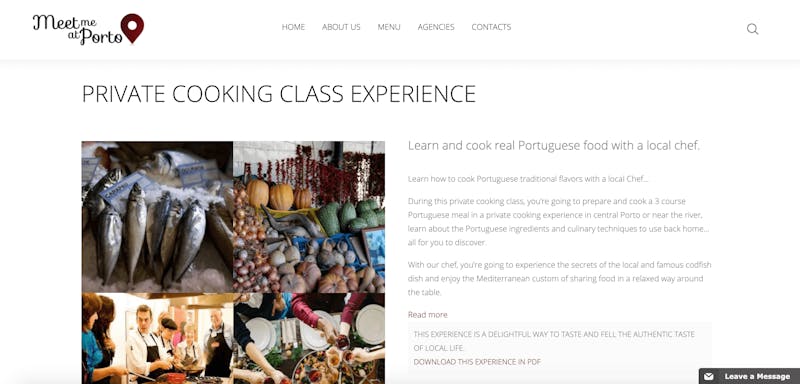 Source: Private Porto Cooking Class Experience
During this class, you'll learn the secrets of three famous Portuguese meals and get closer to the local value of each ingredient you'll use.

Map: https://goo.gl/maps/j9d5Rve7imACoKYy5
Hours: 4-8 hours
Closed: Reservation only
Website: https://www.meetmeatporto.com/en/gastronomic-tours-experiences/private-cooking-class-experience
Price: Price under request & budget

Pop Up Workshops Cooking Classes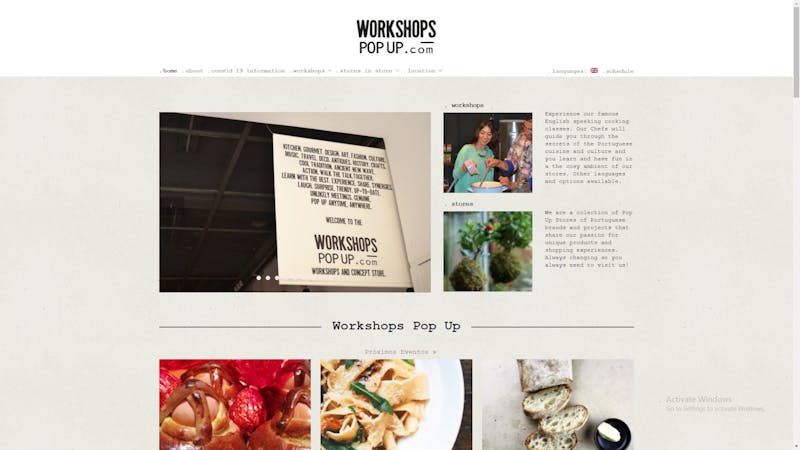 Source: Pop Up Workshops Cooking Classes
These cooking classes are famous in the area, and they speak English to accommodate foreigners that are visiting. The secrets of the Portuguese cuisine are all yours.

Map: https://goo.gl/maps/Mh33zMCp87nqF3tW8
Hours: Monday – Sunday: 9am – 8pm
Closed: None
Website: https://www.workshops-popup.com/en/
Price: 35€ / Person
Cook in Riberia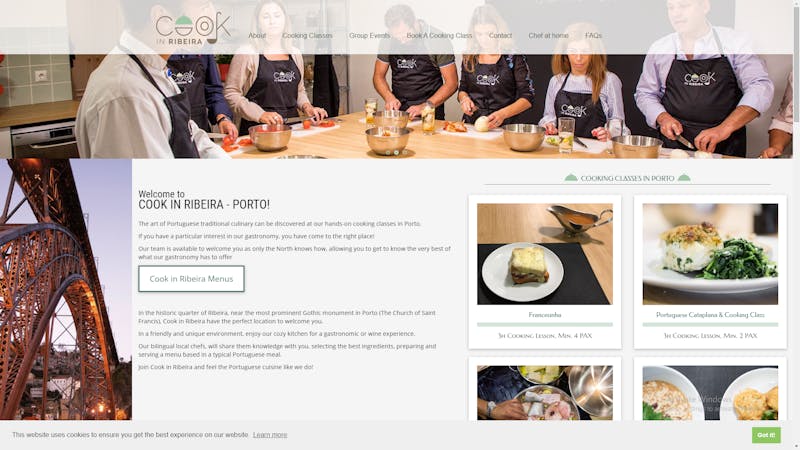 Source: Cook in Riberia
Learn about how to cook seasonal dishes using fresh ingredients. These classes are designed around the local Portuguese cuisine. Afterward, enjoy what you create with the class.

Map: https://goo.gl/maps/bGMu1N5yWWpcgNyv6
Hours:
Monday – Friday: 10am – 10pm
Saturday: 10am – 10:30pm
Sunday: 6pm – 10pm
Closed: None
Website: https://www.cookinribeira.com/
Price: N/A
Compadre Cooking School (Lisbon)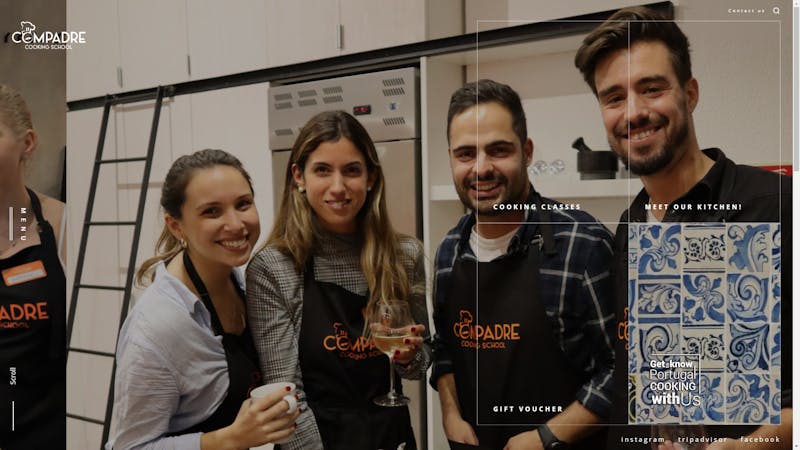 Source: Compadre Cooking School (Lisbon)
This 3-hour cooking course will teach you about preparing traditional Portuguese cuisine. You learn about the ingredients and how to use them.

Map: https://g.page/compadrecooking?share
Hours: Tuesday – Saturday: 10am – 9pm
Closed: Sunday, Monday
Website: https://compadrecooking.pt/
Price: €65 / Person
Cooking Lisbon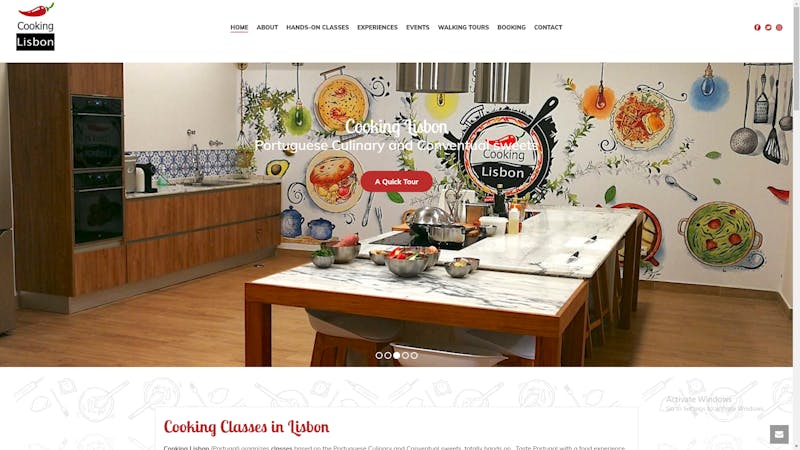 Source: Cooking Lisbon
Learn about the most traditional Portuguese recipe secrets in this cooking class. You will learn in a cozy environment, from instructors/Chefs that know what they are doing.

Map: https://g.page/cookinglisbon?share
Hours: Monday – Sunday: 9am – 7pm
Closed: None
Website: https://cookinglisbon.com/
Price: 70 € / person
Popular Cooking Class Menu in Porto:Pastel de Nata Making Classes
Taking Pastel de Nata's-making cooking classes is a great idea to try a different dessert and to get closer to Porto's culinary goodies. This snack is prepared primarily with egg yolk cream, sugar, and milk on top of a fresh and crispy puff pastry dough. Doesn't that look like a mouthful? And you can learn to make it with a local chef!

Popular Cooking Class Menu in Porto:Seafood Cooking Classes
If you're interested in taking a seafood cooking class, don't think twice and travel to Porto, home of the most delicious seafood in the world! You'll learn how to wash, cut, and prepare typical Portuguese recipes with Cod (the fish meat par excellence on its coasts). Besides, you'll be more related to the local culture, as you'll work hand in hand with Portuguese chefs.