Make Your Own Noodles from Scratch ! Pan-fried Gyoza & Ramen Cooking Class
Tokyo Cooking Class
★★★★★
34
---
Cooking Class Menu
Making your own Noodles and Broth for Ramen

In this class, you will be able to learn how to make ramen noodles, broth and gyoza dumplings from scratch with cozy atmosphere. Get a lots of tips like where each ingredients are from, what's so unqiue about and so on, that will definitely help you explore Japanese foods culture !

*Please note that Ramen broth is prepared in advance, and share all ingredients with tips on the day iteself as this has been simmered about 8 hours.
Pan-fried Gyoza dumplings
*Please note that Gyoza wrappers are ready-made one used for class.







---
About Host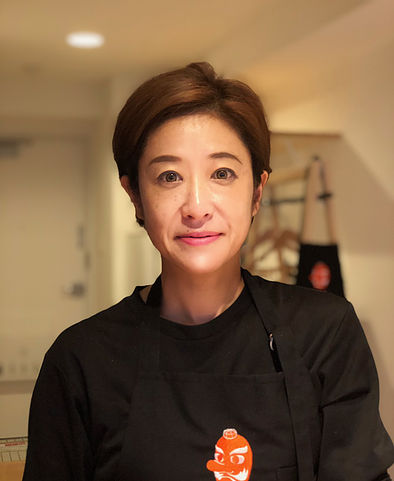 Yumi
★★★★★
(34)
Hi, everyone ! My name is Yumi, having over 20 year's experience working with Asian, European and U.S.based international luxury hotel companies and has developed global aspects in hospitality. Throughout this experience now I'm very proud of my country, Japan, where I was born! "I want to introduce the real lifestyle of Japan and other local specialities through home made cooking experience." ​
Located conveniently nearby Tsukiji market, widely known as Japanese "Food Town" uncovering the beauty of Japanese cuisine, and show you the "Omotenashi from Japanese home made style cooking".​
Let's get together to experience our amazing and unique Japanese food culture!
---
How It Works
Step1 Cook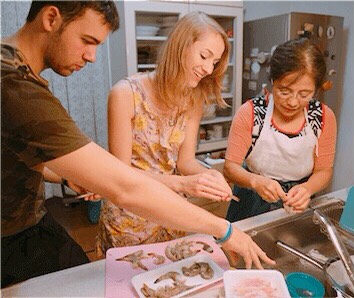 Visit a Japanese local's home and learn to cook their specialty.
Step2 Enjoy your meal!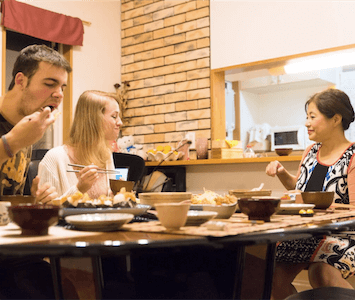 Eat the authentic homemade Japanese meal with your Japanese host. Take the opportunity to have a genuine conversation with a local Japanese Person.
---
Area
The closest station
Tsukiji Station
How to get to the station?
From Tokyo Station: 15mins
Free pick up service
This host can pick up you for free from the closest station!
Exact location provided after booking.
---
Reviews of Cooking Class

Olga,Greece
★★★★★
Dec 2018
Best experience ever! I learned a lot and I need a lovely person!!! Olga san
---

Amal Yasa,Singapore
★★★★★
Feb 2019
Amazing experience! I strongly recommend everyone who visit Japan to attend Yumi-chan class! Learn how to make Japanese food and you will be thrilled to experience the real deal of Japan. If only I found Yumi's class earlier, I would bring all my friends and family to attend her class. She is so friendly, speak good English and also very helpful in meeting our dietary needs. For those who need to have halal or vegetarian, Yumi can do it too! Spread the word. Attend her class and you know what I mean! Gambate ne!
---

Andre and Chris,Canada
★★★★★
Mar 2019
We loved every second of it. Yumi was amazing, friendly and funny too. The food was delicious. If you are visiting Japan, please take her class. Thank you Yumi.
---

Jackie Hickethier,United States of America
★★★★★
Mar 2019
The cooking class with Yumi was amazing! She was fun and accommodating. I would highly recommend any of her classes. Next time I am in Tokyo, I plan on taking another one of her classes.
---

Paulo,Brazil
★★★★★
Mar 2019
Experience was great!! Yumi was so welcoming, prepared and made us feel home while cooking and learning! Her step by step was very clear and above all the food was outstanding! It was really an amazing experience!!
---

Kerry,Hawaii
★★★★★
Mar 2019
Our cooking class with Yumi was Perfect! Her hospitality, friendliness, and perfect instructions made us make delicious gyoza and tasty ramen.
---

Katelyn,United States of America
★★★★★
Mar 2019
We has an incredible time cooking with Yumi! It was definitely the highlight of our time in Tokyo, and she made the experience so easy and enjoyable. Would highly recommend!!
---

Sandi,United States of America
★★★★★
Apr 2019
Yumi was so enthusiastic and accommodating. We had a wonderful time!
---

Markus Andersson,Sweden
★★★★★
Apr 2019
Can't recommend this class and Yumi enough! Fun, informative, delicious and all around amazing! World class in all regards with a personal touch. Thank you so much from me and my wife!
---

Judy,United States of America
★★★★★
Apr 2019
What a great class! Yumi taught us to make Gyoza and Ramen from scratch. It was so much fun. She is a great instructor and gave us the recipes too. Can't wait to make it at home. Fantastic!!!!!!
---

Priscilla,United States of America
★★★★★
Apr 2019
I loved itN she's so nice and pretty! And the sushi was oishii!
---

Stephanie ,United Kingdom
★★★★★
Apr 2019
Thank you so much! You were the best host and very kind. Me and Ryan really enjoyed the traditional cooking class. It was great atmosphere and delicious food. Thank you so much for a good time.
---

John,United Kingdom
★★★★★
Mar 2019
I had a great time with Yumi learning to make gyoza and ramen. Her instructions were clear and she was a friendly and patient teacher. The learning space was comfortable and well set up. A highlight was dancing on the ramen dough! And the food was delicious. Many thanks.
---

Josh,Australia
★★★★★
Apr 2019
Yumi is an amazing Chef and teacher and i would highly recommend her to anyone who would like to learn from someone who is knowledgeable and also fun at the same time ! You are amazing Yumi
---

Daniel,Switzerland
★★★★★
May 2019
It was an amazing cooking class! It was very well organized and professional. We really enjoyed it and was lot of fun too :) We definitely recommend Yumi's class!
---

Pauline,France
★★★★★
Apr 2019
Awesome course, Yumi made my wish come true! She was very gentle enthusiastic and talkative throughout the course and she always made sure we feel well and do well! Great english, no issues with understanding each other. Her assistant was very nice too, smiling and light. Her broth is to die for, no wonder it was one of the best ramen I had! Thank you so so much Yumi, I'm glad I chose your course! Would 100% recommend
---

Dana ,United States of America
★★★★★
Apr 2019
Yumi is an amazing teacher! She is very welcoming, loves a good conversation, and knows her stuff! This is a must if you are looking to take a cooking class! Tell your friends!
---

Andrew,Australia
★★★★★
May 2019
Out time with Yumi exceeded all expectations. Her communication with us from the time we booked until the final goodbye was outstanding. Yumi went out of her way to both host and educate us as we cooked our meals. We had so much fun and it really was a highlight of our time in Tokyo. I highly recommend Yumi to anyone wanting to experience the culture and food of Japan. Andrew
---

Diana,United States of America
★★★★★
May 2019
Yumi, thank you for everything. She loved it. She said the experience was great and had lots of fun! Learning new things is great but it's always good when you have a great experience with the process. Thank you again!
---

Annika,United States of America
★★★★★
May 2019
YUMI IS THE BEST! Not only did we make DELICIOUS gyozas and ramen, but Yumi made the whole experience so fun. She is energetic & passionate and we loved her! Absolutely take one of her classes while in Tokyo! It's a must!
---

Hana,United States of America
★★★★★
May 2019
This was the highlight experience of our time in Tokyo. Yumi was so energetic, knowledgable, and communicative. We wish he had more time at the end to spend with this great team.
---

Elisabeth,Germany
★★★★★
May 2019
Dear Yumi, it was great to cook with you. Thanks for your patience, the delicious recipes and for laughing with us! You are so passionated about cooking, it was truly inspiring. Thanks, Elisabeth & Wahid
---

Orapen,Thailand
★★★★★
May 2019
We were a class of three, all from different countries. Apart from learning how to cook ramen/ gyoza, we got to share our thoughts and experience as well. Yumi was a really kind and energetic instructor. She always smile. Her English is very good and she sure knows a lot about the recipe. I would totally recommend this course!
---

Arno,France
★★★
May 2019
Hi Yumi many thanks for your cooking class. As mentionned I have participated to many cooking class. I found that I have experienced on Tuesday with your class a kind of pre-pared cooking class which allowed me only to fix dishes previously down. I would have preferred to prepared the noodle pasta instead of tapping it with my feet during 30 mns. although it is Japanese tradition it is not kind of hygienic way of preparing meals, I would have liked to prepared a dashi or why not going to the market with you instead. I reckon that in two hours time it is really short but I assume class can be improved or tuned according to cooking experienced customer.
---

sara bosich,Italy
★★★★★
Apr 2019
A month ago me and my friend had an amazing experience at Yumi`s cooking class. Every single detail was planned in advance, it is really possible to see a professional at work! We learnt a lot and the food was delicious. Thank you, Yumi
---

Tom,United States of America
★★★★★
May 2019
Yumi was fantastic....great english...infectous personality. We learned alot on how to make and SERVE traditional dishes. Most important it was fun. Fun for a 14 year old and fun for the father....5 stars !
---

Kathy,Canada
★★★★★
Jun 2019
Our cooking experience was absolutely incredible! We had so much fun, learned so much and can't wait to recreate the recipes at home!
---

Jennifer,United States of America
★★★★★
Jun 2019
You are an amazing teacher and it was a truly enjoyable experience! I laughed and learned so much. Thank you!
---

Donna,United States of America
★★★★★
Mar 2019
One of the best things we did in Japan! The food was fantastic and Yumi went to great lengths to make us feel comfortable and accommodate us vegetarians. She made our cooking experience so enjoyable and we laughed all night.
---

Kris,Germany
★★★★★
Jun 2019
My sons and I enjoyed this cooking class so very much! In fact, one of my sons rated it as a top experience that we had during our 1 week trip! Yumi is friendly and the studio is very professional and comfortable. Of course the food was just fantastic! Highly recommended!
---

John,United States of America
★★★★★
Jun 2019
We loved our cooking class with Yumi! Yumi was a great host and we look forward to putting everything she taught us into practice at home. Yumi also answered all our questions/concerns regarding our daughters food allergy (peanuts and tree nuts) before the class - never was it an issue. We highly recommend this class!
---

Marina ,Israel
★★★★★
Jul 2019
Our experience was fantastic. Yumi san is very responsive, professional and a lovely host We had great time and also very precise and informative class The food was delicious This is must have experience and definitely one of our highlight in Tokyo! Tks a lot Yumi san !!!
---

Koren,Canada
★★★★★
Jul 2019
Had a wonderful time! My family and I enjoyed the entire ramen and gyoza making experience. Yumi was very friendly and funny and made us feel comfortable right from the start. Yumi answered all our concerns regarding our son and daughter's food allergies (peanuts/nuts/scallops) before the class – none of these allergens were present in the recipes. We had no problems understanding her English instructions and she was very knowledgeable. Yumi provided everyone a copy of the recipes to take home and answered any questions we had. The end product was very yummy. Would not have known, without hands on experience, the proper texture/feel of the final ramen dough. We learned quite a lot. This experience was definitely one of the highlights in our trip. Looking forward to trying this at home. Thank you, Yumi-san!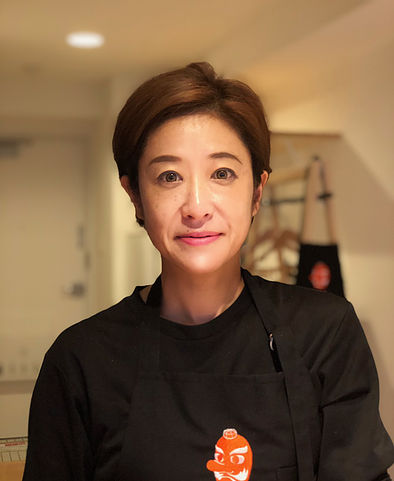 Response from Yumi
Koren-san, It was so nice to have whole your family here and again thank you for your focus throughout my program. Happy Cooking when you are back home !
---

Sabine,Switzerland
★★★★★
Jul 2019
The cooking class with Yumi today was amazing! I really enjoyed it! Thank you Yumi! You are the best host ever!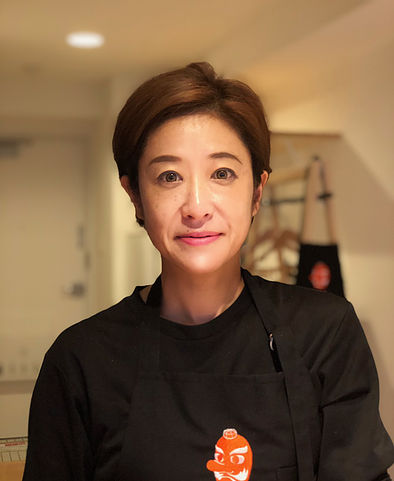 Response from Yumi
It was so nice to have you here to cook with you !! Wish you have plesant vacation in Japan !
---