Tokyo Cooking Class
Make Riceball 'Onigiri' With Local Mom
Cooking Class Menu
①Onigiri(many kind of traditional ingredients)
②Miso soup(seasonal ingredients)
③Atsuyaki-tamago(Japanese omelet)
At the end, I will give you Japanese traditional sweets dessert.
※Japanese tea is free!!
In this experience, we will make the simplest, yet best, of Japanese comfort food. It seems easy to make onigiri rice balls—and, well, it is, as long as you know the right way to make them. I'll teach you how to use our own hands to shape the rice into triangular balls. Once you get it, you'll be an onigiri master. I'll prepare several kinds of ingredients for you to put inside the onigiri. You'll learn that the different ways of onigiri depend on the ingredients. After you master it, you can make your own onigiri to bring to your work or school like we do in Japan.

---
About Host
Hello! I'm YUMI, an owner of this activity.
I've lived in Asakusa for 18years and I have a daughter and a son who are high school students.
When I was a university student, I visited various countries as a backpacker.
The scenes I saw there, delicious foods and, above all, the people who warmly welcome me…
These experiences and encounters are my roots and treasures.
In the summer of 2017, I went to Taiwan as a backpacker for the first time in 23 years. I was looking forward to going to the nice restaurant I had visited before and seeing proprietress of the bar who I had played with…. As the town has developed, I found that the town no longer has any vestige of the old days. But I was warmly welcomed by the town.
This trip is trigger of this activity for I have a sense of discomfort with the fact that I can't reproduce any cuisine even though I traveled around the world and ate delicious foods there many times. For people who love Japan and come to japan repeatedly, I would like to make a place that they can come back to! The place where accept them with "Welcome back!" no matter how many years pass by! Furthermore, I would like to make opportunity that people can taste "Japan" when they come back to home. For these reasons mentioned above, I establish "COOK! ASAKUSA KAPPABASHI".
​
I'll provide travelers of ASAKUSA with this activity as an event and a place to return in order to add special experience and interaction. As long as I have breath, I remain in ASAKUSA, KPPABASH. No matter how old I get, I'll welcome you with "Welcome back!"
​
YUMI
---
How It Works
Step1 Cook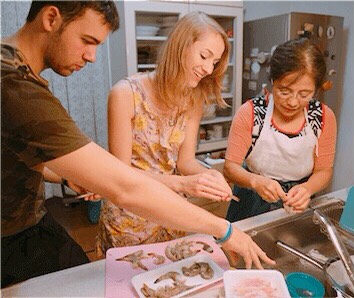 Visit a Japanese local's home and learn to cook their specialty.
Step2 Enjoy your meal!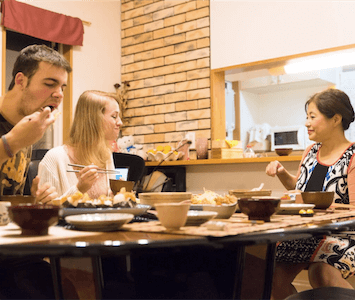 Eat the authentic homemade Japanese meal with your Japanese host. Take the opportunity to have a genuine conversation with a local Japanese Person.
---
Area
The closest station
Iriya station(hibiya-line)
How to get to the station?
From Iriya station: 5mins
Exact location provided after booking.
---