Ho Chi Minh Cooking Class
Market Visit + Hands-On Cooking Class With Vietnam Cookery Center
Cooking Class Menu
Monday: Menu 1
1. Fresh spring rolls (Goi cuon)
2. Sour snake- head fish soup with vegetables (Canh chua ca loc)
3. Caramel snake- head fish in clay pot (Ca loc kho to)
4. Steamed rice with ginger (Com hap gung)
Dessert: Sauteed banana with coconut milk (Che chuoi xao dua)

Tuesday: Menu 2
1. Vietnamese spring rolls with pork and seafood stuffing+ fish sauce dip (Cha gio)
2. Sour clams soup with dill (Canh ngheu thi la)
3. Caramel pork in clay pot (Thit kho to)
4. Steamed rice in the coconut (Com hap trai dua)
Dessert: Layered rice cake (Banh da lon)

Wednesday: Menu 3
1. Green spring rolls + dipping sauce (Cuon diep)
2. Beef noodle soup (Pho bo)
3. Chicken breast with spicy sauce and sweet basil (Ga sot chua cay voi hung que)
4. Steamed rice with pandan leaves (Com hap la dua)
Dessert: Tapioca dessert with honey dew (Suong sa hot luu)

Thursday: Menu 4
1. Banana flower salad with pork and shrimps (Goi hoa chuoi tom thit)
2. Vietnamese pancake with mung bean, pork and seafood stuffing + fish sauce dip (Banh xeo)
3. Sauteed chicken with lemongrass and chili (Ga kho sa ot)
4. Steamed rice with coconut juice (Com hap nuoc dua)
Dessert: Coconut agar agar (Rau cau dua)

Friday: Menu 5
1. Dragon egg fried rice cake – (Banh khot)
2. Stuffed cabbage soup (Canh bap cai cuon thit)
3. Caramelized pork rib in clay pot (Suon non kho to)
4. Steamed rice with lemongrass (Com hap sa)
Dessert: Cassava pie with coconut milk (Khoai mi hap nuoc cot dua)



Before starting the class, you can see the live activities of the traditional market in Vietnam (Ben Thanh Market in HCM city).
This cooking class provides you with an introduction to the Vietnamese kitchen and a hands-on experience of cooking your own amazing dishes.
---
About Host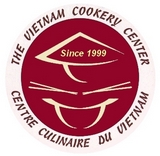 Vietnam
Established since 1999, we are the First and most Professional Cookery Center in Vietnam, teaching Vietnamese gastronomy to people who love cooking and other Professional visitors from all over the world.
Our courses are hands-on classes, with an introduction to the food culture of Vietnam, providing you with a memorable souvenir to bring home.
---
How It Works
Step1 Cook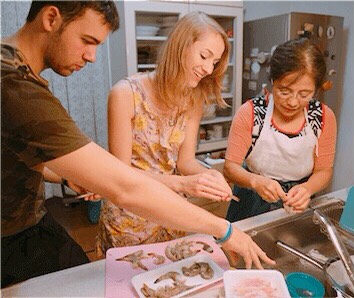 Visit a Japanese local's home and learn to cook their specialty.
Step2 Enjoy your meal!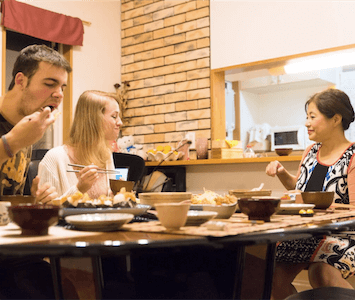 Eat the authentic homemade Japanese meal with your Japanese host. Take the opportunity to have a genuine conversation with a local Japanese Person.
---
Area
The closest station
Central Post Office
How to get to the station?
From VinComm: 5mins
Exact location provided after booking.
---