Osaka Cooking Class
Tea ceremony experience Matcha
Cooking Class Menu
Japanese Style Green Tea.
With Japanese sweets
Please make Matcha and Japanese sweets yourself and have fun

About the tea ceremony
It increases various culture the tea ceremony drinks powdered green tea, and to enjoy; and development In other words etiquette of the tea preparation [this side] manners it is comfortable, and to treat the meals such as the space about the house including a tea-ceremony room and the garden, the industrial arts which I choose the tea service set and appreciate and kaiseki cuisine or the Japanese sweet coming out to a tea party (tea party), a guest are the composite art that fused.

Experience making Japanese sweets
You can make traditional Japanese sweets in Japan.
You can bring home sweets home.
Ideal for souvenirs to your friends.
---
About Host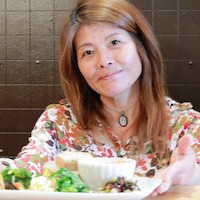 keiko
In my restaurant, vegetarian and vegan people offer dishes that you can eat safely.
Regardless of the genre, it is a creative home cooking, but you can make a variety of Japanese dishes such as Osaka famous Takoyaki, Okonomiyaki and Okonomiyaki.
You can experience the handmade experience of miso, which is a traditional fermented seasoning of Japan, the pre-production experience of matcha and Japanese sweets making.
The place of the restaurant is in Osaka city, it is within 15 minutes by train to Namba and Osaka, it is a downtown area in Osaka called Kujo which is very convenient to go to Universal Studios Japan.
There are many hotels, and many foreign guests come.
I can speak only a little English, but I am studying now.
I would like to convey more Japan traditions to overseas people.
私のレストランでは、ベジタリアンやヴィーガンの方でも安心して食べて頂けるお料理を提供しています。
お料理はジャンルを問わず、創作家庭料理ですが、大阪名物たこ焼きやお好み焼き、和風料理はいろいろ作れます。
日本の伝統発酵調味料であるお味噌の手作り体験、お抹茶のお点前体験や和菓子作りも体験していただけます。
レストランの場所は大阪市内で、難波や大阪にも電車で15分以内、ユニバーサルスタジオジャパンへ行くのにとても便利な九条という大阪の下町です。
ホテルもたくさんあり、外国人のお客様もたくさん来られます。
私は英語は少ししか話せませんが、現在勉強中です。
海外の方に日本の伝統をもっと伝えていきたいです。
---
How It Works
Step1 Cook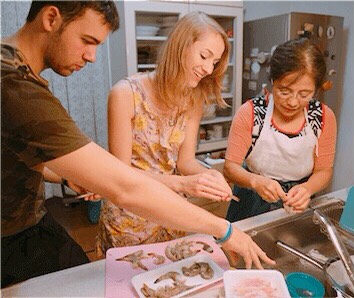 Visit a Japanese local's home and learn to cook their specialty.
Step2 Enjoy your meal!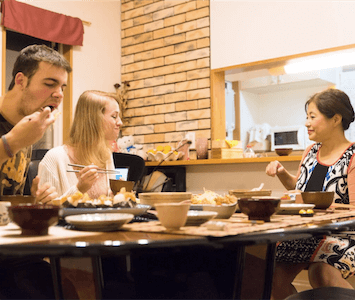 Eat the authentic homemade Japanese meal with your Japanese host. Take the opportunity to have a genuine conversation with a local Japanese Person.
---
Area
The closest station
kujyo station
How to get to the station?
From namba station: 10mins
Exact location provided after booking.
---