Kyoto Cooking Class
媽咪's kitchen! 竹龍便當與現炸天婦羅體驗
Cooking Class Menu
~菜譜~
●串揚
●香菇蒸蝦仁
●蕪菁雞絞肉湯汁
●高麗菜豬肉巻
●八幡巻
●芝麻布丁


●根據季節不同,所使用的材料不同,菜譜會根據實際的情況有所改變。
●若有忌口或是素食主義者,請提前告訴我
●我可以用漢語與您共同做料理

●Mixed Tempra: shrimp, Japanese parsley & onion
● Shiitake mushroom stuffed with shrimp
● Rolled cabbage with minced pork
● Beef roll with vegetables
●Dessert : Sesami pudding

---------------
★★The instructor dose not speak fluent English. We will be preparing dishes in Chinese.
--------------

---
About Host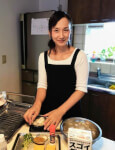 Yoriko
大家好!我叫代里子。我很喜歡做菜,也喜歡和別人一起做菜。在嵐山附近的家對向講中文的遊客教日本的家庭料理。以前因為老公工作的關係在台北住了五年。當時,連一點兒中文都不會講。後來上了大學的國語中心念書,同學總是幫我很大的忙。我能做的只有常常請他們來我家邊聊天邊一起做飯。通過做日本家常菜和他們進行文化交流。 後來有機會去台灣朋友的家一起做飯,還有找到教台灣家庭菜的Ivy老師。雖然語言不通,但是在做菜的時候,很快樂! 和他們一起度過非常愉快的時光。那個時候決定,將來要開一間料理教室,和遊客一起開心地做料理。希望可以帶給大家一段開心快樂料理時光。如果大家有興趣,我們可以一起做日本家常菜! 
媽咪's kitchen 代里子
The instructor dose not speak fluent English. We will be preparing dishes in Chinese.
---
How It Works
Step1 Cook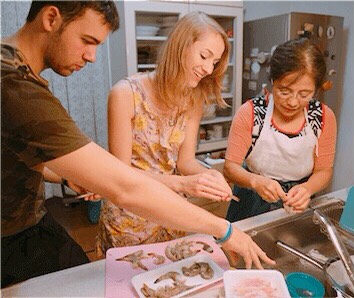 Visit a Japanese local's home and learn to cook their specialty.
Step2 Enjoy your meal!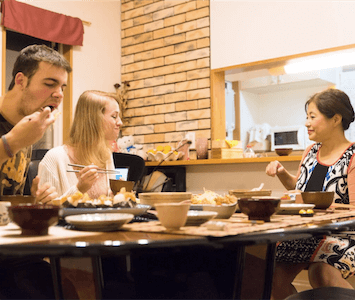 Eat the authentic homemade Japanese meal with your Japanese host. Take the opportunity to have a genuine conversation with a local Japanese Person.
---
Area
The closest station
Uzumasa Station
How to get to the station?
From Kyoto Station: 10mins
Free pick up service
This host can pick up you for free from the closest station!
Exact location provided after booking.
---