Kyoto Cooking Class
Onigiri and basic side dishes (vegan friendly)
Cooking Class Menu
*more photos coming soon!

-Onigiri (rice ball)
some techniques to cook rice, making onigiri with your choice of stuffing

-Goma-ae (vegetables marinated with sesame)

-Kimpira (sweet and salty stir-fried crunchy vegetables)

-Nuta-ae (boiled or steamed vegetables marinated in miso-based sauce)

I guess people are busy everywhere on the planet, and so are the Japanese. Are you curious how we manage to maintain healthy diet during a busy week? This is one of the secrets; "Joubisai". We prepare bunch of different side dishes called Joubisai (usually vegetables) on the weekend and eat them little by little during the week. As Joubisai usually last long, if you prepare a few different Joubisai, then it's very easy for you to keep the nutritional balance and to have nice colors on the table. In this class, you will learn some signature dishes that go quite well with most vegetables so that you can easily apply the techniques to your local produce.
---
About Host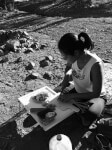 Megumi
Hello, and welcome to Kyoto! Do you think the Japanese eat sushi and tempura every day, or drink matcha every day? That's not the case. You may be disappointed but I would love to teach basic techniques of Japanese home cooking which you can apply to your local ingredients when back home. You will learn simple, easy, yet healthy and delicious items we Japanese people are the most fond of.
---
How It Works
Step1 Cook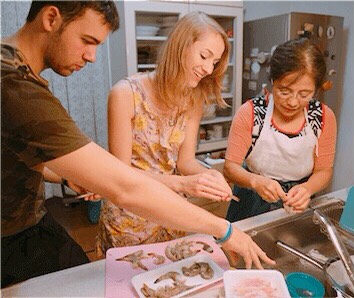 Visit a Japanese local's home and learn to cook their specialty.
Step2 Enjoy your meal!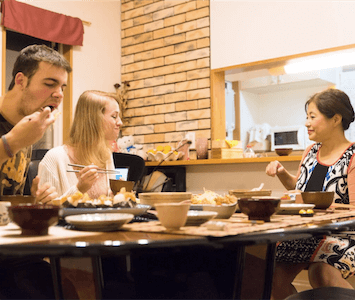 Eat the authentic homemade Japanese meal with your Japanese host. Take the opportunity to have a genuine conversation with a local Japanese Person.
---
Area
The closest station
Tambabashi Station
How to get to the station?
From Kyoto Station: 15mins
Exact location provided after booking.
---