Okinawa Cooking Class
Okinawan Traditional Cuisine & Historical Market Tour
Cooking Class Menu
AM Class: Goya Champuru Set
- Goya Champuru (bitter melon stir-fry dish)
- Miso Raftei (braised pork belly with Miso sauce)
- Asa Jiru (seaweed soup)
- Sata Andagi (Okinawan donuts)

PM Class: Okinawa Soba Set
- Okinawa Soba (making from own noodle!)
- Mozuku Su (superfood seaweed with sweet vinegar sauce)
- Jyushi (rice cooked with several ingredients)
- Sata Andagi (NOT cooking but buy the best one at the market)

Walking Tour 10:30-11:15 AM Class / 3:30-4:15 PM Class
On the food market tour at the Naha Public Market located nearby, you will learn about locally grown products and select ingredients used in the cooking class.

Cooking Class 11:20-13:00 AM Class /4:20 to 6:00 PM Class
Upon returning to our studio, you will prepare a three- or four-course menu consisting of a classic appetizer, main dish, soup, and dessert. The class is facilitated by a bilingual Okinawan food enthusiast and instructed by professionally trained chefs.

The classes are a fun, social, hands-on experience where you will not only prepare various dishes in a teamwork setting but also learn about ingredients and cooking methods that contribute to Okinawa's longevity food culture.

Eating 13:00-13:30 AM Class / 6:00 to 6:30 PM Class
---
About Host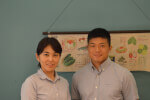 Tomoaki
The ideal program for visitors who want to experience Okinawan culture in depth.
We are an Okinawan food enthusiast & a professional chef eager to introduce Okinawan food culture to the world. Our cooking experience program focuses on traditional Okinawan cuisine and factors contributing to Okinawan longevity. We are ranked as the top workshop in Naha on a major tourism website and hope that every visitor to Okinawa enjoys our cooking experience program.
---
How It Works
Step1 Cook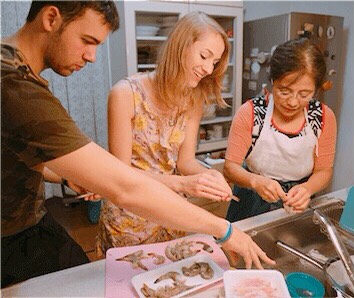 Visit a Japanese local's home and learn to cook their specialty.
Step2 Enjoy your meal!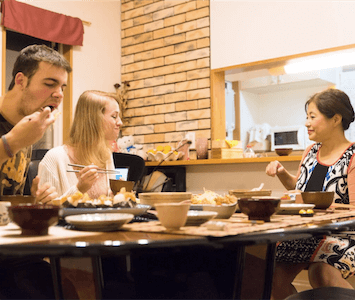 Eat the authentic homemade Japanese meal with your Japanese host. Take the opportunity to have a genuine conversation with a local Japanese Person.
---
Area
The closest station
Makishi Station
How to get to the station?
From Makishi Station: 0mins
Exact location provided after booking.
---