Ishikawa Cooking Class
Organic Vegan Sushi
Cooking Class Menu
Vegan Sushi
Vegan Dorayaki
Job's tears tea
I'll teach you how to cook a Vegan Sushi course including Japanese sweets using organic and small-batch, natural farmed ingredients. The brown rice we'll use is naturally farmed in my hometown, Ishikawa. I'll demonstrate that vegan dishes can be healthy, flavorful and filling. I'll introduce you to my favorite Japanese vegan artisanal ingredients like shouyu and mirin. We'll talk about the traditional Japanese farmers and the importance of protecting their methods. After cooking, we'll eat the course and you can take the printed recipe with you.
---
About Host
Hi, my name is Aiko.
After getting my nutritionist degree, I took specialized courses in agriculture. At the same time, I was working in vegetarian restaurants in Kanazawa, Japan as a chef and menu developer.
In 2014, I started teaching vegetarian cooking in Toronto, Canada.
Since returning to Japan ,I had been
based in Tokyo and had been involved in a wide variety of activities, such as hosting natural cultivation and vegan cooking classes,running a stall at vegan or organic events, pop-up restaurants, and catering
services.
I hold Nuritionist, Junior Vegetable Sommelier and Junior Olive Oil Sommelier certifications.
-Nominated for the Japanese vegetarian award 2018 and 2019.
-Introduced Natural Cultivation Vegan Sushi at the Fancy Food Show in San Francisco
-Aims to disseminate natural cultivation overseas by, for example, giving a lecture on naturally farmed vegan
sushi at an event held by Bi-Rite Market, a supermarket known for changing eating habits in San Francisco
-Selected as a chef and served the vegan sushi chosen for the "Dream dinner" at the ANA Crowne Plaza Hotel
Kanazawa.
-Quartely magazine "Shizen Saibai"(natural cultivation)featured natural cultivation vegan sushi.
---
How It Works
Step1 Cook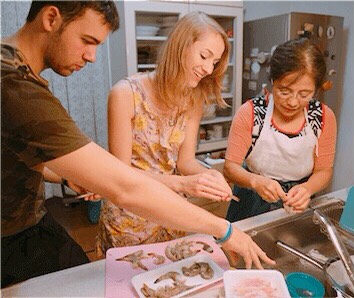 Visit a Japanese local's home and learn to cook their specialty.
Step2 Enjoy your meal!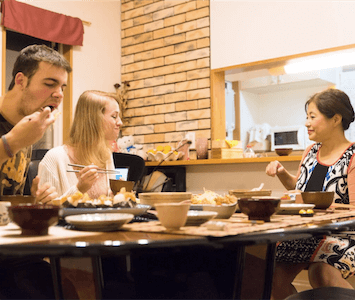 Eat the authentic homemade Japanese meal with your Japanese host. Take the opportunity to have a genuine conversation with a local Japanese Person.
---
Area
The closest station
Kanazawa station
How to get to the station?
From Kanazawa station : 0mins
Exact location provided after booking.
---