In this class, you will learn how to make wagashi (Japanese confectionery) using nerikiri.
課堂上,您將學習如何使用傳統的製菓工具製作和菓子.

10:30-12:30


Fall (秋天的和菓子)
"KIKU"  
"MOMIJI"
"Secret"
『菊』
『楓葉』
『Secret』

or

Winter (冬天的和菓子)
"TSUBAKI"  
"YUKI-USAGI"
"Secret"
『椿花』
『雪兔』
『Secret』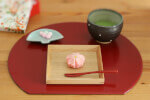 Fujimatsu
★★★★★
(2)
All cooking classes by Fujimatsu
Hi,I'm Yuki.

In this class, you will learn how to make wagashi (Japanese confectionery) using nerikiri.

​You will make three Japanese confectioneries
in total: two seasonal Japanese confectioneries
and one "Secret" menu.

After the Japanese confection making,
you will taste one of them with Japanese tea.

You can bring back the other two
with Japanese style wrapping.

I am looking forward to seeing you.
The closest station
Wagashi Class(Noke Station)
How to get to the station?
From Wagashi Class(Noke Station) : 20mins
Exact location provided after booking.