Fukuoka Cooking Class
Mr.Mitsubori's Wagashi Workshop
Cooking Class Menu
in茅乃舎(Kayanoya)

3-1,
Shimoawabatacho,Hakataku,Fukuokashi

福岡市博多区下川端町3-1 
博多リバレインモール 1F

10/13
Wagashi Kanten+Hakatamagemono
ClassA 10:30-13:30(20000JPY)
ClassB 15:00-18:00(20000JPY)

10/14Wagashi Nerikiri
ClassC 10:30-13:30(20000JPY)
ClassD 15:00-18:00(20000JPY)

◆Junichi Mitsubori

Grand Master of the Kado Ichika-ryu.

Managing director of the Wagashi-tsukasa Izumiya.
Director of the Japan Sweets Association.
Born as a third generation of the wagashi (Japanese traditional confectionary) store Izumiya in Yokosuka,

He has long engaged in wagashi making since his childhood.
Mitsubori first gained attention when he won TV's dessert
competition in 2010, and in 2016 .
Mitsubori founded his own school, named "Kado Ichika-ryu".
Mitsubori's delicate yet dynamic wagashi and his style of
presentation spread awareness of wagashi to an international audience.
These days he is often invited to teach wagashi-making in Asian countries and does Kado performances all over the world.


-----------------------
◆unichi Mitsubori/Profile

1974
Born in Yokosuka City, Kanagawa.

1995
Graduates from wagashi course, Ecole de Patisserie de Tokio.

2010
Wins Western vs Japanese confectioner championship, TV Champion R (TV Tokyo)

2015
Launches photoblog Ichinichi Ichika̶Wagashi of the Day.
Introduces international workshops primarily in Asia.

2016
Appointed director of Japan Sweets Association
Founds Kado Ichika-ryu.

2017
Presents a Kado performance at the Sydney Opera House.
Becomes the first wagashi artist to exhibit at the Salon du Chocolat, in Paris.

2018
Publish first book "Kado ‒New Art of Wagashi-"
---
About Host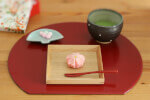 Fujimatsu
All cooking classes by Fujimatsu
Hi,I'm Yuki.
In this class, you will learn how to make wagashi (Japanese confectionery) using nerikiri.
​You will make three Japanese confectioneries
in total: two seasonal Japanese confectioneries
and one "Secret" menu.
After the Japanese confection making,
you will taste one of them with Japanese tea.
You can bring back the other two
with Japanese style wrapping.
I am looking forward to seeing you.
---
How It Works
Step1 Cook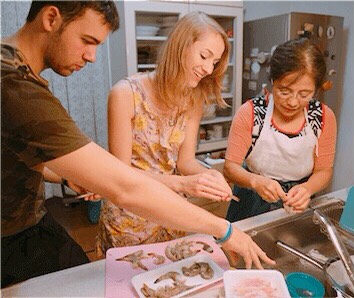 Visit a Japanese local's home and learn to cook their specialty.
Step2 Enjoy your meal!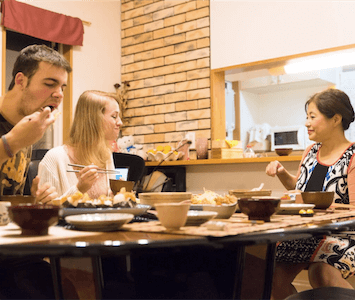 Eat the authentic homemade Japanese meal with your Japanese host. Take the opportunity to have a genuine conversation with a local Japanese Person.
---
Area
The closest station
Wagashi Class(Noke Station) / Mitsubori's Workshop( Nakasukawabata Station)
How to get to the station?
From Wagashi Class(Noke Station) / Mitsubori's Workshop( Nakasukawabata Station): 20mins
Exact location provided after booking.
---