Aichi Cooking Class
Nagoya home cooking class Nigiri-zushi, Futomaki(maki-zushi), Japanese omelette
Cooking Class Menu
▶︎Nigiri-zushi
The most popular Japanese food.
A traditional Japanese dish with fresh, raw fish and vegetables on top of the rice.

▶︎Futomaki(maki-zushi)
Futomaki are one type of sushi. It is a dish in which vinegared rice is placed on a large laver and fish and vegetables are wrapped together.
In Japan, it is a dish eaten at celebrations and parties.

▶︎Japanese omelette (atuyaki-tamago)
Tamagoyaki is used for sushi and is a home-cooked meal that all Japanese people eat at home. If you can make an egg-yaki, both Japanese and your family and partners will be delighted!

~Flow of experience~
1.Welcome japanese green tea.
2.Know the history of Japanese food
3.Learn about the menu you make today
4.Let's make together
5.Eat time
6.End class
Cooking Class Information
Sushi is very popular all over the world. Let's make your own sushi together! The taste which you made must be special.
My class includes two kinds of sushi (nigiri and futo-maki), Japanese omelet . Not only enjoying to make sushi but talking and food. Japanese omelette is very thick and use a special pan. You will know culture and sushi history, too.

*Please note that my room doesn't suite for little kids. I set up over 10 year old.
*Please book at least 2 days before the class. I can't accept same day reservations.
*There are groups that booked just before. I can't prepare ingredients. For example, If you booked around 19:00 for lunch session for the next day, I will reject.
*I need more than 2 people.
I will meet you at the station with a signboard "Your name".

Sake can also be prepared for 700 yen per person. (Cash only on the day) Please tell us in advance if you want to drink.

Please let me know if you have any food you want to make Contents can be changed!(For example, miso soup can be added.)

1. Nigiri Sushi
Mix freshly cooked delicious Japanese rice and vinegar. Learn why vinegar has been used since the Edo period.
Then cut fresh fish for sushi.
Learn how to make nigiri sushi and hold it together.

2. Futomaki
Place vinegared rice on a large seaweed.
On top of that, put fish, vegetables, crab, fish eggs, etc. neatly.
Wrapped with nori and completed!
There are tips to make it beautiful.
Let's make a beautiful and delicious photo!

3. Atsuyaki-tamago
Mix soy sauce and sugar in the egg.
Japanese egg roasting is very traditional.
Let's make one by one using a dedicated frying pan!
---
About Host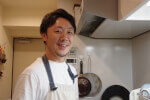 Hiroyuki
Hello everyone! My name is Hiroyuki.
I have been working as a Japanese chef for 15 years. I worked in Vietnam for a month and went on a trip abroad to the US for a month.
The best memory was eating local delicious food with local people. I really enjoyed learning about the country and the food culture.
Based on that experience, I am working at a school that would allow all those who traveled to Japan to know the greatness of Japanese food.
Come and enjoy sushi and Japanese food together as one of your travel memories.
I look forward to talking about your country.
Please feel free to contact us if you have any questions or questions.
I look forward to your message.
---
Area
The closest station
Nagya Station
How to get to the station?
From Nagoya Station: 0mins
Free pick up service
This host can pick up you for free from the closest station!
Exact location provided after booking.
---
FAQ about Nagoya home cooking class Nigiri-zushi, Futomaki(maki-zushi), Japanese omelette | Cooking class by Hiroyuki
How much does it cost to join Nagoya home cooking class Nigiri-zushi, Futomaki(maki-zushi), Japanese omelette ?

It costs 5200 per person.

How to get to the place where Nagoya home cooking class Nigiri-zushi, Futomaki(maki-zushi), Japanese omelette being held?

Please go to Nagya Station which takes 0 mins from Nagoya Station. Then Hiroyuki (host) will pick you up there!

How long is this cooking class by Hiroyuki?

Duration of this cooking class is 3 hours.

What is the maximum capacity of Hiroyuki's cooking class?

Up to 8 people can join Hiroyuki's cooking class.
Additional cooking class information
Confirmation

You will receive the confirmation within 24 hours.

Payment

We accepts these cards on airKitchen.

Cancellation

Cancellations up to 48 hours prior to the class begins will be fully refunded by the airKitchen cancellation policy.