Kanagawa Cooking Class
Home made sushi & seaside supermarket tour
Cooking Class Menu
・roll sushi bento
・origami chopstick holder
Cooking Class Information
・You can learn how to make home-style Japanese dishes such as Tamagoyaki omelet, teriyaki-chicken, octopus shape sausage, and other typical Bento dishes.

・You can roll sushi by yourself with fillings you like.
(We try to find as many ingredients which you can find easily in your country as possible.)

・You can make chopstick holders by origami which is children will make it easier.

・After packing your sushi in the Bento box, you can bring it to Kamakura walk and lunch outside.

・After packing bento, we will go to the nearest supermarket for discovering what Japanese eat every day and for buying ingredients for bento-making, while explaining Japanese ingredients and advising what to buy for a souvenir.

・Vegan bento without meat, fish, and egg is available. (Please let us know in advance if you prefer vegan bento.)

【Note】
We do not use raw fish.
Please enjoy your bento withing 2 hours (in the summertime, within 1 hour preferably) after the lesson.
---
About Host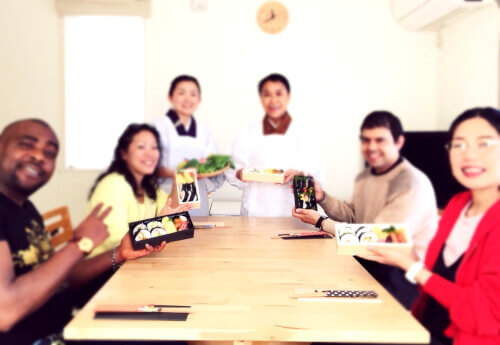 YOKO
Welcome to M&M kamakura bento cooking!
Yoko have been born to love cooking because almost everything she ate to grow was home-made by her mother. Naturally, she became a credible assistant to Mom in the kitchen and enjoyed cooking and baking. After starting to work, she attended many cooking classes to learn Italian, French and other cuisine and realized to love cooking after all. In 2008, she opened her own restaurant in Tokyo which also with a culture school. She closed the restaurant business in 2013, but continued culture School. In 2017, she started Kamakura Bento Cooking at home.

Reiko started cooking when she was a kid. Her mother liked ( and still likes) cooking very well and she always served various kinds of Western style dishes as well as traditional Japanese dishes for her family. Ever since she bought herself a lovely baking book, she had been crazy about cake-making. After flying to USA to study, her passion for cooking wasn't lost and whenever she missed home, she cooked Japanese food secretly in the basement kitchen of the dorm. Coming back to Japan, she started her career as a journalist. She have met many chefs, patissiers, bakers, baristas and farmers by now. And with tips she learned from these professionals, she updated her cooking techniques. she also teach baking, too.

As we met each other at Yoko's restaurant in Tokyo and got along with, we thought we should do something with our cooking knowledge. Kamakura is an ideal place to show how wonderful the home-style Japanese cuisine is to foreign visitors. Kamakura is surrounded by ocean and hills and Yoko's house which is our studio has good access to both of them. In comfortable atmosphere of Japanese household, we would like to share great time with you and teach Japanese food culture by making Bento.
---
Area
The closest station
Inamuragasaki Station
How to get to the station?
From Kamakura: 10mins
Exact location provided after booking.
---
FAQ about Home made sushi & seaside supermarket tour | Cooking class by YOKO
How long is this cooking class by YOKO?

Duration of this cooking class is 2 hours.

Is Home made sushi & seaside supermarket tour available for vegans?

Yes, Home made sushi & seaside supermarket tour has a vegan option.

What is the maximum capacity of YOKO's cooking class?

Up to 6 people can join YOKO's cooking class.

How much does it cost to join Home made sushi & seaside supermarket tour?

It costs 6000 per person.

Is Home made sushi & seaside supermarket tour available for vegetarians?

Yes, Home made sushi & seaside supermarket tour has a vegetarian option.
Additional cooking class information
Confirmation

You will receive the confirmation within 24 hours.

Payment

We accepts these cards on airKitchen.

Cancellation

Cancellations up to 48 hours prior to the class begins will be fully refunded by the airKitchen cancellation policy.