Tuscany Cooking Class
An Italian Traditional Meal
Cooking Class Menu
Starter : Vegetable cakes

Make a mixture of breadcrumbs, capers and some extra virgin olive oil.
Place the puff pastry in a baking dish. With a fork, make holes in the pastry. Spread a little of the breadcrumb mixture over the pastry.

Then make a layer of the grilled eggplants, already salted and peppered. Cover them with the thinly sliced mozzarella and a little of the grated parmigiano add a little bit of tomatoes sauces.

Repeat this process until the baking dish is filled, ending with a layer of tomatoes. Fold the remaining pastry over the top layer of tomatoes.

Bake for about 50 minutes and cool 20 minutes before serving..

Primi Piatto: Ravioli with Spinach and Ricotta Cheese
Place the flour in a large bowl and put the eggs and extra virgin olive oil in the center. Mix thoroughly. Then place the dough on a board. Knead by hand until smooth. Roll with a rolling pin until dough is thin.
Put a little of the filling on a strip of pasta and then cover it with another strip of pasta. Cut the ravioli with a mould...and continue until all the filling is used.
Prepare the sauce by gently melting the butter with the sage, salt, pepper and nutmeg. Boil the ravioli in salted water and toss it in the pan with the butter sauce. Serve with Parmigiano

Main Couse : Chicken Florentine
Sauté the spinach in a pan with extra virgin olive oil and garlic.
Flatten the cutlets a little and sprinkle with salt and pepper. Cover them with a layer of spinach and sliced cheese.
Roll the chicken breast up and hold together with a toothpick.
Heat the extra virgin olive oil in a pan with the garlic clove. Once the garlic is coloured slightly, remove it from the pan and add the chicken breasts. Sear them on all sides. Add the milk and cook for 10 -15 minutes, seasoning with salt and pepper as needed.

When cooked, remove the toothpick and cut the chicken in half and serve with its sauce.


Dessert : Chocolate Cake

Melt the chocolate and butter in a double boiler or in a bowl resting over a pan of boiling water. Beat in the sugar and add the egg yolks one at a time. Using a mixer or whisk beat the egg whites with a little salt in another bowl until stiff. Gently fold into the chocolate mixture.
Line a spring form pan with parchment paper. Pour in the mixture and bake for 35 minutes.


Cooking Class Information
Cooking courses are a full immersion in her lifestyle, a mix of food and culture, but also of practicality. Learn to make dishes which you can easily reproduce at your home, and you will amaze yourselves by creating ravioli, fresh pasta, gnocchi, pizza...

Simonetta will teach you the simple but important tricks of everyday cooking, such as how to substitute an ingredient at the last moment, but what really counts is to have a passion for food....and some fresh herbs at hand.

The dishes are those of traditional Tuscany, such as duck seasoned with wild fennel, meat ragout, tagliatelle with tomato sauce, cantucci biscuits, but also Renaissance dishes, such as duck with orange sauce and "carabaccia", taken to France by Caterina De Medici in the XVth century, and then arrived at popularity as the famous Soup à l'Oignon.
Included are the classic dishes of Italian cooking, such as Pizza, Ricotta Cheese and Spinach Ravioli, potato Gnocchi, stockfish salad, and many more!

Participants can be from one to a maximum of eight people, all working with the ingredients to create the final dish, all following the various steps and being allowed to taste ................. but above all we aim to have fun

After the cooking course comes the best time - to eat the food, and so "tutti a tavola", together with a good glass of wine....


---
About Host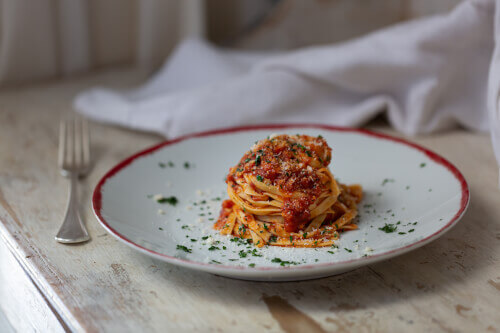 Simonetta
THE HERITAGE OF TUSCAN COOKING
I'm Simonetta and in my kitchen, my first consideration is to use only locally grown, seasonal produce. Many of my ideas for creating dishes come while strolling among the vegetables and aromatic herbs just outside my kitchen window. Reading old manuscripts of recipes and cooking techniques provides additional inspiration.
As I plan the daily menu, I make sure to include a most important ingredient, extra virgin olive oil produced from our own olive trees. Each day I take time to prepare bread and fresh pasta by hand, as well as the cakes and baked goods served at the breakfast table.
Traditional flavors have their roots in the ingredients of recipes passed down from mother to daughter. In this way, I strive to share the heritage of Tuscan cooking.

---
Area
The closest station
CAMUCIA-CORTONA
How to get to the station?
From FIRENZE: 120mins
Exact location provided after booking.
---
FAQ about An Italian Traditional Meal | Cooking class by Simonetta
Is An Italian Traditional Meal available for vegetarians?

Yes, An Italian Traditional Meal has a vegetarian option.

What is the maximum capacity of Simonetta's cooking class?

Up to 8 people can join Simonetta's cooking class.

Is An Italian Traditional Meal available for vegans?

Yes, An Italian Traditional Meal has a vegan option.

How much does it cost to join An Italian Traditional Meal?

How long is this cooking class by Simonetta?

Duration of this cooking class is 4.5 hours.
Additional cooking class information
Confirmation

You will receive the confirmation within 24 hours.

Payment

We accepts these cards on airKitchen.

Cancellation

Cancellations up to 48 hours prior to the class begins will be fully refunded by the airKitchen cancellation policy.