Kuala Lumpur Cooking Class
The Online Indian Food Trail
Cooking Class Menu
29 states, 1618 languages, 6400 castes, 6 religions , 6 ethnic groups, 29
major festivals & 1 country! Nothing quite like India.

I come from a family of great cooks. All the women (and some of the men too) are accomplished in the kitchen and I started cooking at the age of six- well helping my Mum and eating quite a lot too. I love experimenting in the kitchen and you won't find this kind of food anywhere in Malaysia.

Mangalorean Protestant Cuisine is a one of a kind experience. Heavily influenced by the German & Portuguese missionaries and yet retaining the local flavours in all it's splendour the food I teach you to cook is certainly extraordinary and unique!

Mangalore is the chief port city of the Indian state of Karnataka and is located about 350 kilometres (220 mi) west of the state capital, Bangalore. It lies between the Arabian Sea and the Western Ghat mountain ranges.

Join me ONLINE as I take you on a nostalgic journey to the kitchens of my great grandmother, grandmother and mother- outstanding women and exceptional cooks. You will learn traditional recipes like Thuppada Anna ( Ghee Rice), Pijamma's Pepper Poulet (Pepper Chicken), Uppu Motte ( Masala Eggs), Pachdi ( Yoghurt Salad), Kohli Gashi (Chicken Curry), Vindaloo (Traditional Pork Dish), Gerubeeja Payasa ( Cashew Nut Dessert) and more. To know what this is book a class online and find out for yourself. Minimum time required 1 hour. List of ingredients will be sent to you before the class and printed recipes will be provided thereafter. Best of all, you will you will get to taste the food you cooked online in your home and share it with your family too.

" We may live without friends, we may live without books;
But civilized man cannot live without cooks."

The Dinner Hour

Edward Robert Bulwer-Lytton, 1st earl of Lytton (1831–91)

From "Lucile"

Cooking Class Information
Join me ONLINE as I take you on a nostalgic journey to the kitchens of my great grandmother, grandmother and mother- outstanding women and exceptional cooks. You will learn traditional recipes like Thuppada Anna ( Ghee Rice), Pijamma's Pepper Poulet (Pepper Chicken), Uppu Motte ( Masala Eggs), Pachdi ( Yoghurt Salad), Kohli Gashi (Chicken Curry), Vindaloo (Traditional Pork Dish), Gerubeeja Payasa ( Cashew Nut Dessert) and more. To know what this is book a class online and find out for yourself. Minimum time required 1 hour. List of ingredients will be sent to you before the class via WhatsApp or email and a pdf file with the recipes will be provided thereafter. We will be using Zoom or Google Meet. Best of all, you will you will get to taste the food you cooked online in your home and share it with your family too.

The class will start with a short introduction about the history and traditions of Mangalore, This will be followed by a hands on class where you will be taught how to cook one of the traditional dishes along with two side dishes chosen by me to match your chosen dish. Feel free to ask questions during the class and you may keep in touch thereafter.
These are the tools required
Large pan
Rice Cooker/ Dish to cook rice
Wooden Ladles
Serving Bowls and Spoons
Plates
Apron
Cutting Board
Knives
Camera to take photos

Time Zone ( GMT +8 ), Malaysia Time
---
What you will do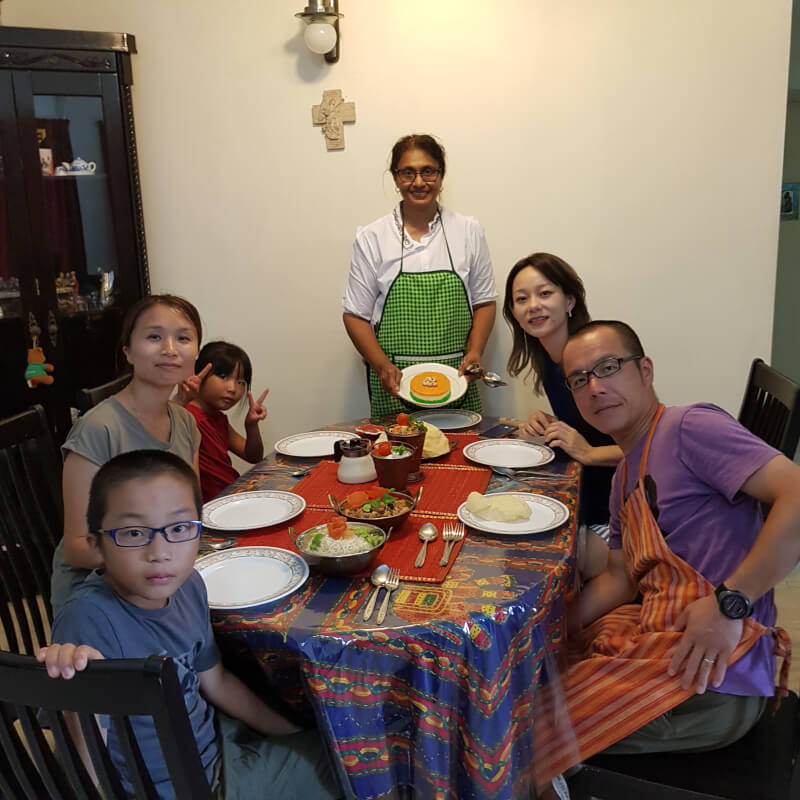 1. Cooking Class with A Family
Making Memories with a group photo after the class.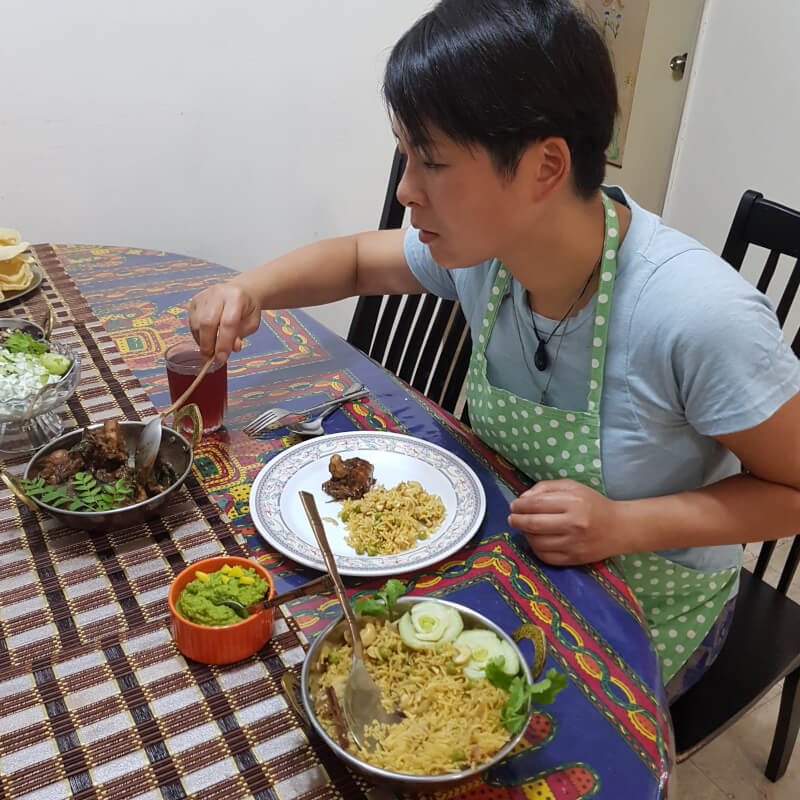 2. A Satisfied Japanese Guest
Enjoying the food after a personalised, private class.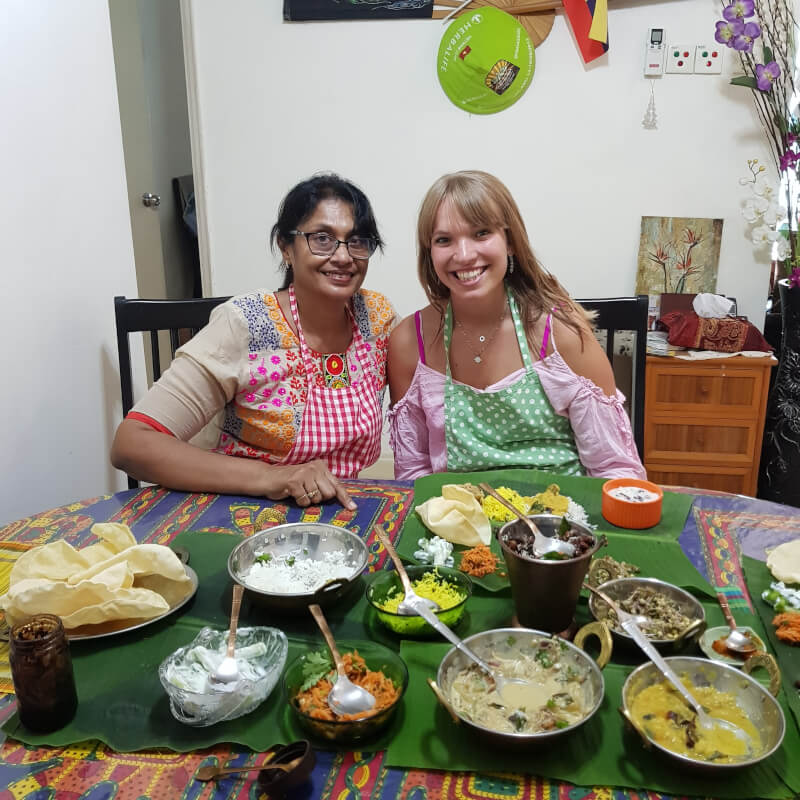 3. Banana Leaf Meal
This was a class on how to prepare and serve food on a Banana Leaf for a guest from The Netherlands.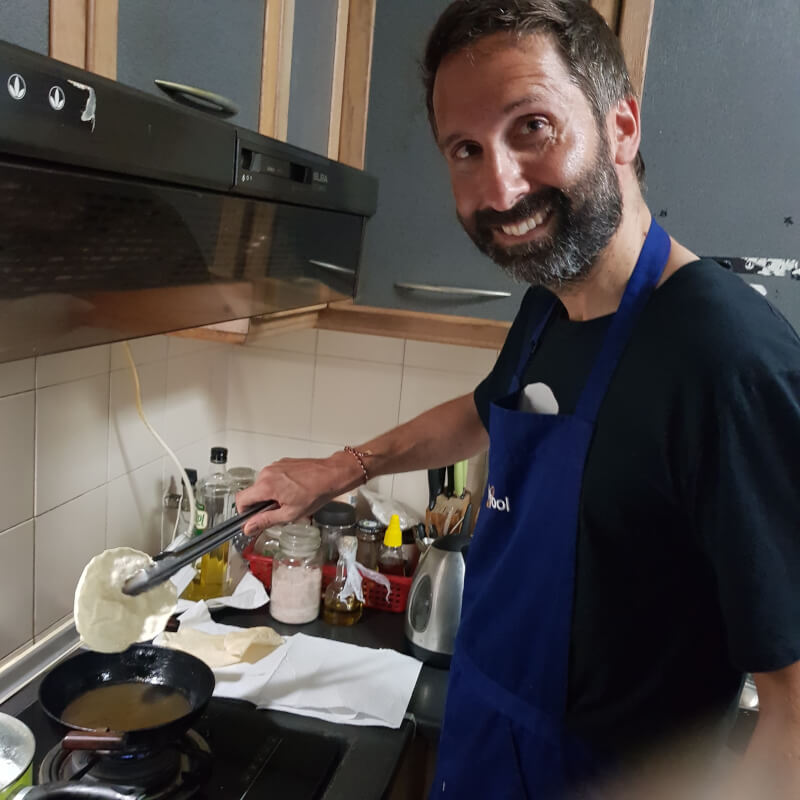 4. Frying Pappadams
Pappadams are lentil crisps that accompany Indian meals and are good to eat on their own too.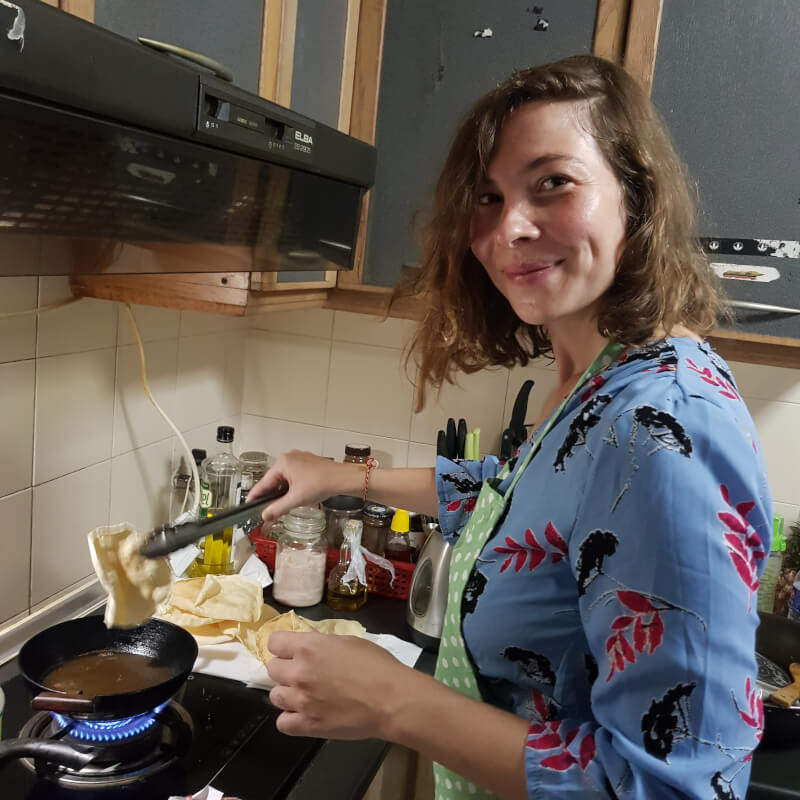 5. Enjoying The Experience
Most guests are thrilled to learn how to fry Pappadams.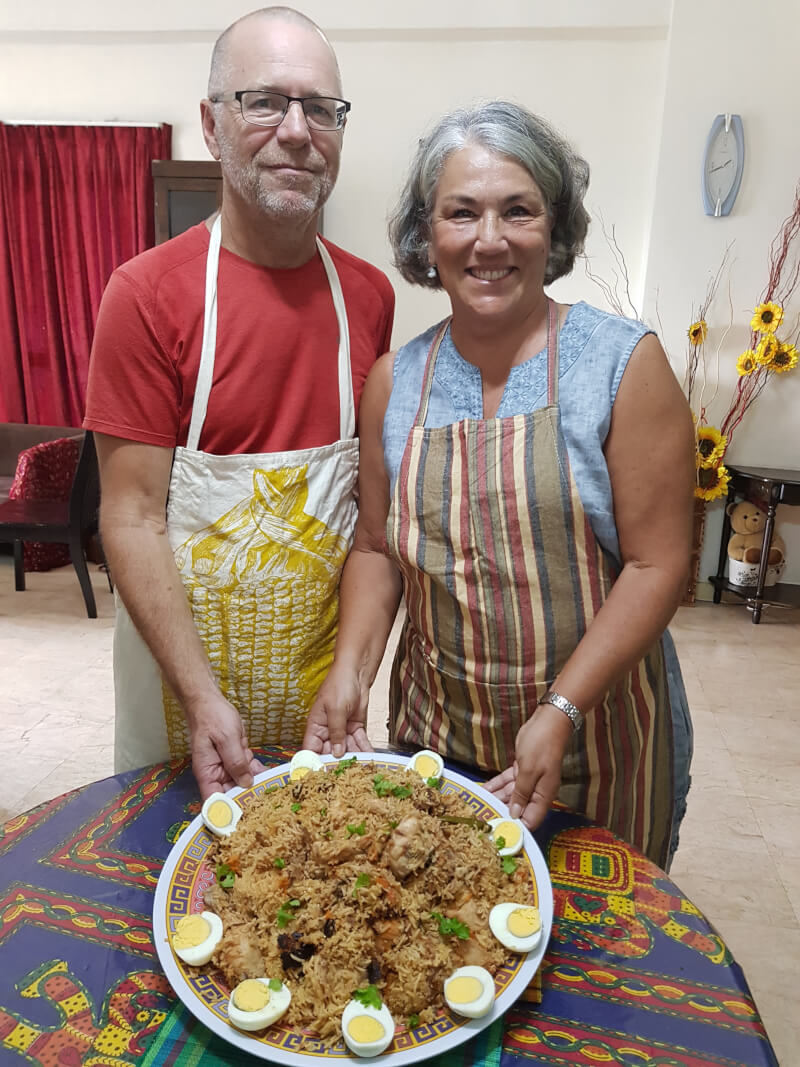 6. Chicken Biriyani
I get a lot of requests learn how to make Biriyani which is a very popular Indian dish consisting of several layers. It goes back to the time of Mumtaz Mahal in whose memory the Taj Mahal was built.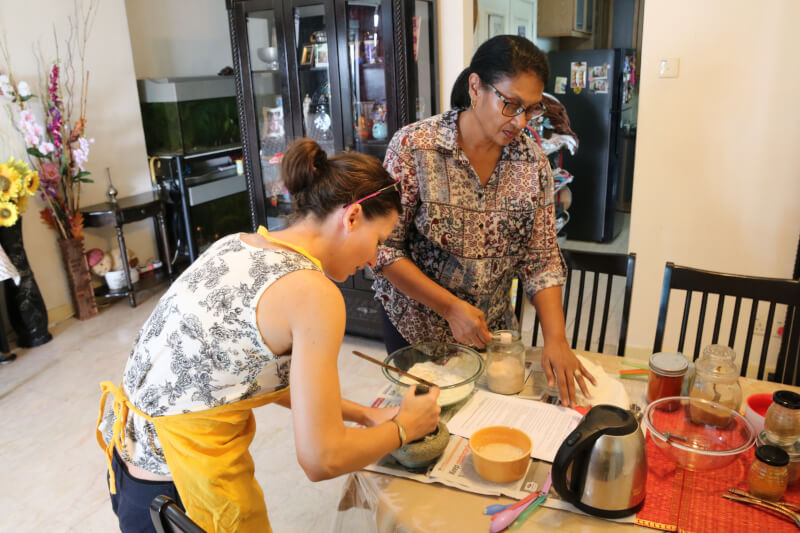 7. Making New Friends
This lady from Poland saw my food posts on Facebook and booked a class with me months in advance. We both had a wonderful time and are still in touch with each other.
---
About Host
I am a post graduate in Applied Psychology (Counselling and Guidance). Over the years I have specialized and provide Obesity Counselling Services (Successful Weight Management) using food to reach out to the community. This evolved into healthy cooking classes which I have been doing for years. It is a great way to connect with people as food has an incredible impact on health. Fads come and go, but your cooking skills will always be with you.
---
Area
The closest station
Tun Sambanthan
How to get to the station?
From KL Sentral: 5mins
Exact location provided after booking.
---
FAQ about The Online Indian Food Trail | Cooking class by Ruth
How much does it cost to join The Online Indian Food Trail?

How long is this cooking class by Ruth?

Duration of this cooking class is 1 hours.

Is The Online Indian Food Trail available for vegetarians?

Yes, The Online Indian Food Trail has a vegetarian option.

Is The Online Indian Food Trail available for vegans?

Yes, The Online Indian Food Trail has a vegan option.

What is the maximum capacity of Ruth's cooking class?

Up to 10 people can join Ruth's cooking class.
Additional cooking class information
Confirmation

You will receive the confirmation within 24 hours.

Payment

We accepts these cards on airKitchen.

Cancellation

Cancellations up to 48 hours prior to the class begins will be fully refunded by the airKitchen cancellation policy.