Naples Cooking Class
Learn Pasta, Ravioli and Gelato with a Chef in Rome City Centre
Cooking Class Menu
+ Fettuccine all'Amatriciana
+ Ravioli Ripieni di Ricotta e Spinaci con Burro e Salvia
+ Gelato


Welcome to the delightful world of Italian cuisine! Prepare your taste buds for an unforgettable journey as we introduce you to some classic Italian dishes that are sure to tantalize your senses. Let's explore the flavors of Italy together!

First up, we have "Fettuccine all'Amatriciana." Picture a plate of perfectly cooked, long and flat ribbons of pasta known as fettuccine, tossed in a rich and savory tomato sauce. This sauce is a delightful blend of ripe tomatoes, diced onions, and crispy pancetta—a savory Italian bacon. The pancetta infuses the sauce with a smoky and slightly salty flavor, providing a perfect contrast to the sweetness of the tomatoes. The dish is then generously sprinkled with grated Pecorino Romano cheese, which adds a sharp and tangy note. With each bite, you'll experience a harmonious combination of textures and flavors that will leave you craving for more.

Next on our culinary adventure, we have "Ravioli Ripieni di Ricotta e Spinaci con Burro e Salvia." Imagine delicate pockets of homemade pasta, lovingly filled with a creamy blend of fresh ricotta cheese and spinach. These little parcels are cooked to perfection and then gently bathed in a luxurious sauce made from melted butter and fragrant sage leaves. The ricotta cheese contributes a smooth and velvety texture, while the spinach adds a vibrant green color and a subtle earthy taste. As you savor each bite, the buttery sauce envelopes your palate, creating a comforting and indulgent experience that will warm your heart.

Lastly, we present to you the crown jewel of Italian desserts, "Gelato." This frozen delight is the epitome of Italian craftsmanship and passion. Imagine a silky-smooth ice cream with a luscious texture that effortlessly melts in your mouth. It is made with the finest ingredients, such as fresh milk, sugar, and natural flavors like vanilla, chocolate, or fruity delights like strawberry and lemon. The gelato artisans skillfully churn and freeze this creamy concoction to create a dessert that is both refreshing and decadent. With its wide array of flavors, gelato offers something to satisfy every sweet tooth, and it is a must-try treat that will leave you enchanted.

Italian cuisine is a celebration of tradition, flavor, and love for food. These dishes we've shared with you—fettuccine all'Amatriciana, ravioli ripieni di ricotta e spinaci con burro e salvia, and gelato—embody the essence of Italian gastronomy. So, don't hesitate to dive into these culinary delights, let your taste buds dance, and embrace the warmth of Italian hospitality. Buon appetito!
Cooking Class Information
Hey there, foodies!

We'll meet up in Via del Governo Vecchio, one of the coolest streets in the heart of Rome, where I've renovated what was previously an ancient home, nested in a centuries-old building and turned it into a functional and modern kitchen: the place where the magic happens.

We'll make pasta from scratch, like fettuccine and ravioli. You'll get your hands dirty and learn how to make traditional roman cuisine sauces like the famous Amatriciana. We'll also make ravioli stuffed with ricotta and spinach with butter and sage (or with fresh small tomatoes and basil), and bowtie pasta with pesto. And let's not forget homemade gelato!

I'm stoked to teach you how to make the perfect Italian pasta and gelato at home!

PS: If you've got any allergies, give me a heads up. And if you can't find a spot for the date you want, hit me up - we'll see what we can do ;)
---
About Host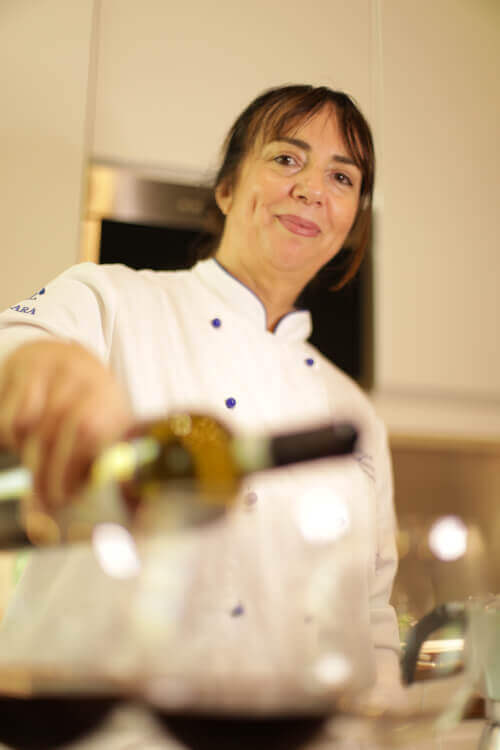 Fortuna
Hi! My name is Fortuna, I am a passionate cook and licensed pastry chef who inherited his love for cooking from my mother and grandmother growing up in Naples.
Ever since I was little, I enjoyed experimenting with different ingredients and flavors, creating delicious dishes and desserts for my family and friends.
I'm a mother of three so I try to balance my busy life with my culinary art: I think of myself as a kind and generous person who likes to share his joy and love through cooking experiences :)
---
Area
The closest station
Lepanto/Ottaviano/Barberini - Metro A (closest subway stations))
How to get to the station?
From San Pietro Station (closest main train station): 20mins
Exact location provided after booking.
---
FAQ about Learn Pasta, Ravioli and Gelato with a Chef in Rome City Centre | Cooking class by Fortuna
How much does it cost to join Learn Pasta, Ravioli and Gelato with a Chef in Rome City Centre?

What is the maximum capacity of Fortuna's cooking class?

Up to 8 people can join Fortuna's cooking class.

How long is this cooking class by Fortuna?

Duration of this cooking class is 2 hours.

Is Learn Pasta, Ravioli and Gelato with a Chef in Rome City Centre available for vegetarians?

Yes, Learn Pasta, Ravioli and Gelato with a Chef in Rome City Centre has a vegetarian option.
Additional cooking class information
Confirmation

You will receive the confirmation within 24 hours.

Payment

We accepts these cards on airKitchen.

Cancellation

Cancellations up to 48 hours prior to the class begins will be fully refunded by the airKitchen cancellation policy.