Saitama Cooking Class
Easy Character lunch box
★★★★★
5
Cooking Class Menu
Totoro Lunch Box
We can make easy &cute lunch box at trendy cafe near Harajyuku Omotesando .
Every food has been cooked so you can only make a lunch box.
It's easy for everybody.
We start at morning & eat it. You can go shopping after this experience.
Let's join the event
---
About Host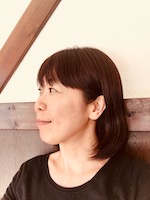 Ayaka
★★★★★
(5)
Hello.My name is Ayaka.
I started teaching foreigners and Japanese people how to cook.
This experience in the morning at my house in Saitama City.
Why dont you take a local train from Tokyo to see the daily life.
Anyone can participate in this experience.There is a menu available for vegetarians and people who want to to experience it.
Beautiful,cute sushi and hand made tohu, let's cook a popular Dorayaki with Doraemon. (For vegetarians sesame rice cake)
The instructor is a food coordinator who is familiar with food.
Let's join us!!!
---
How It Works
Step1 Cook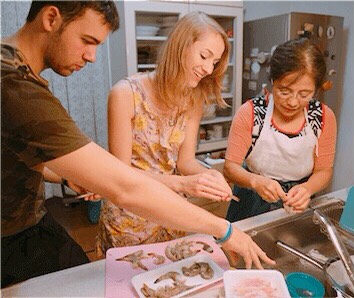 Visit a Japanese local's home and learn to cook their specialty.
Step2 Enjoy your meal!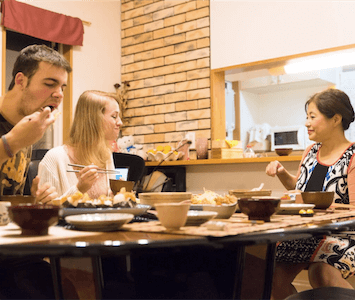 Eat the authentic homemade Japanese meal with your Japanese host. Take the opportunity to have a genuine conversation with a local Japanese Person.
---
Area
The closest station
Minamiyono Station
How to get to the station?
From Yonohonmachi: 10mins
Exact location provided after booking.
---
Reviews of Cooking Class
Laura, Germany
★★★★★
I applied for a cooking experience, as it was a topic in the media. The host was very nice. Speaking of travel in Japan, the experience of cooking Japanese food is the best.
Feb 2019
---
Ng, Singapore
★★★★★
Me and my family enjoyed this cooking class. I think everyone can enjoy it, regardless of age or sex. Thank you.
May 2019
---
Daniela, Itary
★★★★★
That was a very amazing experience. My daughter was very happy during the cooking experience. Thank you very much for your kindness.
Apr 2019
---
Alice, Canada
★★★★★
Thank you very much for a wonderful experience and a delicious meal. We have a really good time. Its a wonderful cooking class.
Apr 2019
---
Amelia, Australia
★★★★★
She is a very friendly host. This experience is worth more than money.
Mar 2019
---