Kyoto sits just north of Osaka in south-central Japan at the southern tip of Lake
Biwa. Kyoto forms a part of the Keihanshin metropolitan area along with Osaka and
Kobe. The location of Japan's Imperial Court, the Emperors ruled at the palaces in
Kyoto from 794 to 1869 when it was moved to Tokyo. It is known to be the cultural
capital of Japan and holds many temples and shrines that are listed as World
Heritage Sites. Much of the city was spared during the bombing raids of WWII.
This tradition Japanese tea ceremony is held in an authentic 300 year old samurai
house where you can see, smell, and feel the energy of time and tradition. With this
airKitchen tea ceremony reservation you have the confidence that your host will
have the utmost skill and knowledge fully shared with you about every part of the
performance. During the ceremony you will be able to make the tea yourself while
being dressed in traditional kimonos. Along with the tea wagashi will be served.
Map: https://goo.gl/maps/53hDNtxCTHdofoCz7
Access: 10 Minute Walk from the Kyoto Station
Hours: 16:30 – 18:00
Website: https://airkitchen.me/kitchen/5987.php
Price: ¥5000/person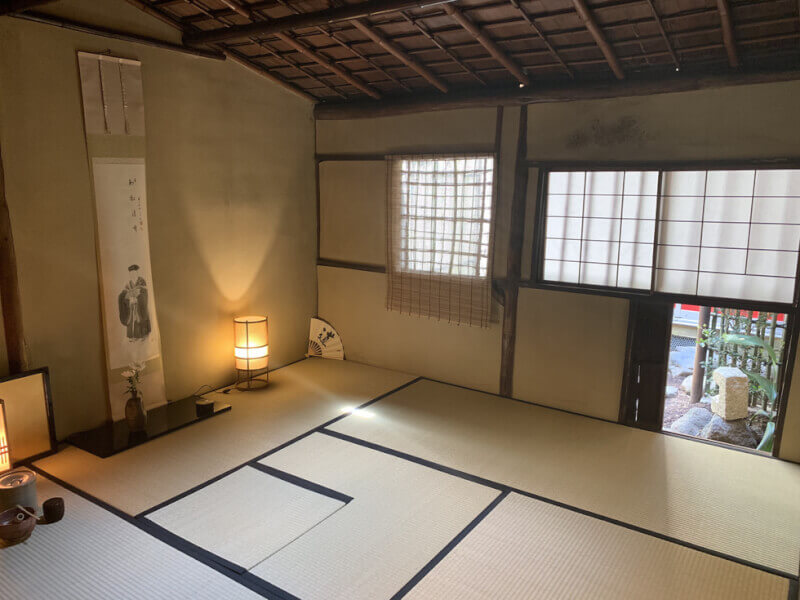 Not all tea masters are licensed to teach the traditional tea ceremony methods.
These tea masters are certificated by Kyoto Tourism Association. Their licensed
teacher guides you through the Japanese traditional tea ceremony in accord with the
Kyoto traditions. These vegetarian friendly tea ceremony host will provide you with
the true care and consideration that is afford all guests during the ceremony. A
kimono and sweet cakes are available to wear and eat during the ceremony.
Map: https://goo.gl/maps/xK7UT4Z1SUFhKww76
Access: 5 Minute Walk From the Kyotoshiyakusyomae Station
Hours: Flexible
Closed: Reservation Required
Website: https://airkitchen.me/kitchen/3315.php
Price: ¥4400/person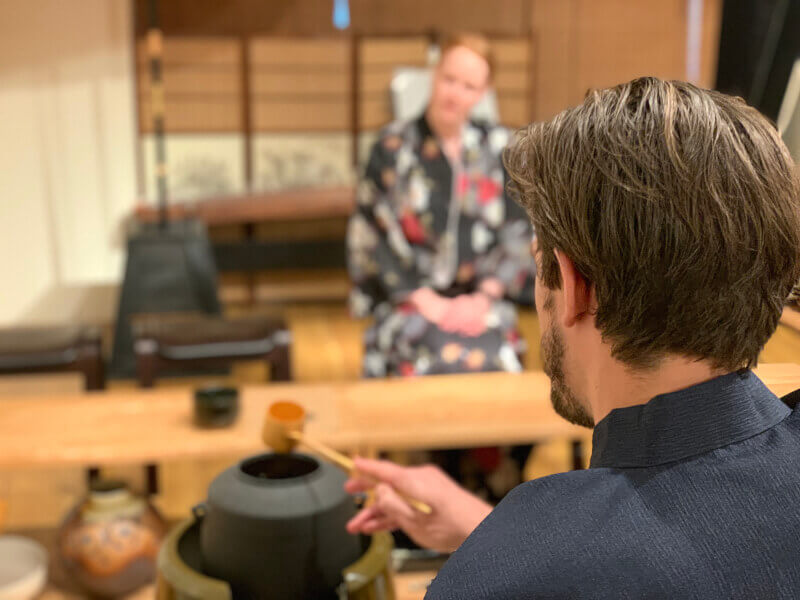 3. Tea Ceremony Koto
This is a tea ceremony house not far from the Kinkakuji temple. You can stop by the
place before or after visiting the temple and enjoy the Japanese green tea leaves
served with wagashi sweets. Rie-san speaks good English and makes you feel at
ease. The owner of the house follows the Urasenke style who changes the ro and
furo based on the season. This is a good option if you want to do the tea ceremony
before or after visiting the Kinkakuji temple.
Map: https://goo.gl/maps/1ivWN8sfMtdMEJHR7
Access: 10 minute drive from the Kitanohakubaicho Station
Hours: 10:30 – 17:30
Closed: reservations required
Website: http://teaceremony-kyoto.com/access
Price: ¥2,700 – 12,000 per person depending on the package
4. Traditional Tea Ceremony Experience MAIKOYA – Kyoto
Rated as one of the top tea ceremony experience in Japan by TripAdvisor this
ceremonial experience is the best cultural experience you can get for the price.
Conveniently situated and expertly crafted this tea ceremony only uses the highest
of grade ingredients and the finest of kimonos for the situation. You will be assured
a full cultural learning experience as well as everything is explained as it is
happening.
Map: https://g.page/MaikoyaKyoto?share
Access: 5 Minute Walk from Kyoto-Kawaramachi Station
Hours: 9:00 – 19:00
Closed: reservations required
Website: https://mai-ko.com/culture/tea-ceremony/
Price: ¥2,400 – 5,200 per person depending on if you want a kimono
Kyoto is not only the cultural capital of Japan it is a beautiful experience and place to
stay and soak in history and the exquisite nature of life around you. An amazing way
to see, feel, tough, smell, and taste the historical culture is to take part in a tea
ceremony. Tea ceremonies are a way for everyone to take part in and experience the
art and beauty of ancient Japan. Don't overlook the chance to experience this
amazing moment and touch the past.
▼The Best Tea Ceremony Experiences in Tokyo▼
▼The Best Tea Ceremony Experiences in Osaka▼
Explore more tea ceremony experiences in Kyoto