Let's try SHOKADO BENTO, a traditional Japanese bento box, originated from KAISEKI dish, for special occasion. The box is separated into small sectors where you will cook and place different type of specialities of sashimi, baked dish, stewed dish, fried dish and rice beautifully.
Cooking take place at my home. You will learn cooking in a very friendly and amicable atmosphere.
Hi, my name is Masumi.
My hobby is cooking. I am enjoying cooking for my family
every day. Time to time, I plan
and serve for lunch or dinner
party with my friends at home. I can cook 7 to 9 kinds of dishes, within 2 hours. As I love cooking too much, I have started to work as a professional housekeeping and cooking staff.
I have lived in Germany and Singapore for almost 10 years as my husband was working there. I had a lot of opportunity to learn different type of local food. They are now one of my favorite repertoire. It was also great fun to teach how to cook Japanese dishes to the local friends.
My belief is that people will become friend much easier if cook and eat together. Why don't you cook with me and enjoy the dishes together? You are always welcome!
The closest station
Shin- koshigaya station
How to get to the station?
From Kitasenju station: 15mins
Free pick up service
This host can pick up you for free from the closest station!
Exact location provided after booking.
Gwen, Belgium
★★★★★
Dear Masumi, Thank you so much for this wonderful experience. You're not only a great cook, but also a great teacher and a very warm person ! This was also a great exchange of cultural habits and specificities. In the meantime we could try out the bento box cooking a couple of times ourselves, and thanks to your tricks, it really isn't that difficult (although there is definitely still room for improvement (-: ) The fact that you speak so good English did help of course. Again, thank you so much. This experience was definitely a topper of our trip to Japan ! Warm regards, Gwen
Aug 2019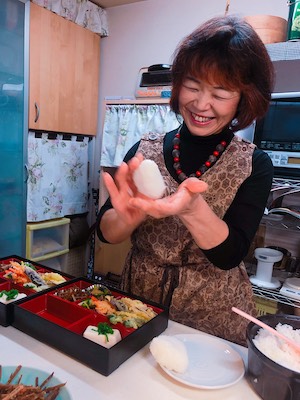 Response from masumi
Hi, Tanja How have you been? Did you cook Japanese dishes? If you any questions, please send me a mail. I will answer them as soon as possible. If you come again, please let me know. I would like to teach you whatever you want to make, for example ramen, gyoza, curry etc.