Kanagawa Cooking Class
Shojin ryori for vegans and vegetarians with Tempura
★★★★★
9
Cooking Class Menu
~Menu~

・Welcome drink
・Tempura with seasonal vegetables
・Goma dofu(Sesame tofu)
・Steamed or boiled seasonal vegetables with walnuts or sesame and soy sauce paste
・Miso soup
・Rice
*I'll use organic ingredients as much as possible.
Cooking Class Information
Shojin ryori is the traditional cuisine that was developed in Buddhist monasteries in Japan.
As it is made without meat, fish or other animal products, it can be enjoyed by vegans and vegetarians, but those who are not are also welcome.

・Tempura with seasonal vegetables
Very simple ingredients but there are a few tips to cook good Tempura.
Come to my kitchen and discover the secrets.
You'll also learn how to make dipping sauce for Tempura.
After my lesson, you'll be able to cook truly good Tempura.
Enjoy a Tempura party with your family and friends when you come back to your home!

・Goma dofu(Sesame tofu)
Goma dofu is one of the most typical Shojin ryori dishes.
It looks like tofu but not made from soybeans or soy milk.
It is made from sesame, a broth of Kombu dashi or water and kuzu.
I learned the recipe of Goma dofu directly from a Buddhist monk.
Let's cook a real Goma dofu together!

・Steamed or boiled seasonal vegetables with walnuts or sesame and soy sauce paste
It's very simple and the good way to eat fresh vegetables.

・Miso soup
You'll learn how to cook miso soup with a simple broth of Kombu dashi which would be suitable for vegans and vegetarians.
We'll use homemade miso to cook miso soup.

・Rice
The choice of white rice or brown rice.
If you prefer brown rice, please let me know in advance.
Taste a homemade Umeboshi(a salted plum) with rice.
---
About Host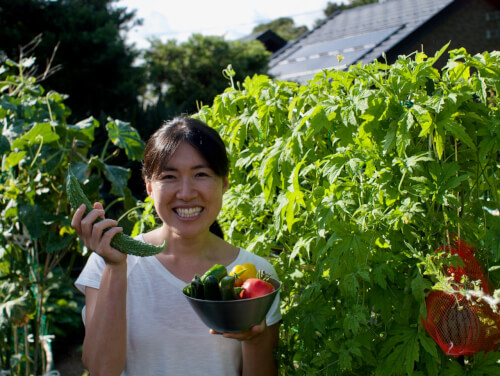 Yoko
★★★★★
(9)
Nice to meet you! My name is Yoko.I'm a vegetable sommelier.
I love cooking and eating Japanese dishes with seasonal vegetables.
I'm happy to share with you healthy dishes I cook daily for my family.
I'm growing organic vegetables at a community garden.
You might have a chance to eat fresh organic homegrown vegetables.*
I love traveling and "taste" different cultures.
I've traveled about 50 countries as a tour guide and for a private trip.
It was a lot of fun to meet local people and eat local foods.
That's why I decided to become a local host of airKitchen.
I'm excited to welcome you to my kitchen with lots of hospitality and do cultural exchange through cooking.
By the way, I'm a mother of a little girl.
My daughter will be at home during my lesson so children and babies are more than welcome.
She'll enjoy playing with your children.
Feel free to ask me what you need.
Looking forward to seeing you!
*It takes about 15 minutes by bicycle to the community garden.
So, I'll pick vegetables in advance when there are enough vegetables available. (depends on the season and the weather)
---
Area
The closest station
Kajigaya Station
How to get to the station?
From Shibuya Station: 20mins
Free pick up service
This host can pick up you for free from the closest station!
Exact location provided after booking.
---
Reviews of Cooking Class
Yonatan , Israel
★★★★★
Dear Yoko, It was so wonderful to learn how to make a Japanese food. I'm talking about the whole expirience that we had in the workshop. First, to see a very nice and clean house, then, to learn about the traditional and modern food, to make it in our hands and to see how a Japanese kitchen looks like. More than all, to meet a lovely family was really wonderful for us. The lesson was excellent, percisly what we needed, with a lot of thoughts and preparations before (for example, making a desert for Noa's birthday). Thank you very very much, Arrigato Gozaimas! Noa & Yonatan
Jul 2019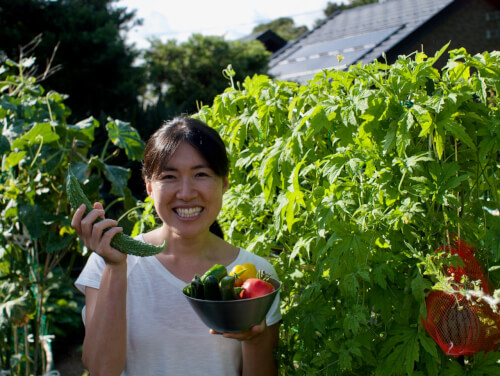 Response from Yoko
Yonatan & Noa, Thank you so much for joining my cooking lesson. It was so lovely to have you at home. I really enjoyed cooking and talking with you. Also, I was so happy to celebrate Noa's birthday together. Thank you! Yoko
---
Yuko, Japan
★★★★★
Yoko san was an amazing host! She is very kind and friendly. She explained details how to cook the delicious Japanese vegetable dishes. So, I felt like I can cook the vegetable dishes by myself. Also, she prepared fresh vegetables from her own garden and they were really tasty!! I absolutely had a great cooking experience with Yoko san. Thank you so much for having us!!
Mar 2019
---
Ella, Australia
★★★★★
Yoko is an amazing cook and such a great teacher! Very welcoming host who gave me the most wholesome experience I'll ever forget. Can't wait to make all this amazing vegan Japanese food I learned when I get back to Australia! Highly recommend Yoko to anyone. Thank you Yoko and your lovely family for having me. Will come back again next time I'm in Japan ❤️
May 2019
---
Rachel, United Kingdom
★★★★★
Yoko was a Brilliant host, she is friendly very friendly, her English was great, a wonderful cook and a lovely family. She explained everything very carefully and gave me detailed print out recipes so I can make it myself at home. The food was delicious! I would highly recommend a cooking lesson with her!
Apr 2019
---
Huei, United States of America
★★★★★
Yoko is an incredible culinary alchemist and human being. Besides being a gracious and thoughtful host, she has the kind of cooking skills that make you wish she would open a restaurant. Thank you for guiding me in the fine art of Shojin ryori- I learned so much, and had an amazing time getting to know the whole family as well. ありがとございます!!
Apr 2019
---
Robert, United States of America
★★★★★
Yoko is very knowledgeable about what she is teaching and is adept at presenting the techniques and ingredients that are showcased. Meals should be made from scratch, is her philosophy and she backs that up by maintaining an elaborate seasonal garden located off site on a plot of land that she has access to. My class included produce from her garden. She also makes her own miso, oshinko, umeboshi etc to be used as ingredients. Yoko is a very technical cook and can answer any question you can throw at her. I am confident that I can reproduce the food again from my class when I get back to my home country because she made sure I learned it by doing it. Yoko speaks fluent English and is a very good communicator, both written and spoken. Her husband and daughter were present and are all a wonderful family. When the class ended and we enjoyed the fruits of our labor, we had a fun time getting to know each other. I give Yoko Takahashi my highest recommendation, the inspiration she will give you can not be found on a YouTube video.
Apr 2019
---
Chong Hui, Singapore
★★★★★
It was a pleasure to meet Yoko and her family. My cooking experience was fun and informative. She prepared everything before hand so that I am able to enjoy as much as possible. Mei-chan was so cute and she helped me during the process. At the end, I sat down together with the family for the meal I cooked. It felt so heart-warming. My trip was truly memorable. Hope to see them soon again and strongly recommend.
Mar 2019
---
Shyam Howlin, Australia
★★★★★
Whilst visiting Japan, from Australia, last week Yoko welcomed my husband and I into her home to prepare a scrumptious organic vegan Japanese meal. Yoko is great at instructing and with her careful guidance we prepared a delicious meal of Miso, goma dofu, steamed veg with sauce and vegetable tempura. I am confident we can replicate this at home. We then sat down to eat with Yoko, her husband Kosuke and young daughter Mei. A privilege to join a Japanese family at their table. So much more than just a cooking class. Yoko and family, thank you. Kind Regards Shyam and Steve
Dec 2018
---
Tim Handfield, Australia
★★★★★
We had such a great experience with Yoko san! We learnt so much - not only how to cook a delicious Shojin Ryori style meal, but also details on the traditional preparation of miso and Japanese home cooking in general. We share her enthusiasm for gardening and growing organic vegetables and were very interested discussing gardening with her. It was also lovely to meet her very kind family, and we felt welcomed as soon as we met them. We would recommend her to anyone who wants to learn about Japanese cooking, regardless of whether they are vegan. Thank you Yoko san!
Oct 2018
---
FAQ about Shojin ryori for vegans and vegetarians with Tempura | Cooking class by Yoko
Is Shojin ryori for vegans and vegetarians with Tempura available for vegans?

Yes, Shojin ryori for vegans and vegetarians with Tempura has a vegan option.

How to get to the place where Shojin ryori for vegans and vegetarians with Tempura being held?

Please go to Kajigaya Station which takes 20 mins from Shibuya Station. Then Yoko (host) will pick you up there!

Is Shojin ryori for vegans and vegetarians with Tempura available for vegetarians?

Yes, Shojin ryori for vegans and vegetarians with Tempura has a vegetarian option.

How much does it cost to join Shojin ryori for vegans and vegetarians with Tempura?

It costs 6000 per person.

How long is this cooking class by Yoko?

Duration of this cooking class is 3.5 hours.

What is the maximum capacity of Yoko's cooking class?

Up to 4 people can join Yoko's cooking class.
Additional cooking class information
Confirmation

You will receive the confirmation within 24 hours.

Payment

We accepts these cards on airKitchen.

Cancellation

Cancellations up to 48 hours prior to the class begins will be fully refunded by the airKitchen cancellation policy.