Tokyo Cooking Class
【Tokyo・ Yotsuya】 Chara-ben (Character Lunch Box) Cooking Class
★★★★★
4
Cooking Class Menu
1.Making cute shaped food using various ingredients.
Sweet rolled omelet is so popular among foreigners. We will make heart-shaped rolled omelet together and egg clape flower as well.
2.Tako Winner is a cute-octopus-looking-cut wiener which need to be cut first for making octopus's feet. When you fry it in the fry pan and season it with ketchup, you will have a cute octopus.
We also will use deep-fried fish sausage with seaweed and boiled broccoli.
3.Making a character's face and body.
Making face and body by mixing black sesame and salmon flakes with rice.
Then use tweezers, scissors or straw, etc. to make eyes, nose, mouth, etc. by the ingredients as nori (seaweed), cheese, crab and so on.

Packing them in a lunch box.
The process of packing lunch boxes is also an interesting experience for foreigners. Put the character in the middle and stuff the side food around it tightly.
It's so cute when finishing the bento making the cheers of "Too cute to eat!"
Delicious and cute character lunch is ready.

Japanese "Bento" is popular as "BENTO" overseas. "Chara-ben", a kind of bento which shapes rice and side dishes into manga and anime characters, is a unique culture of animation advanced country Japan, attracting attentions all over the world. In this plan, we gonna introduce you how to make a Chara-ben into popular characters among foreigners such as Kumamon and Totoro in English.
This will be an experience of making a very cute chara-ben decorated with seaweed and cheese easily. It will be too cute to be ate.
It is a new attempt to let foreigners get connections with Japanese culture through Japanese-style food. Hope you can have a fun character making experience on this occasion.


---
About Host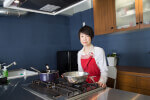 Noriko
★★★★★
(4)
Noriko was inspired to share her culture and cuisine after an incredible experience she had cooking and eating with a local family living in rural New Zealand, where they use a boat regularly to get around. On her return to Japan, she began offering cooking lessons with the sole objective of sharing authentic Japanese food and culture with the world. She specializes not only in traditional cuisine like washoku gozen, seasonal and authentic Japanese dishes but also in showcasing modern trends that Japanese housewives' use in their everyday cooking.
---
How It Works
Step1 Cook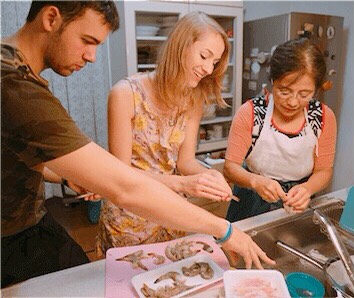 Visit a Japanese local's home and learn to cook their specialty.
Step2 Enjoy your meal!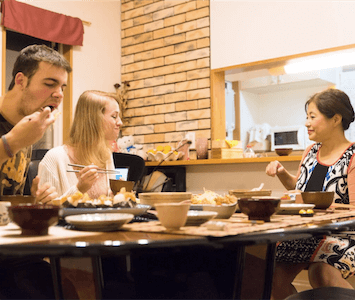 Eat the authentic homemade Japanese meal with your Japanese host. Take the opportunity to have a genuine conversation with a local Japanese Person.
---
Area
The closest station
Yotsuya station
How to get to the station?
From Yotsuya station: 5mins
Exact location provided after booking.
---
Reviews of Cooking Class
Johanna, Germany
★★★★★
The host is very kind. I realized the kindness of the Japanese. The food was very good. I think this is worth using again and again.
Apr 2019
---
Marie, France
★★★★★
We enjoyed this cooking class. The host person taught me very kindly. I was able to learn various things about Japanese cuisine. When I return to my country, I will make it myself. thank you very much.
Mar 2019
---
Lucas , Australia
★★★★★
The cooking class was very fun and the host was very nice. I usually do not cook much, but after this experience I wanted to do more. thank you very much.
Feb 2019
---
Charlotte , Australia
★★★★★
I have never received cooking classes in my own country. I think it is an experience that can be enjoyed by people who are not good at cooking. I want many people to enjoy it! I recommend this host.
Jan 2019
---