Aichi Cooking Class
Enjoy Temaki sushi & Tempura & Tea ceremony in Nagoya
Cooking Class Menu
Temaki sushi

Japanese family often make Temaki sushi in weekend. As a matter of fact, we seldom make nigiri sushi at home.
We actually make Temaki, sushi roll, scatterd sushi (Chirashi sushi)or Inari at home. We buy nigii sushi at market or eat it out at sushi restaurant.

Temaki sushi is very easy to make, and You can choose any fillings you like.
As the fillings, there are vary in each family. For example fried chicken, sausage,ham,cheese,kimchi,natto, canned tuna with mayonnaise or etc..
Enjoy Temaki suhi party at home in your country too.

We will make shrimp and vegetable tempura too.
Cooking Class Information
Firstable we make dashi from scratch with Honkarebushi (本枯節) which is the hardest bonito fish in the world.
We shave them by hand. This soup can be rich taste for miso soup or clear soup.
This is traditional way to make dashi soup stock. These day Japanese family use instant soup stock for everyday cooking.
but real taste is still in our DNA.

Then we make sushi rice with vinegar, sugar, little of salt. cooling it down by using fan.
We will make sweet egg omlet for sushi.
we will cut the fillings (raw tuna, salmon,squid,octopus,cucumber.etc )
for temaki sushi.
If you like to make nigiri sushi too,please let me know. For sure we can make nigiri sushi as well in this class.
Finally we will make shrimp and vegetable tempra as a side menu.

As a dessert, we will offer tea ceremony with Japanese sweet.
Sweet is made by sweet beans and mochi by seasonal shape.

---
What you will do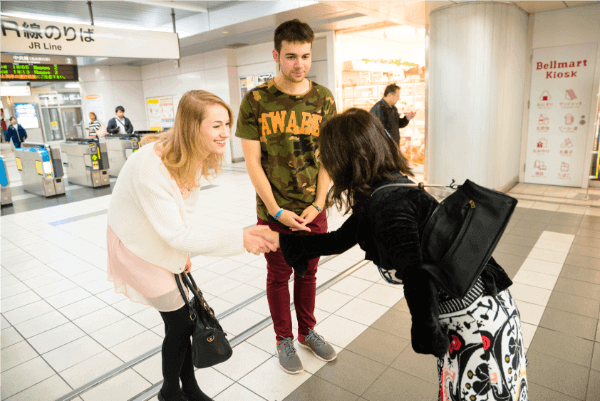 1. Meet at station!
Let's meet at south exit of Kachigawa station which is just 15 mins away from Nagoya station. 2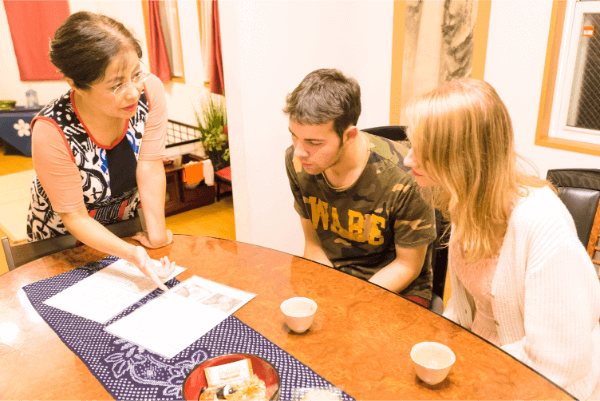 2. Welcome drink and explain about my cooking class
You can choose drink from either green tea, water and Japanese snack! I will explain you about what we are going to make according to my recipe. I will give you my recipe as a gift!
---
About Host
Hello! My name is Aki !
I live in the suburb of the third biggest city of Japan which is Nagoya in the Tokai region.
I organize and host Japanese cooking classes for foreigners and visitors at my house. Foreigners guests from all over Japan who are visiting or want to visit Japan through sightseeing sites.

I was born in Osaka, in 1960 and grew up in Nagoya area. I have been so interested in cooking ever since. When I was a child and even now I dreamed about Takoyaki, having cooked everyday almost for 40 years. Since I was a high school student and made my bento box for myself.

I like studying languages for that reason I have studied English in a community college ] in U.S.A - L.A after graduated from high school. At that time, I met my husband there, who used to cook for a local Japanese restaurant and got married. I have been married for over 30 years having gathering countless home cooking recipes. Of course such achievement it have wouldn't been possible without my husband help who is picky when it comes about food, as well as my mother-in-law who is an excellent cooker.

I made up my mind to work at a delicatessen in a big supermarket to practice hygiene management. It was very strictly controlled having gained a great amount of experience to learn on site such things.
I am now into salsa dancing and studying Spanish. I have been studying Spanish since 3 years ago. Because, I wanted to understand the deepness of Latin music. I always seek opportunities that I could learn as many dishes from all over the world as possible.
---
Area
The closest station
Kachigawa Station
How to get to the station?
From Nagoya Station: 20mins
Free pick up service
This host can pick up you for free from the closest station!
Exact location provided after booking.
---
FAQ about Enjoy Temaki sushi & Tempura & Tea ceremony in Nagoya | Cooking class by Akiko
What is the maximum capacity of Akiko's cooking class?

Up to 14 people can join Akiko's cooking class.

How much does it cost to join Enjoy Temaki sushi & Tempura & Tea ceremony in Nagoya?

It costs 7900 per person.

How to get to the place where Enjoy Temaki sushi & Tempura & Tea ceremony in Nagoya being held?

Please go to Kachigawa Station which takes 20 mins from Nagoya Station. Then Akiko (host) will pick you up there!

How long is this cooking class by Akiko?

Duration of this cooking class is 2.5 hours.

Is Enjoy Temaki sushi & Tempura & Tea ceremony in Nagoya available for vegetarians?

Yes, Enjoy Temaki sushi & Tempura & Tea ceremony in Nagoya has a vegetarian option.

Is Enjoy Temaki sushi & Tempura & Tea ceremony in Nagoya available for vegans?

Yes, Enjoy Temaki sushi & Tempura & Tea ceremony in Nagoya has a vegan option.
Additional cooking class information
Confirmation

You will receive the confirmation within 24 hours.

Payment

We accepts these cards on airKitchen.

Cancellation

Cancellations up to 48 hours prior to the class begins will be fully refunded by the airKitchen cancellation policy.