The Japanese tea ceremony is a tradition of this country that dates back to the 9th century. It includes the preparation and serving of green tea. Hosts conduct tea ceremonies to show hospitality to visiting guests or as a way to relax the mind and body. A stay in Japan is simply not complete without attending a tea ceremony. On your visit to Yokohama, consider a stop at one of these amazing places.
1. Yokohama Royal Park Hotel
The tea ceremony room at this hotel is the highest in Japan. In fact, you will have no trouble maintaining silence during the ceremony, as your view from the 65th floor will leave the bow of your speech without arrows to release! The Royal Park Hotel is quite possibly the most popular place in Yokohama to enjoy Japan's ancient tea ritual.
Map:  http://hnd-bus.com/feature/002-yokohama.html
Access:  2-2-1-3 Minitomirai, Nishi-Ku, Yokohama
Hours:  11:00-17:00
Closed:  Closed after 5 PM daily
Website:  https://www2.yrph.com/en/facilities/tea-ceremony-room
Price:  1,500 JPY per person (tea ceremony does not include room rates)
2. Sankeien Garden Tea Ceremony
Hidden in the heart of Yokohama's hustle and bustle is Sankeien Garden, where you will see beautiful foliage along with numerous traditional Japanese buildings. In Sankei Memorial Hall is a tea ceremony room where you can not only partake in the ceremony but learn how the tea is prepared. Try this matcha tea just after having a bite of a traditional sweet prepared on-site for an even greater experience on the palate.
Map:  https://www.google.com/maps/place/Sankeien+Garden/@35.4170782,139.6566351,17z/data=!3m1!4b1!4m5!3m4!1s0x601842d191a85ba3:0x35551ca0677af962!8m2!3d35.4170782!4d139.6588238
Access:  Yokohama, Naka ward, Honmoku Sannotani 58-1
Hours:  9:00-17:00 daily
Closed:  12/29-12/31
Website:  https://matcha-jp.com/en/1681
Price:  500 JPY per person
3. Mugen-an
Located on the 4th floor of a former apartment building in Yokohama, you may not be impressed at first glance. Don't be fooled, however, once you enter the tea room through a crawl space (nijiri-guchi) you will be immersed in Yokohama history. The idea of this team room is to give visitors a mix of cultures without abandonment of Japan's 1100-year-old ritual of serving and drinking tea.
Map:  http://www.mugen-an.yokohama/access-%e6%89%80%e5%9c%a8%e5%9c%b0/
Access:  #405 Imperial Bldg.,25-2 Yamashita-cho,Naka-ku,Yokohama,Kanagawa,231-0023,JAPAN
Hours: 9 AM-9 PM daily
Closed:  Reservations are required
Website:  http://www.mugen-an.yokohama/
Price:  3,000 JPY per hour weekdays; 4,000 JPY per hour weekends and holidays
4. Sharakukan Tea Ceremony Samurai Experience
All right, so we cheated a little with this one, as it is actually located in Tokyo, a short 40-minute bus ride from Yokohama. But bear with us, for you will find this experience well worth the trip. Before the tea ceremony comes a session in basic Samurai behavior including how to hold a sword and the employment of proper manners. Next, you will learn how to drink matcha tea in an authentic tea room with crawl-in entrance.
Map:  https://japantravelandtours.com/japan-experiences/tokyo-area-experiences/samurai-authentic-suit-photography-in-tokyo-chiba-japan-sharakukan-tour/
Access: 7-minute walk from the west exit of Kisarazu Station
Hours:  10:00–13:00 daily, per group
Closed:  Reservations required
Website (with map):  https://japantravelandtours.com/japan-experiences/tokyo-area-experiences/samurai-authentic-suit-photography-in-tokyo-chiba-japan-sharakukan-tour/
Price:  36,100 JPY per person
5. airKitchen Japanese Sweet cooking class 
This is a kitchen cooking class where you are going to make three Japanese sweets included in tea ceremonies. They are the Dango, Manju, and matcha pudding. You will also be tutored in the art of brewing green tea, or matcha, the Japanese way.
Access:  Right next to Yokohama Station
Hours:  Classes are 2.5 hours long, with a maximum of 4 guests
Price:  4,000 JPY per person
Website:  https://airkitchen.me/kitchen/4902.php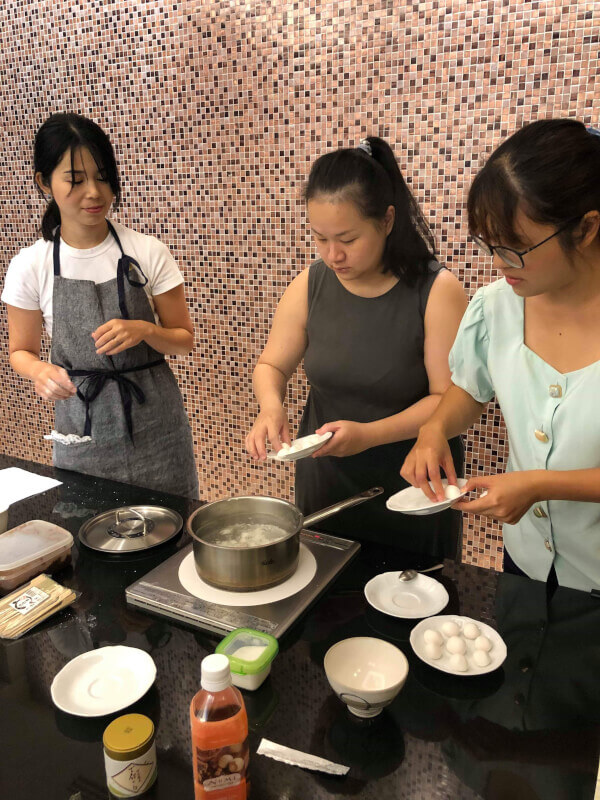 Being close to the capital of Japan, Yokohama is rife with time-honored tradition. It does not disappoint with its historical significance, including the centuries-old ritual of the tea ceremony. If ever you find yourself basking in the society of this magnificent city, don't miss out on a relaxing session of matcha and sweets.
▼The Best Tea Ceremony Experiences in Tokyo▼
▼The Best Tea Ceremony Experiences in Kyoto▼
▼The Best Tea Ceremony Experiences in Osaka▼