What is "Toyosu Market"?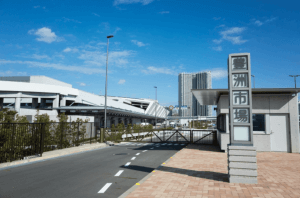 The "Toyosu Market" has been developed as a relocation destination due to aging of the "Tsukiji Market" that has supported Tokyo kitchen for many years.
The nearest station is Yurikamome's "Market Front" station, and the moment you get off at the station you can see the facilities of the newly completed shiny hotel.
Then, I will explain the highlights in order.
"The largest in the past" a large-scale model of bluefin tuna
The highlight of the Fisheries Wholesale Hall is a huge bluefin tuna model. This is the largest tuna that has been traded at the Tsukiji Market in the past, but it is full-scale. It is a photo spot where visitors can enjoy commemorative photography with bluefin tuna freely, including children.
You can also visit the "Tuna Auction" early in the morning!
The "Tuna auction (Tuna Seri)", which gained popularity in the Tsukiji Market, can of course also be viewed in the Toyosu Market. The "Tuna Nori" of the Toyosu Market takes place around 5: 45-6: 15 early in the morning on the open market day. If you look from the visitor passage of the "fisheries wholesale hall", anyone can see the ashes without a reservation.
Toyosu Market Restaurant are open from 5 am in the morning
After all, the pleasure of visiting the market is food. It is open from 5:00 to 17:00 in the early morning according to the market opening day. You can enjoy Japanese cuisine using seafood, such as sushi, seafood bowls, eel and tonkatsu.
Dai Edo (Seafood bowl)
Tuna Sushi (Sushi)
Besides that, there are many shops where you can enjoy dishes made from freshly marketed fish. Please come and see for yourself.
Toyosu market is full of attractions. Please look, eat, buy and fully enjoy the market.
Address: Toyosu 6-chome Koto-ku, Tokyo
Business hours / 5:00-17:00 (visit), it depends on other stores
Regular holiday / Sunday, public holidays, closed days (undefined)
Access / A short walk from Yurikamome Market Station
Fee / Admission free