Tokyo Cooking Class
Handmade Udon & Wagyu Aburi Sushi with Tempura
★★★★★
2
Cooking Class Menu
・Handmade Udon from raw materials
・Wagyu Aburi Sushi (Sushi with Japanese
baked beef )
・Tempura (Seasonable vegetables )

In this class, you will be able to enjoy Handmade Udon from raw materials which is traditional noodles in Japan. Everybody steps on the material. It's very fun. Seasonal vegetable Tempura matches Udon very well. In addition to these menu, let's try Wagyu Aburi Sushi (Sushi with Japanese baked beef). Especially, this is very rare Sushi. For your information, all materials are from Japan. All drinks such as Japanese sake, beer and soft drinks so on are free of charge. At the end of class, my wife Keiko writes the visitor's name in calligraphy on colored paper with the photo of memories as a souvenir.
【Opening day & time】
Friday & Saturday 17:00-19:30
*If you have a preferred day and time,
please do not hesitate to contact us.
【Meeting place】
At the Central Exit of JR Omori Station
at 5 pm, Taka is waiting for you.
Please find the bag with our logo of
"homecoming TAKA".
---
About Host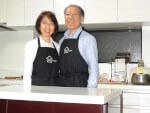 home c. TAKA
★★★★★
(2)
Hello.My business name is "homecoming TAKA,Tokyo". My family stayed in Malaysia, the United States, Mexico and China for 15 years due to my business. We experienced different cultures and kindness from local people, as a result, we could have a lot of really good memories. Since I retired in April 2018, my family wanted to give back to foreigners visiting Japan from now on. After thinking in various ways, although it is a general private house, I decided to create opportunities for foreigners to experience Japanese culture and OMOTENASHI(hospitality) mind. It is also one of the purposes for us to make friends all over the world through this activity. From the next visit, you will be a member of our family!
---
How It Works
Step1 Cook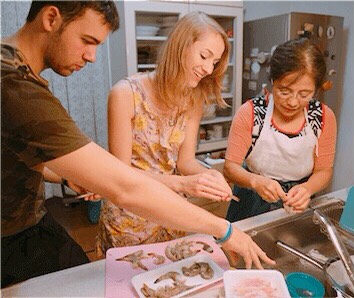 Visit a Japanese local's home and learn to cook their specialty.
Step2 Enjoy your meal!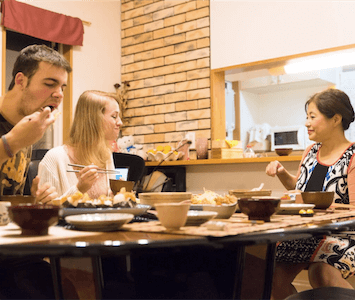 Eat the authentic homemade Japanese meal with your Japanese host. Take the opportunity to have a genuine conversation with a local Japanese Person.
---
Area
The closest station
Omori Station
How to get to the station?
From Shinagawa Station: 5mins
Free pick up service
This host can pick up you for free from the closest station!
Exact location provided after booking.
---
Reviews of Cooking Class
Maximilian, Germany
★★★★★
We have attend a cooking class with Taka and his wife Keiko. They are super lovely and welcoming people. If was a honour for us that we could attend the cooking class in their house.  In a nutshell: It is a must have when you are in Tokyo. You don't only learn how to make Sushi,Tempura and Udon noodles but you can talk to locals who have seen the world and showing you what Japan is really about: Great people and great culture.  It was a great experience and we recommend the course for everybody who is interested in Japan and Japanese cuisine.  Thanks a lot for having us and hope to see you another time. Alex,Soren and Max
Jul 2019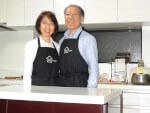 Response from home c. TAKA
Max-san, You are the first visitors from Europe for us. Thank you for studying European culture in various ways. For us, it was a very enjoyable time. Thank you very much. Taka
---
Maximilian, Germany
★★★★★
We have attended a cooking class with Taka and his wife Keiko. They are super lovely and welcoming people. If was a honour for us that we could attend the cooking class in their house.  In a nutshell: It is a must have when you are in Tokyo. You don't only learn how to make Sushi,Tempura and Udon noodles but you can talk to locals who have seen the world and showing you what Japan is really about: Great people and great culture.  It was a great experience and we recommend the course for everybody who is interested in Japan and Japanese cuisine.  Thanks a lot for having us and hope to see you another time. Alex,Soren and Max
Jul 2019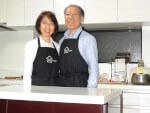 Response from home c. TAKA
Alex-san, Soren-san, Max-san, approved you as a member of Team TAKA. Thank you for your future relationship. Regards, Taka
---