Tokyo Cooking Class
Vegan Sushi and Miso soup at local home:)
★★★★★
5
Cooking Class Menu
We'll make Vegetarian Japanese food.
■Menu■
Rolled sushi with tofu mayonnaise
Miso soup-learn Basic dashi



Note: If you eat Dairy products, I will teach you Japanese rolled omelet,Dashimaki as well.

■The general outline of the tour■
1. Visit a local home in Tokyo
2. Learn how to make delicious Japanese soup stock (dashi)
3. Cook and taste (We will provide recipes)
4. Take a tour in a local supermarket.

■The schedule■
Time is negotiable
10:00 Meet at Kasai Station on the Metro Tozai line or the airport reimusine bus stop
10:15 Introduction
10:30 Start cooking
11:30 Have lunch together
12:30 Go to the supermarket tour (I will show and explain what ingredients we used during the cooking class)
13:00 Drop off at Kasai station
Tokyo Vegetarian Japanese Cooking lesson at local home:)In Japan, vegetarian food is quite tough due to Dashi, soup stock made by mainly bonito frake (it's made out of fish stock).

Children are more than welcome. I have some amenities that they can use we have various toys and free access to wifi:)♡
---
About Host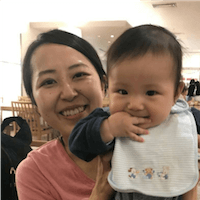 Rina
★★★★★
(5)
Rina grew up in Kobe where beef is well known for it's quality. Her family ran a seafood wholesale company for more than 30 years so her house was always stocked up on food. She will sometimes comment on how her weight was an issue all the way up until university where she made the decision to start eating healthy. When she was 3 years old, she says she weighed 40kg! You can ask her in person about this but she blames her past life weight issues on poor diet and consuming too much food in her day to day life. Rina says, "my family loved eating so much!"
After graduating from high school, her mom recommended that she join ABC Cooking School to learn how to become a "good housewife". "In Japan you are considered to be a good wife based on your culinary skills", she Ikeda says. The upside to the course was after learning how to cook and eat healthy, she lost about 20kg very quickly. Rina then stopped using foundation on her face because her skin looked very healthy after learning how to eat properly. She now knows first hand from these life experiences how healthy Japanese food. That is why she is so passionate about sharing Japanese Cuisine, in English, to foreigners residing here in Japan. Or anyone that wants to learn English for that matter.
During her days as a student at university, she truly enjoyed teaching international students about Japanese food. Rina is also a Certified Tofu Master, Junior Vegetable Sommelier and Washocook Cooking Certification Course. She also have Kitsuke Koshi (License to Teach People how to Wear a Kimono. Teaching the language, the culture and the customs of Japan with foreign people remains on of her biggest passions.
---
How It Works
Step1 Cook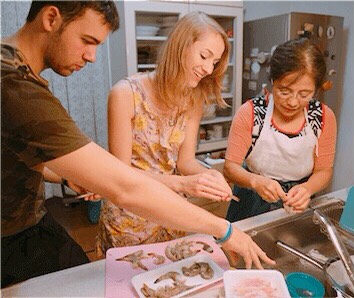 Visit a Japanese local's home and learn to cook their specialty.
Step2 Enjoy your meal!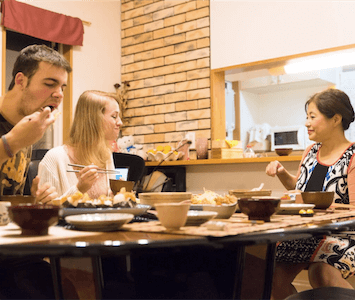 Eat the authentic homemade Japanese meal with your Japanese host. Take the opportunity to have a genuine conversation with a local Japanese Person.
---
Area
The closest station
Kasai Station
How to get to the station?
From Tokyo Station: 24mins
Free pick up service
This host can pick up you for free from the closest station!
Exact location provided after booking.
---
Reviews of Cooking Class
Harmony, Hong Kong
★★★★★
My family and I had a fantastic experience in Rina's cooking class. Before the class, she gave us a supermarket tour, and explained how to choose between all the varieties of ingredients. Rina is very caring and patient when teaching, and after her demonstration we were able to make our own delicious sushi rolls. She also gave us a lot of helpful cooking tips! I would definitely recommend joining this class.
Jul 2019
---
Claudia, Canada
★★★★★
Thank you Rina!!!! I had a great time today preparing a delicious vegan ramen and gyozas and interacting with the other guests.
Jul 2019
---
Annop, Thailand
★★★★★
Had a wonderful experience cooking with Rina!!! She is kind and friendly, and teach us not only about the food but also language and culture. If u r looking for a class, she is the right person. Learned a lot of things
May 2019
---
Sophie, Germany
★★★★★
We had the best time! Rina is amazingly sweet and the food was perfect. Definitely recommend!
Auguest 2018
---
Pawel, Poland
★★★★★
It was a fantastic experience, we were introduced to how to prepare a bento and we did it. We could ask questions about kitchen techniques, ingredients, but also local traditions. It was our first bento experience and we will continue it at home. In addition, at the end of class the host showed us around the local store and explain about products. We can really recommend a lesson to others. I completly agree that this kind of experience let us better understand other culture, kitchen thet paper-based guides will never let. AirKitchen is very good solution and I recommend to expand it.
June 2018
---