Tokyo Cooking Class
Make savory pancakes(Okonomiyaki) with a local Mom
Cooking Class Menu
①Okonomiyaki(Vegetarian response OK)
After the lunch, I will give you Japanese sweets desert.
※Japanese tea is free!
Okonomiyaki is a savory pancake. Okonomiyaki literally means "grilled as you like it." Sounds fun, right? Well, it really is. There are several different kinds of okonomiyaki. In this class, we'll make Osaka-style okonomiyaki—the most popular, and definitely my favorite style. You'll learn how to make not only tasty, but also pretty-looking okonomiyaki. I'll teach you the best timing for turning it over, and how to use the spatulas to do it. It's also a fun and creative part to decorate your okonomiyaki with sauce and toppings.

---
About Host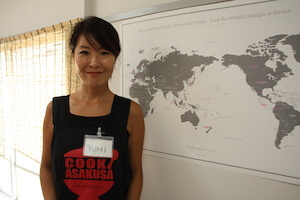 Yumi
Hello! I'm YUMI, an owner of this activity.
I've lived in Asakusa for 18years and I have a daughter and a son who are high school students.
When I was a university student, I visited various countries as a backpacker.
The scenes I saw there, delicious foods and, above all, the people who warmly welcome me…
These experiences and encounters are my roots and treasures.
In the summer of 2017, I went to Taiwan as a backpacker for the first time in 23 years. I was looking forward to going to the nice restaurant I had visited before and seeing proprietress of the bar who I had played with…. As the town has developed, I found that the town no longer has any vestige of the old days. But I was warmly welcomed by the town.
This trip is trigger of this activity for I have a sense of discomfort with the fact that I can't reproduce any cuisine even though I traveled around the world and ate delicious foods there many times. For people who love Japan and come to japan repeatedly, I would like to make a place that they can come back to! The place where accept them with "Welcome back!" no matter how many years pass by! Furthermore, I would like to make opportunity that people can taste "Japan" when they come back to home. For these reasons mentioned above, I establish "COOK! ASAKUSA KAPPABASHI".
​
I'll provide travelers of ASAKUSA with this activity as an event and a place to return in order to add special experience and interaction. As long as I have breath, I remain in ASAKUSA, KPPABASH. No matter how old I get, I'll welcome you with "Welcome back!"
​
YUMI
---
How It Works
Step1 Cook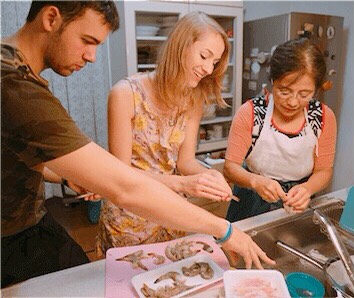 Visit a Japanese local's home and learn to cook their specialty.
Step2 Enjoy your meal!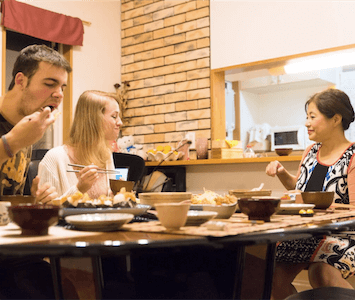 Eat the authentic homemade Japanese meal with your Japanese host. Take the opportunity to have a genuine conversation with a local Japanese Person.
---
Area
The closest station
Iriya station(hibiya-line)
How to get to the station?
From Iriya station: 5mins
Exact location provided after booking.
---