Osaka Cooking Class
Healthy Ramen&Gyoza (halal/vegan acceptable)
★★★★★
6
Cooking Class Menu
☆2 types of ramen
☆2 types of gyoza
We'll start out our class with a lecture about Japanese cuisine and lifestyle. Then we'll start cooking two different kinds of ramen broth, along with ramen and gyoza made from all-natural ingredients and seasonings, using my original recipe, which is healthy and easy to recreate at home. Home cooking is not only centered on the happiness and health of the family, but is also nourishing and easy to prepare. Come experience the power of this tradition. Experience is the best souvenir.
---
About Host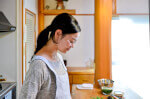 yucco
★★★★★
(6)
Hello!
My name is yucco, born and grown up in Osaka!!
I've traveled to more than ten countries and learned to both cook and eat during my travels. Now I'm a chef and menu developer, and I draw on my travels to teach authentic Japanese and fusion cuisine.
To me, home cooking is centered on the happiness and health of the family. It is nourishing, and once you get the basics, Japanese dishes are easy to prepare on a daily basis.
I decided to start a classroom to extend the hospitality I received abroad to those who visit Japan.
Once you learn the basics you can easily make it everyday.
I would like all foreign tourists to enjoy not only delicious Japanese cuisines such as sushi and tempura, but also feel a part of our lifestyle through the home made dishes which is simple but delicious.
In the class, we cook simple and basic recipes but cook carefully from the step of taking broth even you can cook after returning home with a simple material.
---
How It Works
Step1 Cook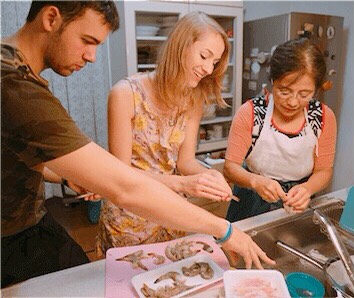 Visit a Japanese local's home and learn to cook their specialty.
Step2 Enjoy your meal!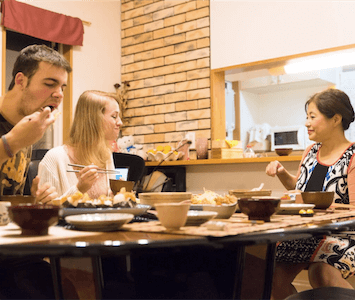 Eat the authentic homemade Japanese meal with your Japanese host. Take the opportunity to have a genuine conversation with a local Japanese Person.
---
Area
The closest station
Namba station
How to get to the station?
From Namba station : 0mins
Free pick up service
This host can pick up you for free from the closest station!
Exact location provided after booking.
---
Reviews of Cooking Class
Lana, Australia
★★★★★
Thank you Yucco for the amazing experience and once in a life time opportunity!! We really enjoyed ourselves and can't wait to try this at home to show off to everyone!!!
Sep 2019
---
Annika , Germany
★★★★★
I had a really great time with yucco. She was super friendly and a really good teacher. The food we made was amazing!
Sep 2019
---
Francesca, United States of America
★★★★★
This was perfect! Yucco was kind and professional, a very good cook. She made sure all the guests felt welcome and taught us a lot. It was nice to speak with the other guests also. The food was delicious and we all got to participate in preparation and cooking.
Sep 2019
---
Janet, Australia
★★★★★
Our cooking experience with Yucco was amazing , a wonderful introduction to Osaka and Japan . Thank you . Janet , Peter and Cindy .
Sep 2019
---
Lionel, France
★★★★★
Yucco, you are a great teacher and skilled chef. The ramen+gyosa cooking class was precisely organised and your explanation was clear. It was a pleasure to meet you during about 3 hours while cooking and tasting our delicious and healthy food! Thank you very much for this nourishing moment :)
Aug 2019
---
Eric Chan, Singapore
★★★★★
Yucco has been most hospitable and fun! She has made her guests feel at-home and yet at the same time, learn how to cook proper and tasty Japanese ramen in a step-by-step manner. Highly recommend to those who wish to learn how to cook ramen in the comfort of a Japanese home. Oh yes, Yucco is fluent in Japanese (obviously) and English.
Jul 2019
---