Kyoto Cooking Class
Okonomiyaki cooking for vegan&vegetarian
Cooking Class Menu
Okonomiyaki cooking lesson
Japanese tea (no limited)
Original recipe booklet&certification
Wearing Kimono
Easy hair make-up
Usually,we use Dashi soup made from dried fish flakes,eggs,and seafood or meat for Okonomiyaki.
In my class,I make Dashi soup made from Shiitake
(a kind of mushroom) and Konbu(a kind of sea weed).
Also, using soybean meat instead of meat for Okonomiyaki.
Depending on your request, you can make your Okonomiyaki and Takoyaki if you do not want to use cheese, dried shrimp, and eggs.
Natural pigments are used for all ingredients,
and we do not use chemical ones.
Please feel free to ask your question.
Let's try to make our famous local cuisine in Japan!
Of course,we are friendly to Vegan,Vegetarian,Halal.Also accessible for wheelchairs and baby strollers.
Please come and join us!
---
About Host
Hi,I'm Aya! I am not vegan,but I have a lot of vegan friends.
I've been heard that they are searching cooking class in Kyoto,
and they also said that it is so difficult to find.
So I desided that I starting up cooking class
for vegan and vegetarian in Kyoto.
I went to various cooking classes while traveling in Asia, Europe, USA etc.
I hope to teach correct Japanese cuisine to everyone from overseas,
taking advantage of the experience gained in cooking classes in various countries.
Especially in Japan, the Kansai region is a place that can be said as the center of food culture.
Here in Kyoto, we will teach a lovely looks lunch box [BENTO] and famous Takoyaki and Okonomiyaki.
Enjoy Japanese cuisine in a spacious and clean space!
---
How It Works
Step1 Cook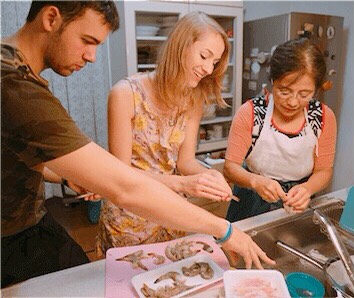 Visit a Japanese local's home and learn to cook their specialty.
Step2 Enjoy your meal!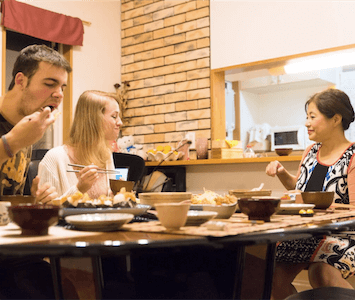 Eat the authentic homemade Japanese meal with your Japanese host. Take the opportunity to have a genuine conversation with a local Japanese Person.
---
Area
The closest station
Kyotoshiyakusyomae-station
How to get to the station?
From sanjo-station: 5mins
Exact location provided after booking.
---