Ramen noodle from scratch &Gyoza Cooking Class
Tokyo Cooking Class
★★★★★
20
---
Cooking Class Menu
〜Menu〜
・Gyoza ・Ramen Noodle from scratch(including making noodle dough)
・Chocolate Yo-Kan.

I will teach you ramen noodle from scratch.
And gyoza,too!
I will teach you a lot of tips making delicious one.

Yokan is a thick jelly dessert made of red bean paste, agar, and sugar.
Mine is chocolate fusion.
If you learn my delicious and tasty Hand made Ramen Noodle and gyoza you could enjoy them at home whenever you would like.I never use MSG and any chemical additives.
---
About Host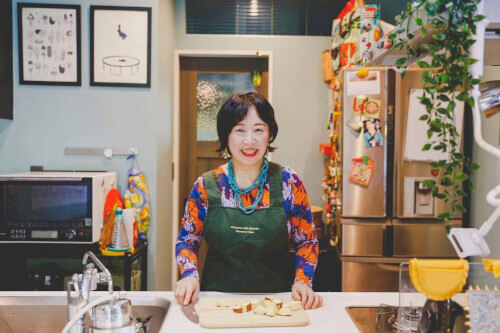 Nahoko
★★★★★
(20)
My name is Nahoko,conducting the cooking class "At home with Nahoko"
It is a healthy, delicious and visually stunning, definitely insta-worthy class.
We are located in a friendly and welcoming private home in Kunitachi, about 35 minutes by Chuo JR line from Shinjuku,Tokyo.
We never use chemical additive or prosessed food. I also give you some ideas about table setting. It is such a pleasure to spend time with me and be able to enjoy my home!!
---
How It Works
Step1 Cook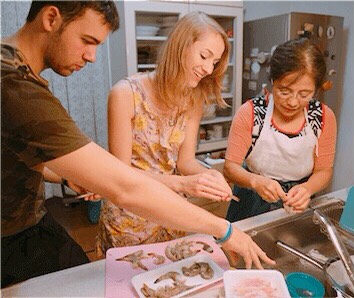 Visit a Japanese local's home and learn to cook their specialty.
Step2 Enjoy your meal!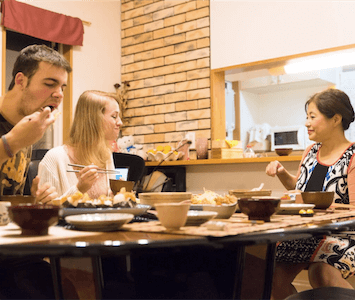 Eat the authentic homemade Japanese meal with your Japanese host. Take the opportunity to have a genuine conversation with a local Japanese Person.
---
Area
The closest station
Kunitachi Station
How to get to the station?
From Tokyo Station : 40mins
Free pick up service
This host can pick up you for free from the closest station!
Exact location provided after booking.
---
Reviews of Cooking Class

Brock,Hong Kong
★★★★★
Feb 2019
Very friendly host. Had lots of fun making delicious ramen and gyoza and enjoyed eating them even more!
---

Cristina,Spain
★★★★★
Mar 2019
We have a really good time,thank you so much!
---

Hilla ,Israel
★★★★★
Mar 2019
Nahoko gives it all to this class, she's a fascinating individual, very friendly and caring and has great enthusiasm for this class. This experience became one of my top experiences in Japan, of a month of traveling. I hope I'll get the chance to host Nohoko in my kitchen in Israel one day.
---

Shane,United States of America
★★★★★
Apr 2019
Nahoko is a wonderfully warm and genuine host. I felt welcomed into her home the moment I stepped in. And learning her personal recipes were a real treat. I never thought that I would have been able to make tasty, restaurant quality ramen with a homemade feel like I did when I was there. Nahoko can speak English and Japanese , which is a real help for tourists who want to jump in to an authentic Japanese home and learn as much as possible. Her instructions are easy to follow for a beginner , but not too basic for a more advanced student. Take her class, you'll be surprised at what's you can do.
---

Alicia Rohe,Germany
★★★★★
Apr 2019
Our cooking class with Nahoko was one of the most valuable experience in Japan. Finally we met a local person, learned more about the japanese lifestyle and their culture. Even though we were late, the class took place and after it she brought us to a local super market to buy some ingredients we used for cooking. Nahoko is polite, funny and so welcoming that I can just highly recommend to take her class. You will learn to cook ramen in the traditional way with natural ingredients. The food tasted amazing and we enjoyed cooking, eating together and having conversations a lot. Thank you so much Nahoko for this amazing day and hope to see each other again one day!!
---

Noa,Israel
★★★★★
Apr 2019
Great afternoon learning the secrets of gyoza and ramen soup from scratch. Taught in nahoko's welcoming apartment. A true way to experience a new culture!
---

Nitzan,Israel
★★★★
Apr 2019
We've had a nice experience with Nahoko. She is very excited with her cooking class and gives great explanation. Very nice experience, although a bit far away from Tokyo's center and takes most of the day because of it
---

Jérémy,France
★★★★★
Apr 2019
Thank you so much Nahoko for this cooking class ! Gyozas and Ramen were excellent. You are a very good professor! Arigatogozaimasu ! ------------ Merci beaucoup Nahoko pour ce cours de cuisine ! Les Gyozas et le Ramen étaient excellents ! Vous êtes une bonne professeure ! Arigatogozaimasu ! Jeremy & Alison
---

Mathias,Belgium
★★★★★
Apr 2019
We've enjoyed this class immensely. Nahoko is a friendly host, the food was delicious, and it was nice talking about the everyday life in Japan. Would totally recommend this cooking course.
---

Noa,Israel
★★★★★
Apr 2019
the class was so fun! we learned new things about japanese cooking style ans enjoyed the meal we cooked together. we recommand everyone who visits Tokyo to participate in Nahoko's amazing class!
---

Thiago Santos,Brazil
★★★★★
Apr 2019
We had a great time with Nahoko, she is very thoughtful. We had a chance to learn how to cook (and eat) Gyoza and Ramen in a very authentic setting. Totally worth unique experience.
---

Isabella,Denmark
★★★★★
May 2019
We had the best time cooking with Nahoko! She was so friendly, outgoing and her gyozas and ramen is so good. Location and the atmosphere in a authentic Japanese house was perfect. We can't wait to get back and try to make the recipes ourselves. BIGGEST recommendations from Denmark.
---

Jordan,United States of America
★★★★★
May 2019
Cooking with Nahoko was so much fun! She was very easy to follow and we learned a lot.
---

Janina,Germany
★★★★★
May 2019
We spent a great time with Nahoko and her husband. The food was excellent, the cooking was fun. Her explanations were good and easy to follow, so we will surely enjoy our own home made Ramen soon.
---

Scott and Jess,United States of America
★★★★★
May 2019
Our cooking class with Nahoko was a definite highlight of our trip! She was so kind and patient and gave us an authentic look into some traditional Japanese dishes. We were warmly welcomed into her home and she was happy to answer any questions we had. The food was FANTASTIC! It was so good that once we returned home, we hosted a mini cooking class with our family using her recipes and the tips she taught us! We would highly recommend this experience to anyone who enjoys cooking or at the very least enjoys meeting new people and trying new experiences. Nahoko deserves 5 stars! Thank you again! Jess & Scott United States of America - Minnesota
---

John,United Kingdom
★★★★★
Jun 2019
Brilliant afternoon cooking gyoza and ramen with Nahoko. We booked very last minute at 9pm the night before and Nahoko was kind enough to move her schedule around to fit us in. The instructions were well explained and the food tasted delicious. Nahoko walked us back to the train station after the class and when we didn't have enough cash she generously gave us the extra money so we could buy the tickets. All in all a great, authentic experience and one of our highlights from Tokyo.
---

Sarah,Germany
★★★★★
Jun 2019
The day with Nahoko was just a pleasure! The food was really nice and Nahoko explained everything very well. The end result was really delicious and she and her husband even helped us planning our trip and other things we could do. Even grocery shopping is fun with Nahoko! Can definitely recommend.
---

Nadine,Austria
★★★★★
May 2019
The evening with Nahoko and her husband was super fun! We had an amazing time cooking Gyozas and Ramen at their home. Especially the homemade noodles were delicious! It took us quite a while to get to their house but it was definitely worth it! :)
---

Ryan,Australia
★★★★★
Apr 2019
Please do yourself a favour and don't look past Nahoko! The food was delicious, and the experience was fantastic overall. We have used her recipes many times since being home :)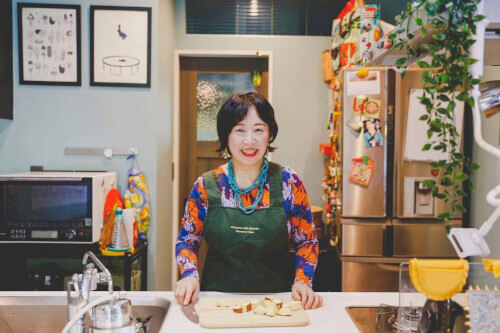 Response from Nahoko
Wao!Thank you so much.I'm so glad that I finally received your review!!
---

ANDY,United States of America
★★★★★
Jul 2019
Nahoko is a very gracious host. She responded to my messages in a timely manner and even provided me the most efficient train route from my hotel to her home. I had no problem navigating with her directions. I had a wonderful time learning how to make Japanese food. Nahoko answered all my questions and now I have a new skill to share with my friends and family. Nahoko also printed out all instruction for me to take home. My experience was more than learning to cook, but being able to interact with a Japanese friend and enjoy the cultural differences. I would highly recommend to spend your afternoon with Nahoko and cook some great food.
---