Anika Balinese Cooking Class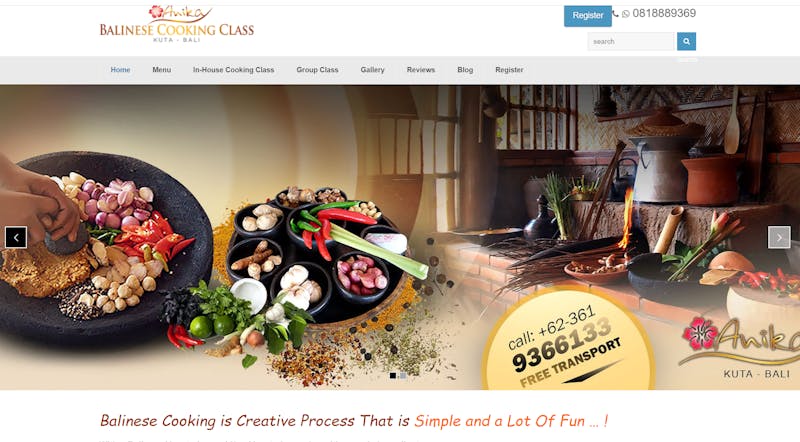 Source: Anika Balinese Cooking Class
Anika offers morning and afternoon classes. The morning class includes a one-hour market tour, morning tea, class time, lunch, a booklet and a certificate. The afternoon class includes afternoon tea, class time, dinner, free transport, a booklet, and a certificate. Anika also offers group classes for up to 300 people, in-house or private classes..

Map: https://goo.gl/maps/voG44156mZAgJ2WV9
Hours:
Morning class: 7am-1pm
Evening class: 4pm-7pm
Closed: None
Website: http://anikacookingclass.com/
Price: Morning class: IDR 1.000.000,-/person, Afternoon class: IDR 900.000,-/person
Spicery Cooking School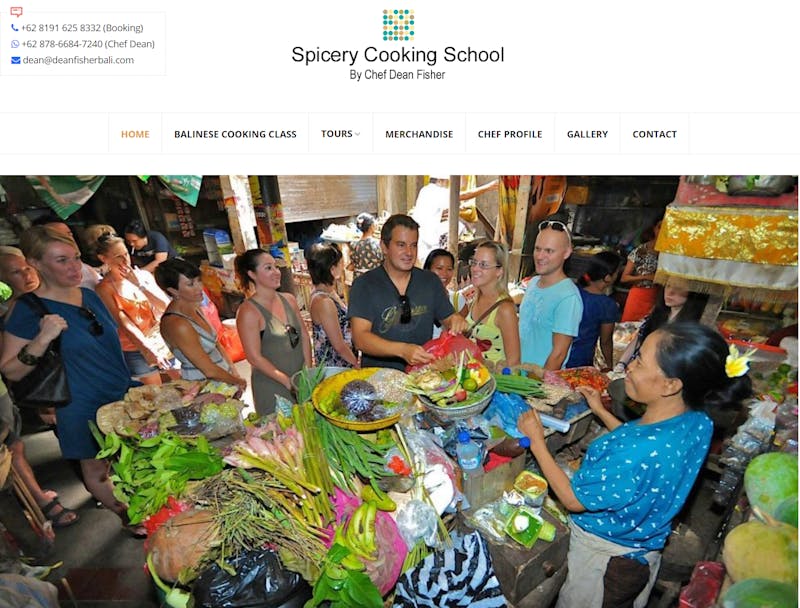 Source: Spicery Cooking School
Spicery's classes focus on the connection between Hindu culture and cuisine. You will learn how certain ingredients represent Hindu gods and how the food is offered to the gods before it is eaten. You will discover how Balinese cuisine incorporates fresh produce, fruits, vegetables, fish, meats, and spices.

Map: https://deanfisherbali.com/contact/
Hours: 8am-3pm
Closed: Saturday and Sunday
Website: https://deanfisherbali.com/
Price: Rp. 800,000nett per person
Balinese Cooking Class at the Amala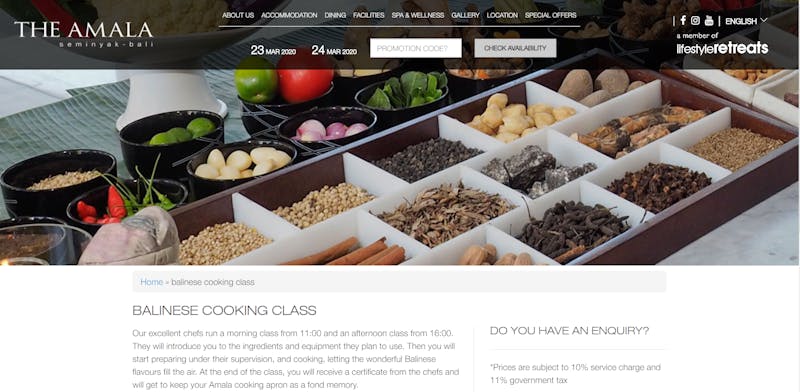 Source: Balinese Cooking Class at the Amala
The Amala is a wellness hotel that offers cooking classes focused on healthy eating and traditional Balinese cuisine with ingredients from the local market. You will prepare a three-course meal in a beautiful oasis.

Map: https://www.theamala.com/contact-us/
Hours: Morning Class: 11am-1pm Afternoon Class: 4pm-6pm
Closed: None
Website: https://www.theamala.com/balinese-cooking-class/
Price: Classes start at IDR 725.000 per person
Kin Vegetarian Cooking Class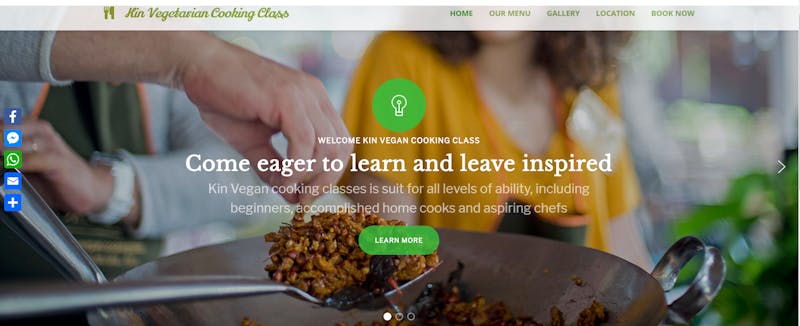 Source: Kin Vegetarian Cooking Class
Kin Vegetarian Cooking Class teaches you how to prepare healthy, plant-based meals for vegetarians and vegans alike. All skill levels welcome!

Map: https://kinvegancookingclass.com/location/
Hours: 3pm-7pm
Closed: Evening class on Tuesday, Thursday, and Saturday
Website: https://kinvegancookingclass.com/
Price:Varies, classes start at around IDR 600.000 per person
Chef Bagus Balinese Cooking Class
After hotel pick-up, you will meet your classmates and then head to the local market to pick up fresh ingredients for your class. You will learn how to make traditional dishes such as braised Pork in Sweet Soy sauce and green papaya salad. At the end of the class, you will enjoy your meal in the company of your classmates.

Map: https://www.tripadvisor.com/Attraction_Review-g297697-d13742825-Reviews-Chef_Bagus_Balinese_Cooking_Class-Kuta_Kuta_District_Bali.html#MAPVIEW-13742825
Hours: 8:15am-2:30pm
Closed: None
Website: https://www.tripadvisor.com/AttractionProductReview-g297697-d14100794-Chef_Bagus_Balinese_Indonesian_Food_Cooking_Class-Kuta_Kuta_District_Bali.html
Price: $51.29/person
Balinese Cooking Class at The Santai Umalas Kerobokan
Working with some of the best chefs in the country, you will start your day by picking out fresh produce at the local market. Under the guidance of our chefs, you will choose a recipe and prepare it, using local spices combined with savory vegetables, meat, and fish.
Map: https://www.thesantai.com/contact-us/
Hours: 2 hours
Closed: None
Website: https://www.thesantai.com/balinese-cooking-class/
Price: IDR 550,000++ per person
Traditional Balinese Cooking Class with Tanah Lot Temple Tour
Your day starts at 7:30 with pick-up at your hotel. Your host will then take you to the countryside where you will visit a vegetable plantation. Once you have purchased fresh ingredients for your dish, you will return to the village and change into traditional Balinese clothes. The cooking class itself last from 1.5-2 hours, and you will enjoy a three-course meal at the end of your class. After lunch you will visit two of Bali's most beautiful landmarks, the Taman Mumbul Temple and the Tanah Lot Temple.

Map: Pickup at hotel with transportation to a nearby village and vegetable plantation, Taman Mumbul Temple, and Tanah Lot Temple
Hours: Pickup at 7:30, 8 hours
Closed: None
Website: https://www.viator.com/tours/Kuta/Traditional-Balinese-Cooking-Class-with-Cycling-and-2-Hour-Spa-Package/d22290-32205P7#
Price: From $75.65
Caraway Cooking Class
Caraway's classes include Indonesian, vegetarian, Martabak Telor, Martabak Manis, and a class for kids! The morning class starts at the Sanur market, where you will learn about Balinese spices, fruits, vegetables, and meats. After the market tour, the cooking class starts. At the end of the class, you will enjoy a buffet from all the foods you prepared during class. The afternoon class is an interactive cooking experience with a meal at the end.

Map: Located in Sanur, Caraway offers trasnportation from Kuta for Rp. 200.000 per car. https://www.google.com/maps/place/Caraway+Cooking+Class+Sanur+Bali/@-8.6870736,115.244204,17z/data=!3m1!4b1!4m5!3m4!1s0x2dd241b2827fa0d7:0xf5f449e3fc066451!8m2!3d-8.6870736!4d115.2463927
Hours: Morning Class 9am-1pm, Afternoon Class: 4pm-7pm
Closed: None
Website: https://www.carawaycookingclass.com/
Price: Varies by class. Ranges from Rp.550.000-750.000 for adults in the morning class and Rp.500.000-700.000 for adults in the evening class. Cost for children is 250.000. The kids cooking class is Rp. 350.000 for children and Rp. 150.000 for adults.
Balinese Cooking Class with Rafting
This class offers both culinary and outdoor experiences. After visiting a rice terrace and local market, you will prepare a traditional Balinese meal at your instructor's house. After lunch you will have time to enjoy rafting with Bali's beautiful scenery as your backdrop!

Map: https://www.viator.com/tours/Kuta/Balinese-Cooking-Class-with-Rafting-in-Oneday/d22290-112716P25
Hours: Hotel pick-up in Kuta at 7am. Return to hotel at 4pm
Closed: None
Website: https://www.viator.com/tours/Kuta/Balinese-Cooking-Class-with-Rafting-in-Oneday/d22290-112716P25
Price: From $91.29