Beit Sitti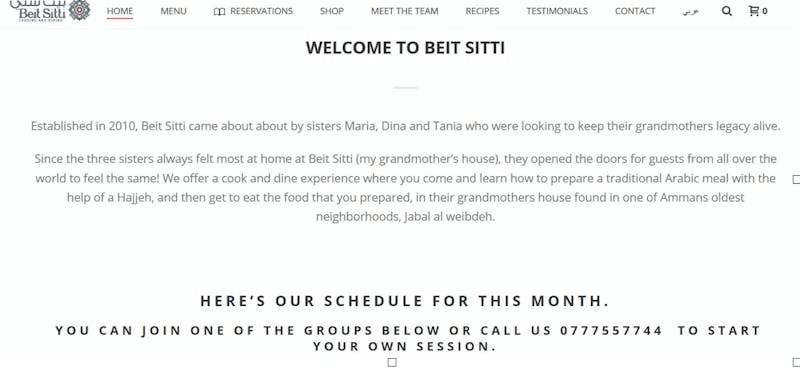 Source: Beit Sitti
This place was established a decade back by three sisters in Amman who wanted to keep their grandmother's legacy alive. The girls always felt at home at their grandmother's house, Beit Sitti. They always wanted the doors opened for guests from all over the world to feel what they think and arrange a cooking class for them. The sisters offer an excellent cook and dine experience where you can come and learn how to prepare a traditional meal.

Map- https://goo.gl/maps/VrVUYtCVkHxzYdya7
Hours- 10am-10pm
Closed- Never
Website- https://beitsitti.com/
Price- 120 JOD/Person
Royal Academy of Culinary Arts
Source: Royal Academy of Culinary Arts
RACA is a non-profit private Jordanian Institution in Amman that welcomes students of any race, nationality, sex, color, religion, or creed who have successfully completed a full secondary school program.

If you are looking to pursue a professional course in culinary, RACA is one of the best options in Jordan. They have short courses every now and then which shall help you pursue the course of your choice. You can also do a two-year Diploma in Culinary Arts, so, whoever wants to continue a professional cooking class, this is the right place to be at.

Map- https://goo.gl/maps/Q5Pzua8MSiso7Hx59
Hours- 8am-5pm
Closed- Saturday
Website- https://www.raca.edu.jo/
Price- Click here for the complete course fee details.
Mira's young Chefs

Source: Mira's young Chefs
Mira Jarrar is a mom of three children, and an aspiring passionate cooker. You can learn good fun cooking classes for the young chefs of all ages, university students, and women at Mia's Young Chefs in Amman, Jordan. Mira's cooking workshops are of 10 hours of lessons, over the period of 5 weeks, where the Minimum number of participants is 5, in addition to the Mini workshops and customized classes that are also available upon request. If you are looking to learn everything that is fun, healthy, innovative, and unique in the world of cooking, be sure that you are taking the right kind of cooking class.

Map- https://goo.gl/maps/Jv8WfErJhk6fSGDs6
Facebook Page- https://www.facebook.com/MirasYoungChefs
Petra Kitchen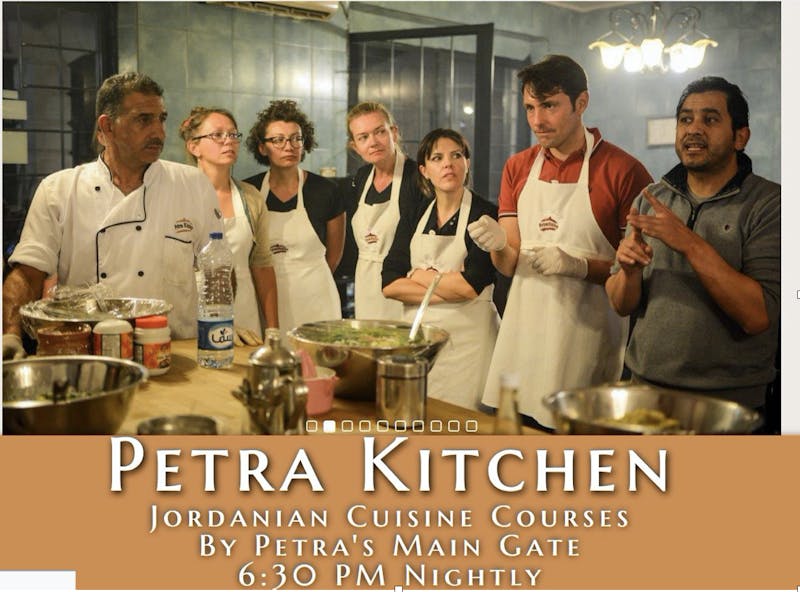 Source: Petra Kitchen
Everything in Petra kitchen is believed to be local and fresh. A Family of Amman with over a decade of experience has been sharing meals with visitors to Jordan and also teaching them how to cook Jordanian food with extreme perfection. They're passionate about Jordanian cuisine, and from preparing, literally thousands of meals with guests, they have become locally and internationally recognized as some of the most authentic culinary instructors in Jordan. Taking a cooking class here will never go wrong.

Map- https://goo.gl/maps/W3tc5KQXaq6FPwwZA
Timings- 8:30am-11:30pm
Website- https://petrakitchen.com/
Amman Pasha Hotel
Source: Amman Pasha Hotel
A hotel in Amman that is also specialized in Arabic cooking classes. You will be able to learn and arrange a feast cooked by yourself in the hotel.
Map- https://goo.gl/maps/tTyTRfChk3vJFWJY6
Website- https://ammanpashahotel.com/
Dala Cooking Studio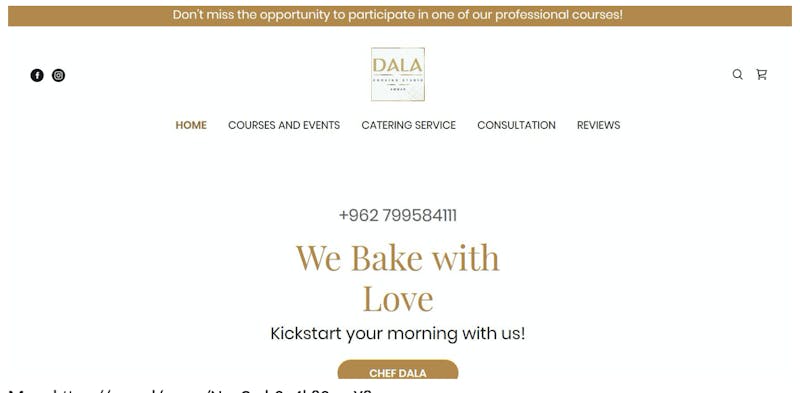 Source: Dala Cooking Studio
The studio offers various cooking classes with perfection and professionalism. Taking a cooking class here is like moving so many steps ahead in cooking and learning from the best in the business

Map- https://goo.gl/maps/NegCmb2u4k82esxY8
Hours- 9am-7pm
Closed- Friday
Website- https://dalacookingstudio.com/