Do you like ramen and gyoza, a couple of China and Japan's most famous foods? Recently, I participated in a ramen and gyoza cooking class in Tsukiji, Tokyo. I met Ms. Yumi, an instructor of the class, and Ms. Jackie, a traveler from the U.S. Walking towards the classroom from Tsukiji station, Ms. Jackie and I talked about ramen. She said that she liked ramen but had never eaten handmade ramen. She looked excited for the class.
Upon arriving at the classroom, Ms. Yumi had prepared her a welcoming snack, a Japanese omelet. I could feel the Japanese spirit of hospitality. Ms. Jackie looked happy.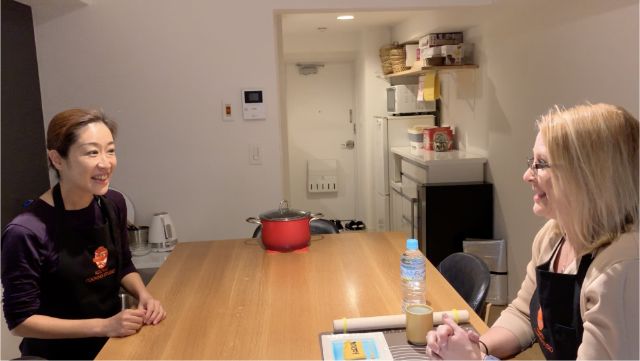 Check here if you are interested in joining cooking classes in Tsukiji, Tokyo.
The Cooking Class
We started cooking. I was amazed by how ramen noodles are made. Although I had seen ramen noodles before, I had never seen the actual ingredients and preparation of ramen.
First, we began to making the ramen noodles. Ms. Jackie tried to press the ramen dough flat using a rolling pin. But it was very hard so she got tired of pressing and Ms. Yumi gave her a helping hand. Gradually we managed to make the dough flat.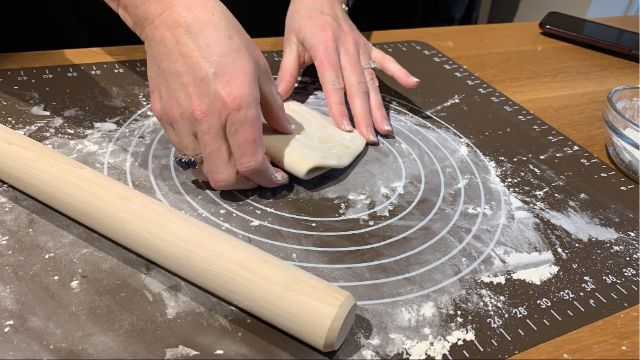 Next, we stepped on the dough to press it even more flat. Yumi-san and jackie-san stepped on it, to the rhythm of Japanese music. They pressed it as if they were dancing. We enjoyed the dancing time and successfully made it more flat. It's like a sport!
We were very tired and hungry after this, but we believed this effort will make our ramen and gyoza more delicious.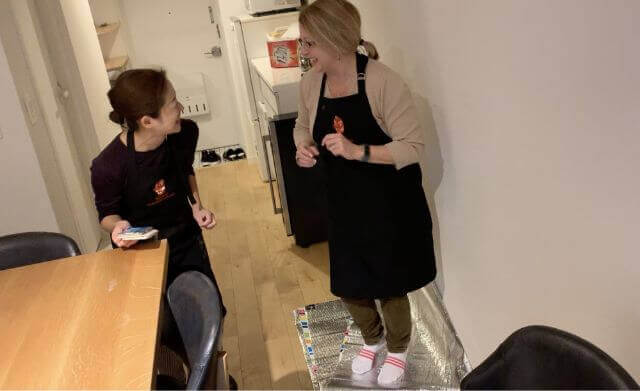 Finally, we used a big, silver, ramen-cutting machine. Jackie-san turned the wheel of the machine. She was impressed with how thin it could cut the ramen noodles.
We succeeded in making the ramen noodles, but, Yumi-san said, the noodles tend to be affected by temperature. So, it is difficult to make ramen noodles.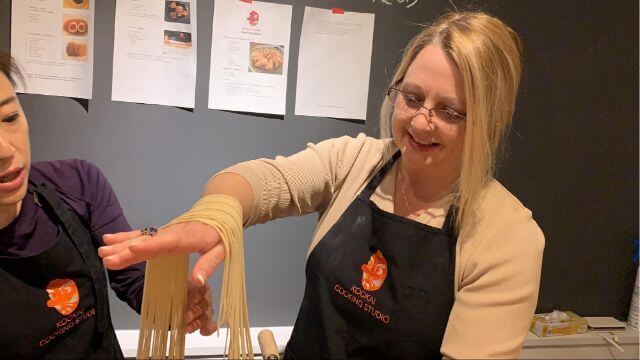 After that, we started preparing the ingredients for the Gyoza, too. I noticed that Jackie-san cut vegetables very well. She told me "I have two children. So every day I cut vegetables to cook meals for my family." She also said, "I like cooking, but I usually cook for my family. So I wanted to cook my own favorite food!"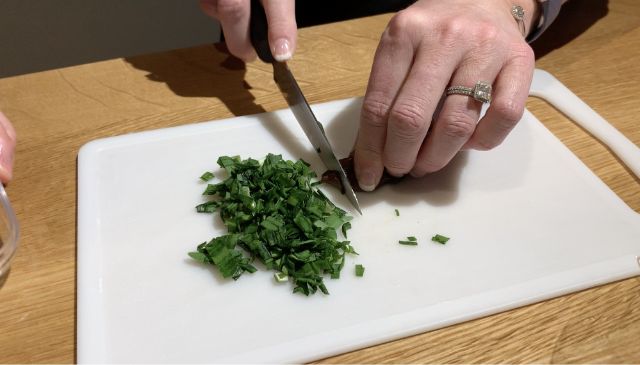 We next stuffed the ingredients into the gyoza wrappers. Jackie-san was confused with this as it was the first time she had done this. Yumi-san showed her how to wrap it. Learning wrapping technique from her, Jackie-san gradually improved her wrapping technique. Finally we made many Gyoza!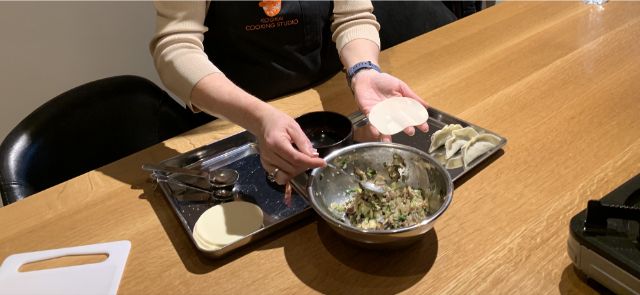 Adding the final touches to the Ramen and Gyoza, we finished cooking!
I was moved by the sight of her enjoying eating them. Jackie-san said she especially liked Ramen. I asked her since when has she liked it. She said, "When I was young, I first ate Ramen at a Chinese restaurant. It was a very good memory for me. Since then, I eat Ramen sometimes in the US. But today I cooked Ramen for the first time myself, and it was very fun!"
Through this cooking class, we didn't just learn how to make Ramen and Gyoza, but also we became close. This connection of cooking together and communicating is magic that makes our relationships closer.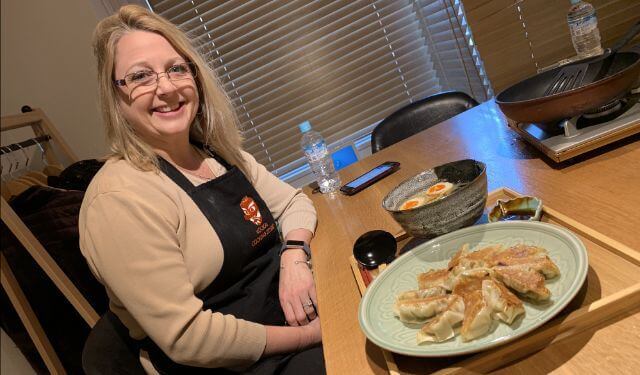 The Verdict
Pros
You can experience great Japanese dishes and you can bond with an instructor through cooking.
Cons
At once many people cannot participate in the same cooking class. If you come to Japan alone or with 1 or 2 friends, you can enjoy class.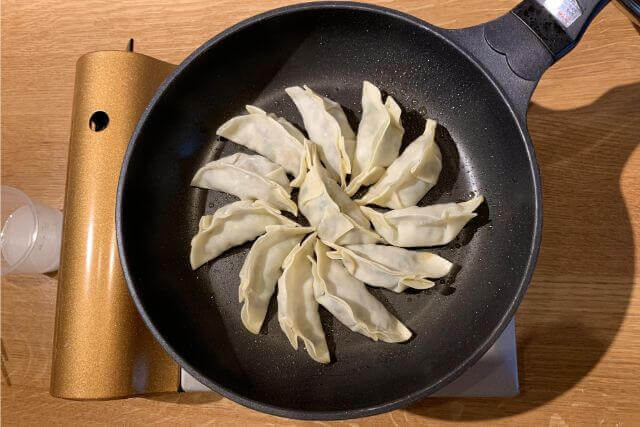 Overall
In class, we could cook the Japanese famous dishes, Ramen and Gyoza. Eating them when we finally finished cooking. Through this experience, we could be exposed to Japanese culture and it was very vivid.
Because it is different from restaurants, you can experience original cooking.
I and Jackie-san enjoyed this class. She said that she wanted to repeat Yumi-san's class again. We could had a good time in the class!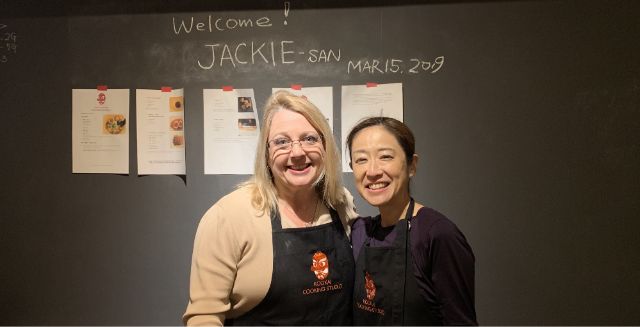 Book the Ramen and Gyoza cooking class in Tsukiji, Tokyo