Tokyo Cooking Class
Home-style Vegetable or Meat Gyoza from scratch with Strawberry Daifuku
★★★★★
17
Cooking Class Menu
1. Gyoza (Pan-fried Japanese dumplings)

2. Japanese rolled omelet

3. Miso soup

4. Sweet Strawberry Daifuku(sweet mochi)
I will introduce how to cook Gyoza with
Vegetables or meat.
We will start to preparing the gyoza wrappers from dough.
Gyoza wrapper is crispy and vegetables and meat inside the Gyoza is Juicy!!

We will also make Japanese soul foods, a rolled omelet by using a rectangular frying pan.
It's fluffy and sweet !!

Making Strawberry Daifuku is simple, enjoyable and Its yummy!!

Enjoy Seasonal Japanese Cuisine‼️

Notice
For last minute bookings, strawberries may not be available.
In that case, we make with the fruit of the season.
---
About Host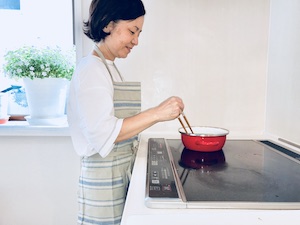 Junko
★★★★★
(17)
My name is Junko Hayashi.
I work as a concierge at a hotel in Tokyo.
I notice that foreign travelers are interested in Japanese homemade food and love to meet Japanese people.
So, I decided to open a cooking class to invite those foreign tourists to experience Japanese culture at home.
In the cooking experience, I can also guide you about Tokyo's hideout restaurants and the latest sightseeing spots, so please leave your help on traveling.
I am looking forward to seeing you.
A Class List
" Home-style vegetable or meat gyoza
with Strawberry Daifuku "
" Colorful press sushi with Strawberry
Daifuku"
" Party sushi cake for celebration "
" Fluffy omelette rice and Strawberry
Daifuku "
" Japanese mom's cooking class"
---
How It Works
Step1 Cook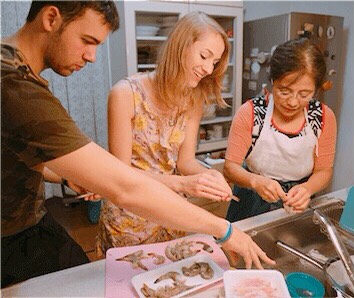 Visit a Japanese local's home and learn to cook their specialty.
Step2 Enjoy your meal!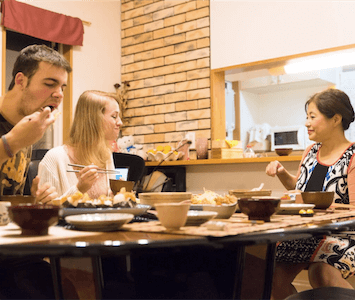 Eat the authentic homemade Japanese meal with your Japanese host. Take the opportunity to have a genuine conversation with a local Japanese Person.
---
Area
The closest station
Ōmori Station
How to get to the station?
From Shinbashi Station : 0mins
Free pick up service
This host can pick up you for free from the closest station!
Exact location provided after booking.
---
Reviews of Cooking Class
Carlos, Germany
★★★★★
Junko was just a lovely host, it was so much fun to cook with her typical japanese dishes, which tasted really amazing. Also she provided me with great tips for my month travelling in Japan. Thanks so much and i encourage other travellers to cook a cooking lesson with Junko. :)
Aug 2019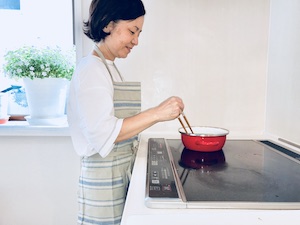 Response from Junko
Hi Carlos, Thank you so much for choosing my cooking class and your wonderful review. I would be very happy if my information was useful for your trip. You are still enjoying your trip in Japan. So, please try many delicious Japanese foods !! See you next time. Junko
---
Gricel, United States of America
★★★★★
Thank you so much for a delicious dinner and your positive energy. Your cooking was one of our best experiences we've had in Japan. Can't wait to read your blog.
Jul 2019
---
Husain , India
★★★★★
It was a truly amazing experience! Junko was a very warm host who was extremely patient, putting up with our rusty gyoza making skills. Thank you for letting us into your home and preparing a grand feast for us. Fatema and I really enjoyed it and could not have asked for a better birthday gift! :)
Jul 2019
---
Christian, Ireland
★★★★★
We loved our traditional Japanese cooking experience with Junko. The menu, teaching and hospitality were incredible and we are looking forward to recreating our newly learned Japanese dishes at home. It was very easy to meet with Junko and get to here home with public transport too. Thank you very much Junko and we will come back next time.
Jun 2019
---
Monique , United States of America
★★★★★
Junko was an amazing host. We had so much fun cooking, laughing, and eating! We can't wait to come back and try a new dish! Thank you!
Jun 2019
---
Suk Yi, Korea Sout
★★★★★
 I made Gyoza, Mochi, Omelet and Miso soup. This class very interesting because I learn japanese food and their culture. She is very kind and teach how to cook in detail. I will never forget your kindness and hope to see you again someday. Thank you for your time.
Jun 2019
---
Anna, United States of America
★★★★★
We had a wonderful time learning to cook with our host! She was very kind and clear with her instructions and the food was delicious! If we are ever back in town we will be taking one of her other classes to learn some more.
Jun 2019
---
Olivia, United States of America
★★★★★
We had an absolute blast making gyozas with Junko!! She made us feel right at home, and even though I'm not the best cook, she was encouraging and helpful the entire time. We spent our time laughing, sharing stories, and learning about Japanese culture. When we come back to Japan, we are most definitely going to come back to see Junko!
Jun 2019
---
Anna, United States of America
★★★★★
Junko is a wonderful person to cook with! The instructions were clear and she was helpful. We made some tasty food and I plan to make these recipes at home as well!
Jun 2019
---
Donna, United States of America
★★★★★
Aloha Junko! Thank you for an amazing air kitchen experience! My family and I enjoyed ourselves. It was fun to learn how to make gyoza, strawberry daifuku, tamagoyaki, and miso soup from scratch. But most of all, we really enjoyed eating and learning from you. You made cooking so fun and easy! Everything was so yummy! :)
May 2019
---
Rita, United States of America
★★★★★
We loved every minute of our cooking class with Junko! She was great and so kind. This was definitely an experience we will never forget and will definitely come back to visit soon.
May 2019
---
Kate, United States of America
★★★★★
This was a fantastic experience! Junko is energetic, welcoming, and knowledgeable. The food we prepared was delicious and we had so much fun preparing it. This was truly a highlight of our trip to Japan. I would highly recommend taking a class with Junko!
May 2019
---
Leilani, Czech Republic
★★★★★
Our cooking class with Junko was amazing! She was extremely kind and fun and everything we cooked tasted incredible!! I would definitely recommend going to Junko's class!
May 2019
---
Yuko, Japan
★★★★★
We really enjoyed Junko's cooking class. Junko welcomed us with open arms. We learned not only how to cook Japanese dumplings but also Japanese culture from her. The most impressive thing was visiting a real Japanese home and communicating with a local. It was a memorable experience in my life! I definitely recommend you to take Jonko's class :)
Mar 2019
---
Jeshua, Australia
★★★★★
Cooking with Junko was so much fun! Not only that, but she was a great guide for things to check out while in Tokyo (she certainly made sure the rest of our trip was very eventful!).
Mar 2019
---
Carolyn, United Kingdom
★★★★★
Junko was lovely and we had a truly special experience cooking with her. She was a great teacher and we made Tamago, Strawberry Mochi and Gyozas. Would definitely recommend and return for another cooking fiesta !!
Mar 2019
---
Helena, Spain
★★★★★
The cooking class with Junko was great! The tools and ingredients were all ready and she teaches hands on thus you get to practice. At the end we enjoyed our meal together and had a very enjoyable lunch. I really recommend taking a class with her!
Feb 2019
---